How to turn your new house into your home
You've got the keys and you're in! Time to turn your new house into your forever home – we've got the perfect tips for adding the finishing touches to your new place.


Window coverings
Navigating the myriad of window coverings can be confusing! Curtains, roller blinds, shutters, romans venetians… the list goes on and on.

Whatever your choice you can be confident in your selection by considering the following:


Style
Do you have an overall style or look for you house? Hampton, Scandi, Mid Century Modern? Think about what type of window coverings will suit the overall look and style of your home. Keeping window covering colours neutral, works best and means that you can easily restyle and change the décor of a room without having to shell out on new window coverings.


Lighting
How much sunlight do your spaces receive? Double roller blinds can be a great option for rooms that receive large amounts of sunlight and heat – this type of blind allows you to easily control the amount of heat and light entering your room. You could try softening this look with curtains.
Privacy
Sheer curtains can be ideal for living spaces, however your bedrooms and bathrooms probably require a little more privacy. Venetians are a great cost effective alternative to shutters for these spaces and also provide a great source of ventilation.

Pantry set up
Butlers pantries, walk in pantries and smaller detached cupboard pantries are all an integral part of any home – setting up your pantry correctly from day one will help you to stay organised and save money in the long run by allowing you to easily keep track of items.

Consider the following before you begin setting up your pantry:
Useful Storage
Whether your pro glass or plastic, investing in some airtight canisters and containers is a great idea when it comes to eliminating any food spoiling and wastage. These containers also allow you to easily see what you're running out of – so you'll know what to shop for! Wire baskets can also be very useful when it comes to storing grouped items like snacks and sauces and are also great for bulky pantry vegetables like onions and potatoes.

A Logical Layout
Everything should have a place of its own, grouping similar pantry items makes sense! Grouping together pantry items such as baking ingredients, cereals, canned goods and spices will help your pantry stay organised. Having a solid grouping system and pantry layout will also save you loads of time when it comes to cooking and prepping meals. Store everyday items at eye level and reserve high spots for occasional use kitchen appliances.

Label, Label, Label!
Can you tell plain from self raising? Labels are a great addition to pantry containers and canisters. Get creative and try using a lick of chalkboard paint to create custom reusable labels.

Tip: Adding a sensor to the light in your walk in pantry is a great idea – no more accidentally leaving the light on!
Additional lighting
Now that you've moved in, you can begin to experiment with lighting options! Of course, your home will already have some lighting – however now is the time to introduce mood lighting. Adding pendants to a room can really create mood and soften spaces – try adding a cluster to your living room and a singular pendant over your bedside tables. Alternatively lamps are a cost effective way to introduce additional lighting into your spaces.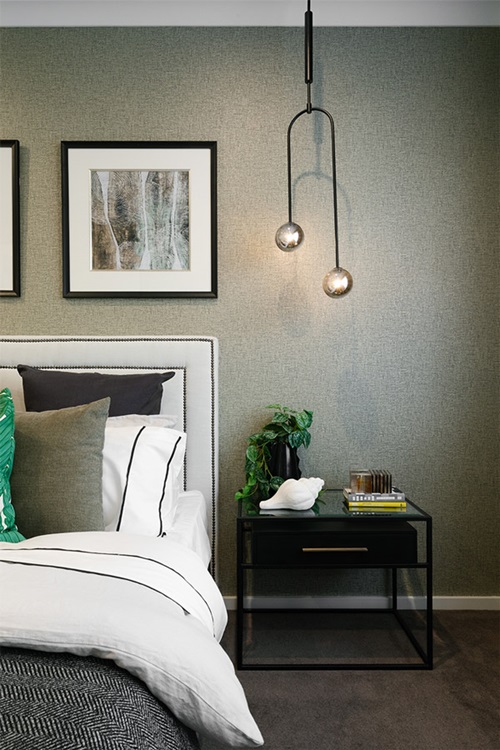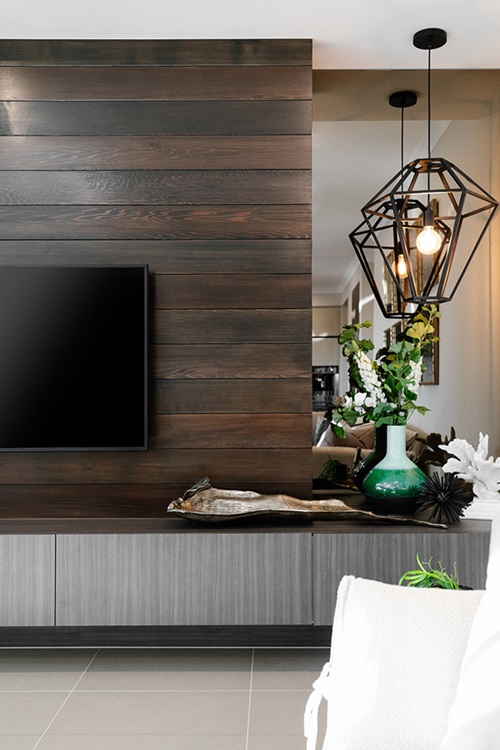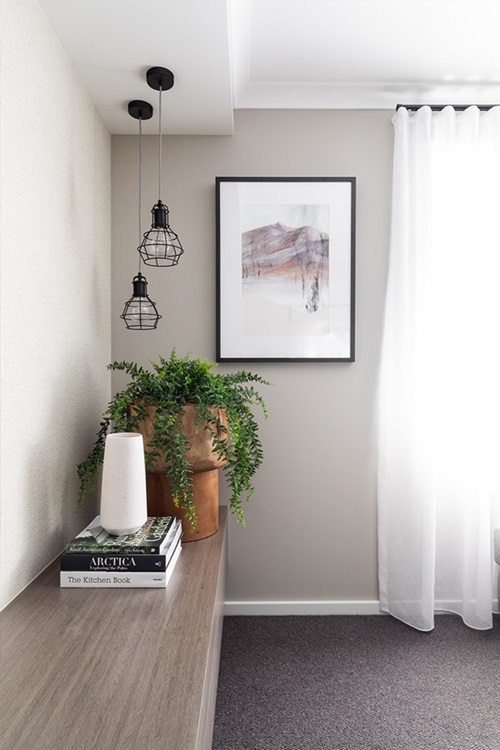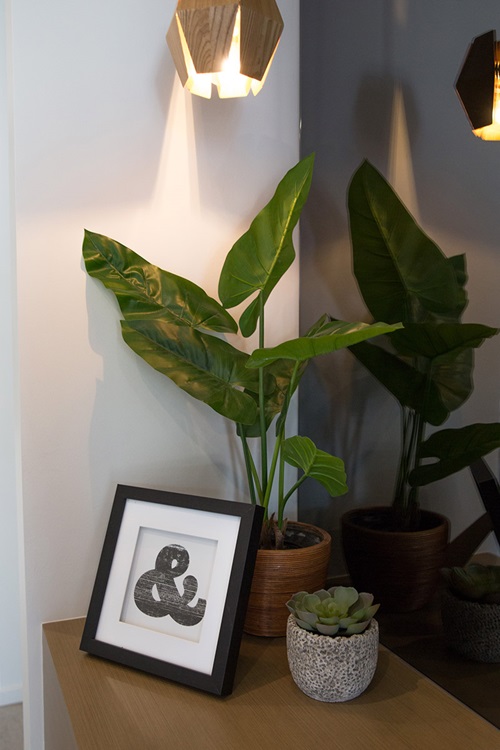 Furnishings
Soften up your hardwood floors or tiles by adding a rug. Rugs are great for creating warmth and adding texture to a room. You could also try bringing in a little texture and colour to a space by adding cushions or a throw.

Storage
Having a functional storage space is a must! This will ensure that you have a designated space for bulky items like gardening gear, sporting equipment, suitcases or your Christmas tree. If you don't already have a detached storage unit, consider utilising any extra roof space, under the stairs or the area above your garage. If you're handy, why not DIY something a little more custom? Start by, measuring the space you have available and make a list of things you anticipate storing in there.
A shed is also a great idea if you have space outdoors, there are many different types of sheds available from a whole range of hardware stores and specialist suppliers. You may also want to check with your local council about any approvals that may be required before you construct or buy your shed.
Want to source some amazing inspiration for your finishing touches? Visit one of our
display villages
– our display villages feature an array of home designs from a variety of trusted builders – all have been individually themed and styled, making them the perfect source of inspiration.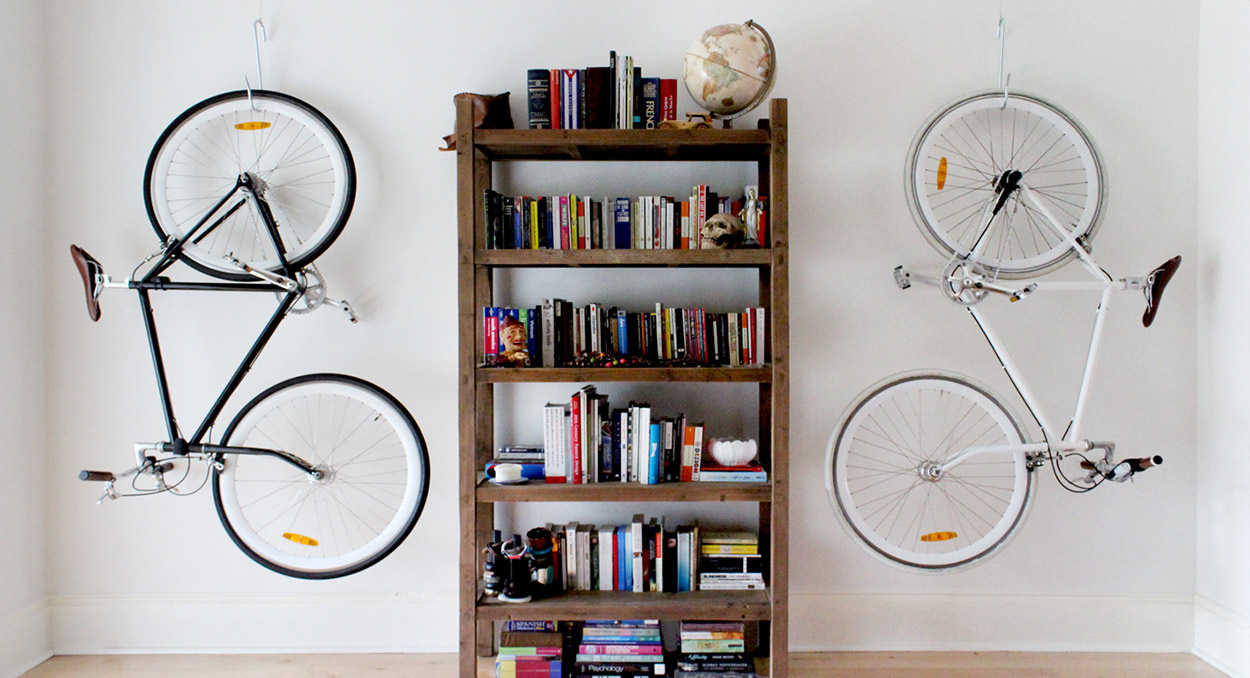 All content within 'Peet's Advice Blog' (Blog) is for information purposes only. While Peet endeavours to ensure all information is current and correct, Peet makes no representation or warranty as to its currency or accuracy. It is recommended that you obtain your own independent advice before taking any action following reading any of the contents of the Blog. Please read the full disclaimer here.