Finding Your Feet in Your New Community: Play and Shop
With many exciting amenities conveniently located in your local area, community living provides a great foundation for living your best life.
Peet's masterplanned communities
are full of exciting amenities such as retail precincts and incredibly fun play spaces where family can thrive. That's why we've put together a list of our top places to shop and play across our communities around Australia, so you can make yourself at home and start discovering today!
Shopping
WA
Lakelands has a large shopping centre located in our
Lakelands
community. The centre has a mix of retailers including a fruit and veg store, cafes and specialty retail and services. Lakelands also features a Coles and an Aldi, both great for your family shopping and Kmart is also located in the centre along with the essentials like a pharmacy, medical centre, newsagent and even a gym. All of this plus over 1,000 car bays makes Lakelands a convenient place to shop.

Lakelands Estate
The Village at Wellard
has been designed around a central base for all of your shopping needs – the central area of Wellard Square is conveniently located right near the train station. The main shopping strip features a large Woolworths supermarket plus a bakery, a variety retail outlets and an F45 gym.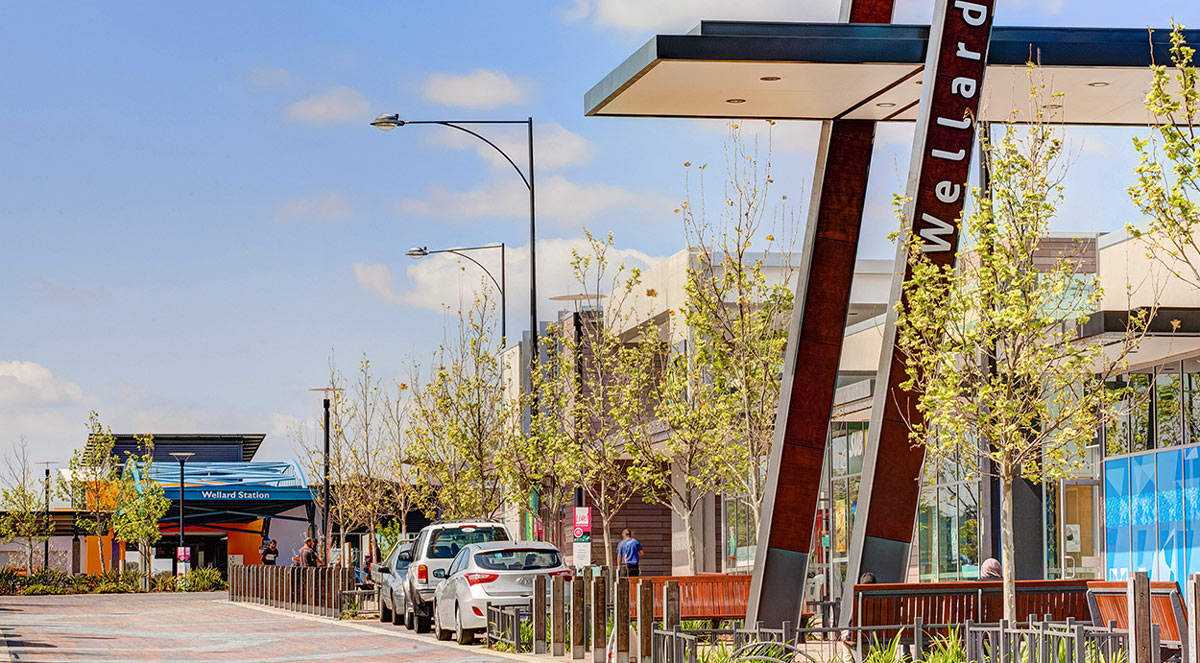 The Village at Wellard
QLD
Flagstone
, will become one of Australia's biggest satellite cities and it is starting to take shape. Currently home to IGA, a vet clinic, medical centre, childcare centre and a number of food outlets, the future precinct will soon feature a Coles supermarket due to be completed in 2020. There are also plans for a future hospital and tertiary campus for this rapidly growing community.
NSW
Cannons IGA Googong is very popular amongst our
Googong
community, centrally located it features an in-house butcher and gourmet cheese and deli area. The store also stocks locally baked fresh bread and has its own café. If you're on the go you can grab a coffee and pastry directly from the café window or even a little puppacino for your furry friend!
Playtime
VIC
The
Safari Park
in
Cornerstone Werribee
is a sight to be seen – definitely one-of-a kind! The Safari Park was inspired by the nearby, Werribee Open Range Zoo. Check out what these kids are saying about the Safari Park
We're not sure that we could have packed anything else into
Navigation Park
in
Newhaven Tarneit
. The park includes a water zone with water-squirting elephant, a super cool look-out tower with slides and rope climbers, basketball half-court, BBQ and picnic pavilion. There is also an area for skateboards/scooters, swings and a spinning roundabout, a kick-about area with footy goals and even mini-trampolines!
How did we actually bring the Newhaven navigation park to life, you ask? Take a look at our time lapse video.
Why not take a spin at
Aston's very own traffic school located in Craigieburn
! Not only does it have great play equipment like a tower, slides, rope bridge, mini trampolines, swings and more…but it has its very own TRAFFIC PARK! Yes, the little kids can zoom, ride, skate or scoot around the track and roundabouts, over the speed humps and moguls and even across the train tracks!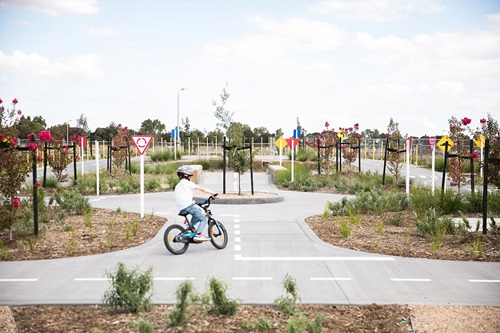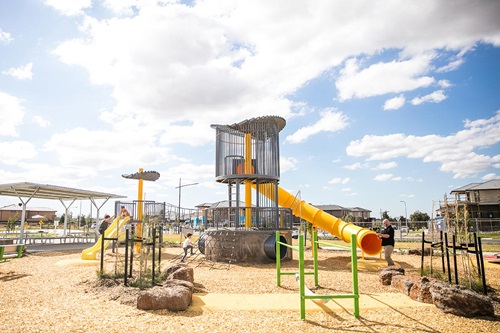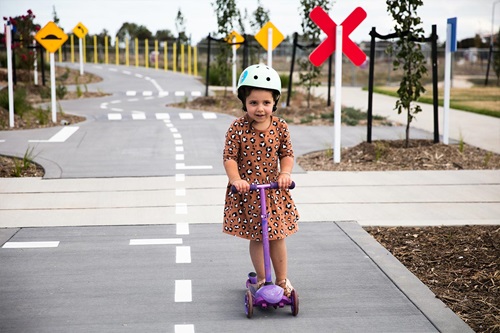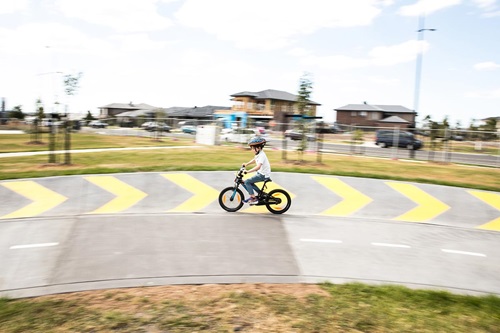 Observation Park, Aston
QLD
The Adventure Playground at
Flagstone
certainly is a Monster! The playground is part of a $12 million regional discovery park caters for all kids from tiny tots to those who are older. There is an incredible 11metre high tower (think 3 storey building for comparable height!), a giant octanet and a 19 metre long skybridge. There is also dual flying foxes, a fossil dig area plus so much more!
Oakleigh Park
at
Eden's Crossing
 is an action packed park, the perfect meeting place for families. With a custom designed obstacle course plus some great fitness equipment and a multi use games area with goals; Oakleigh Park provides a number of choices for keeping your family active!
SA
If you're in
Bluestone, Mt Barker
you need to stop by Parkindula Park for a play! The park is right near the
Parkindula Homestead
– it features BBQ areas, a large selection of play equipment, tennis and basketball courts plus wide open grassed spaces perfect for picnics and running around! The park is also connected by a number of hiking and cycling trials, perfect for taking in those incredible Bluestone views.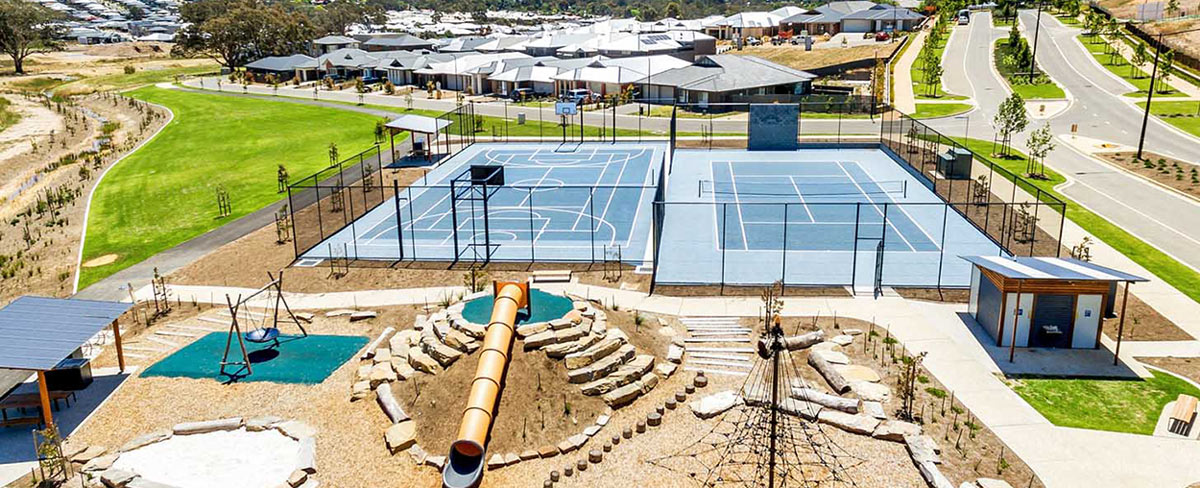 Bluestone Mt Barker
WA
Golden Bay
has an impressive
LEGO inspired park
that features oversized lego blocks, playground puzzles and interactive games. The sand play area features a giant brightly-coloured tractor, sand funnel and a digger and around the perimeter there are 3 in-built trampolines surrounded by soft fall to ensure safety.

Golden Bay
The Adventure Park located in
The Village at Wellard
will keep the kids entertained for hours! The playground has a gigantic viewing tower, slide and climbing frames. There are also skate, scooter and bike park areas along with a 7 metre rope climbing frame that will take you to new heights! Set out like an obstacle course, along with hammocks for resting, there is also an additional BMX track, mini trampolines and outdoor music making features that will capture the imagination of the little ones. Free gas barbecue, tables, seats and drinking water fountain will allow you to make a day of it.

The Village at Wellard
Opening in Winter this year,
Shorehaven's Treasure Island Adventure Playground
will be a hit with the young and the young at heart. Revealed so far is the S.S Alkimos Ship will soon be joined by more spots for you to climb, hide, play and swing.
NSW
Lovegrove Park features a fantastic playground that caters for children of all abilities – located in our
Googong
 community, the playground has a BBQ area, swings, stand-up saw, rope ladder bridges to climb between with net seating, a high slide to climb up to and a roundabout built into the ground. There are also some beautifully wooden totem poles which have been painted by local school students. Lovegrove park is the perfect place for a relaxing and entertaining family picnic.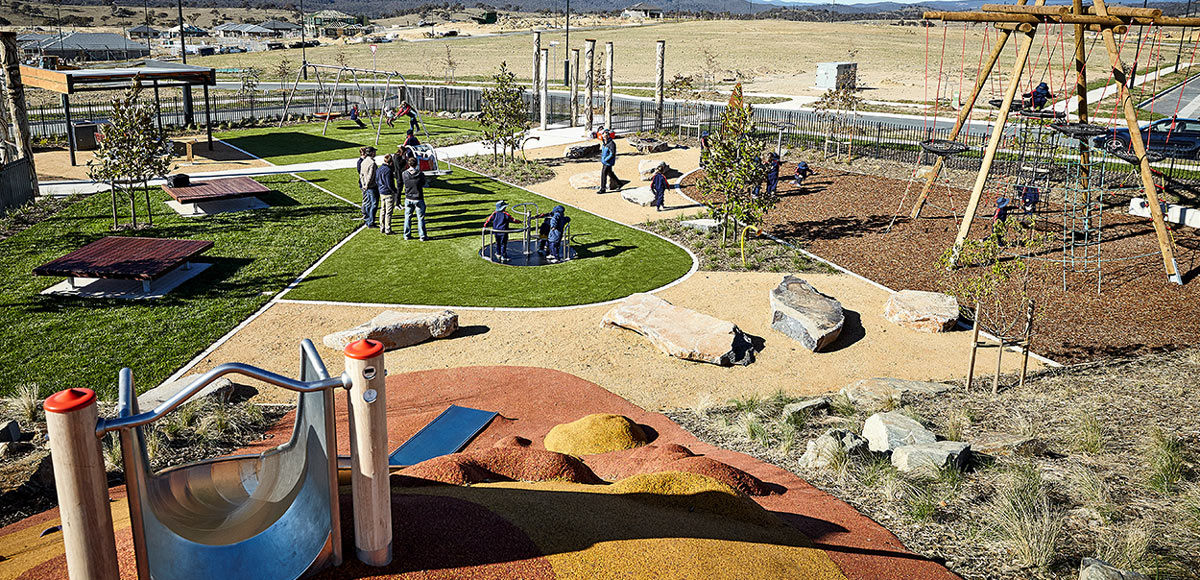 Googong
Have you been somewhere or discovered a wonderful spot in your community? We would love to see it– make sure you use the hashtag #peetlife when posting on social media so we can see all of your favourite places.
All content within 'Peet's Advice Blog' (Blog) is for information purposes only. While Peet endeavours to ensure all information is current and correct, Peet makes no representation or warranty as to its currency or accuracy. It is recommended that you obtain your own independent advice before taking any action following reading any of the contents of the Blog. Please read the full disclaimer here.