Interior design trends for your new home
Planning the interior of your new home is such an exciting time, however it can be a little overwhelming for some people... Does this match with that? Should I consider a feature wall? Is blush pink still on trend?
Tyack & Co.
did an amazing job styling Peet's very own
Invita Apartments
at
The Village at Wellard
. We've asked them to tell us about the top 5 interior trends that they're seeing at the moment.
They are here to bring some clarity and share their expertise, making sure your new home is looking it's very best.
#1 Colour
Colour trends change from year to year so which colour is currently on trend?
Think rich, warm, and comforting tones. Beautiful terracotta, warm rich browns - red rich browns, burnt orange, beautiful rust tones and earthy inspirations. Draw from visions of the Australian outback. Think red, rust and dirt.
These tones may appear in a beautiful leather lounge or armchair, within textiles and cushions, plush throws or on the floor in patterned rugs. Terracotta is found in styling elements, clay items and even featured in artwork.
#2 Bohemian
Bohemian, coastal and tribal furnishings are popular at the moment within the design industry.

This is a simple design trend to master - start by sourcing items that are inspired by nature. This trend often features an ethnic cultural element and their natural materials create a colour palette which balances beautifully in contemporary environments.
These pieces are natural, featuring organic forms and of course earthy and are inline with the recent colour trend. Think timbers, leather, tribal patterns, stone and ethnic sculptures.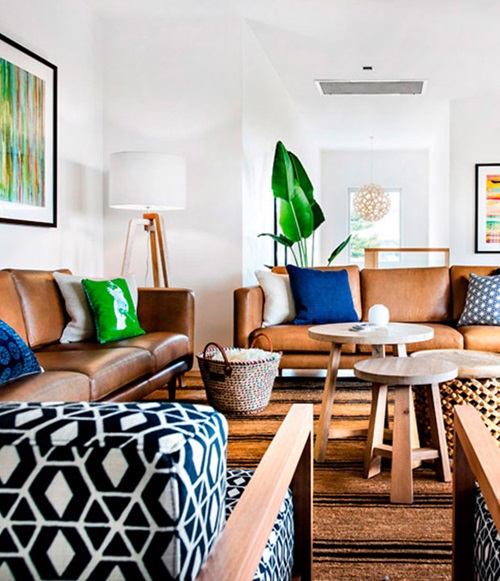 Image source: Collected Interiors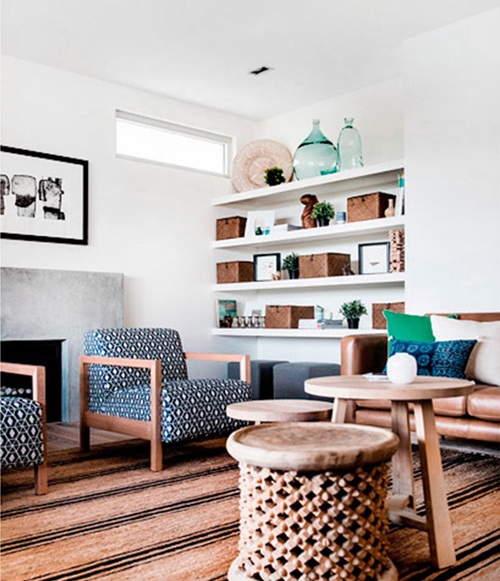 Image source: Collected Interiors
#3 Large wall art
Go big or go home! Large is on trend, oversized art can lift the interior of any room.
Go bold – a large print, canvas, wall sculpture or mirror. If your art lacks size, upscale with a large border or oversized frame, but be mindful not to draw too much attention away from the art itself.
#4 Terrazzo
Terrazzo is a composite material and can be used for both floor and wall treatments. This material can be finished with either a polished and smooth or raw and textured surface.Terrazzo is making a big appearance in the design industry, challenging marbles, granites and other stones and it's is becoming a very popular choice.

If you are looking to add stone to a vertical or horizontal surface, consider Terrazzo.
#5 The fifth wall
In most rooms we are surrounded by four walls, but what about the fifth? It's the ceiling! What better way to draw your attention across the whole interior than to create a statement with the ceiling.

Think outside the box of traditional methods such as mouldings and cornices. Don't be afraid to add a bold colour and texture or you could even add wallpaper or graphic elements to the ceiling of kids rooms.
The most important thing to remember is have fun! Decorate to your tastes and interpret on- trend styles in your own way. Make sure you feel comfortable in the spaces you are creating, after all you're the one who'll be living there!
All content within 'Peet's Advice Blog' (Blog) is for information purposes only. While Peet endeavours to ensure all information is current and correct, Peet makes no representation or warranty as to its currency or accuracy. It is recommended that you obtain your own independent advice before taking any action following reading any of the contents of the Blog. Please read the full disclaimer here.