Kitchen trends/what to look for
Kitchens are more than just a place to cook, they're a great space for families to congregate and a place for delicious meals to be enjoyed - they really are the heart of every home. Who doesn't want a home with a well planned, functional and fully equipped kitchen? That's why we've teamed up with our good friends at Kitchen Craftsmen to deliver some practical tips and advice, to help kick-start your kitchen planning journey for your new home.

Focusing on the external aesthetic of the kitchen will always be high on the list, but we're starting to find increased focus is being placed on the internal finish, layout and use of the cabinets. Gone are the days where the only option was white and plastic. There are so many options available now which allow you to focus on creating an individual space as unique as you want it to be by introducing colour, texture and fittings that you can appreciate when you open your cabinets as well as when they are closed.
Cabinet hardware – handles or handle-less?
Handles have taken a back seat in recent times for a number of reasons, but they should never be completely discounted. Whilst handle-less options may create a beautiful streamlined look for your space, they do not always offer the most practical outcome for how the space will be used. For example, relying on push to eject or finger grip options for your large pot drawers can make them difficult to open and close with ease. This is the same for pull out pantry units and pull out bins. A big trend we are seeing is the use of multiple handle types within the same space. Don't be afraid to consider this - conventional handle options have come a long way, and provide some amazing complementary finishes when used in conjunction with handle-less cabinets.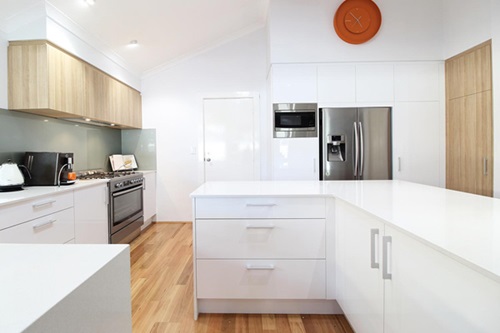 Mixed handle hardware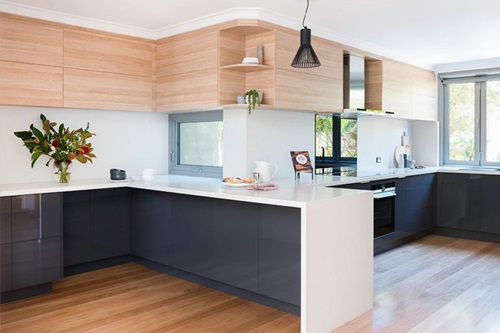 Push to eject and finger grip hardware
Should I go with a freestanding or built-in oven?
Freestanding ovens are still a very popular choice for new kitchens, mainly due to their larger internal oven capacity, however they can sometimes be quite a task to clean. If you have a large family and spend a lot of time cooking then freestanding might be the answer for you. Built- in ovens can be enclosed and built into cabinetry to maintain cleanliness and reduce your time spent cleaning. These can be smaller in size and can either be built into cabinetry or even into a wall space.
What storage options should you consider?
Drawers, drawers and more drawers! Or any form of pullout unit that you can access more easily than having to reach into the back of a cabinet to get to what you want. Pullout and drawer systems allow you to access the storage space from the top, and view contents from above, which allows you to organise, and subsequently remove and replace, items without disrupting the other contents. In recent years top view pullout units have become a popular and practical choice for harder to reach areas such as overhead cabinets.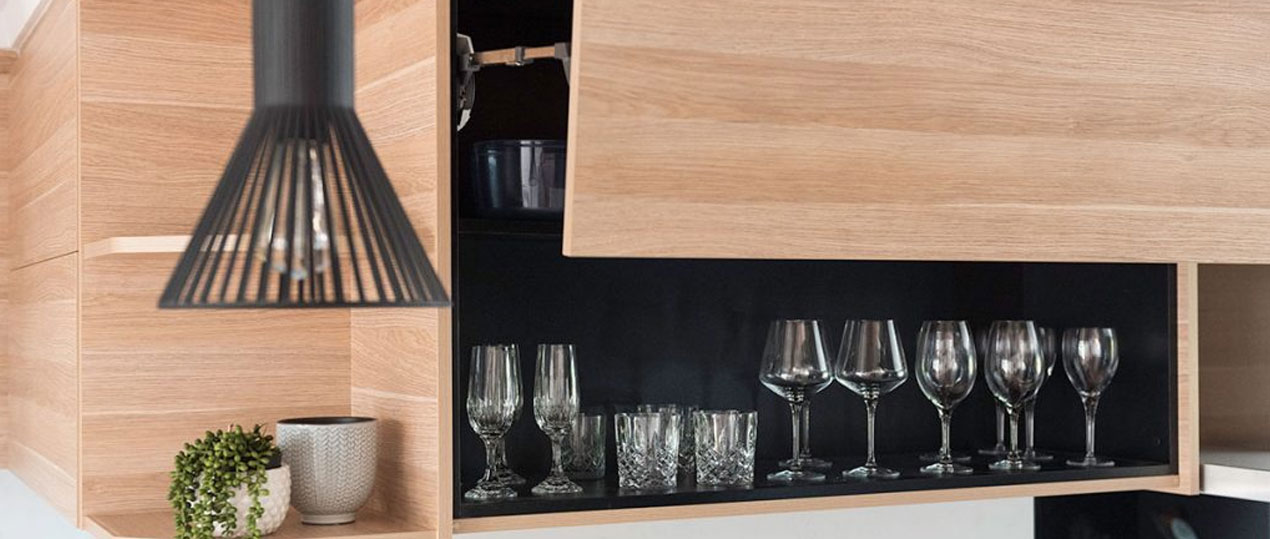 Butler's pantries are a great idea - if you have the luxury of space to have one. Being able to prepare, clean and cook behind closed doors, or in a separate area, can be very helpful. More and more kitchens are being integrated into other living areas within homes and are therefore becoming a bit like a large piece of furniture on open display, demanding constant tidying and cleaning. Realistically, this is not possible all the time, so having an area out of the way to contain the mess can be a blessing!
How should you go about choosing a colour scheme?
Start with one neutral colour and build from there! Neutrals - by their very definition - will never look out of place and tend not to date. We are building kitchens now that are bigger and more integrated with other living areas within the house. Putting in a bright blue kitchen may seem like a fun choice at the time, but the reality is that the non-neutral colour will get the better of you, or restrict decorating options, at some point in the future. Picking a white, earthy or grey shade to begin with will ensure longevity.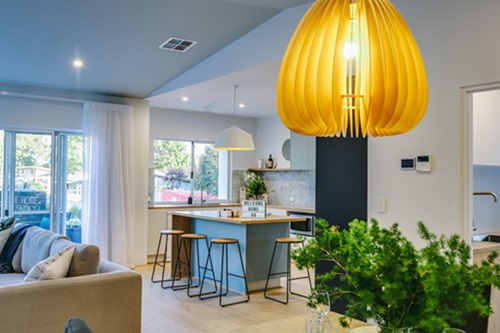 Light colour scheme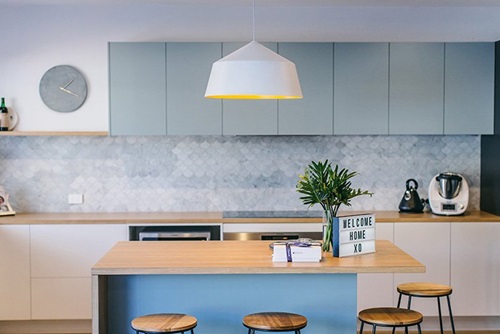 However, there is no need to be shy in adding pops of colour. This can be done through a set of feature cabinets, open shelf units, splashbacks or accessories - items which are relatively inexpensive to update later, once you've had enough of the latest trending colour! Dark greys and blacks are popular colour choices at the moment - dark grey is the new white. White kitchens from a number of years ago, are still inoffensive today. Although some consider this style to be mundane, it still works by allowing you to highlight feature colours in other, relatively inexpensive ways.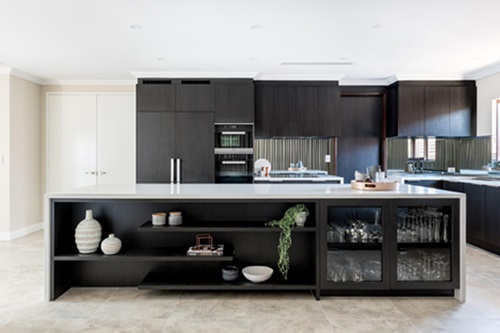 Dark colour scheme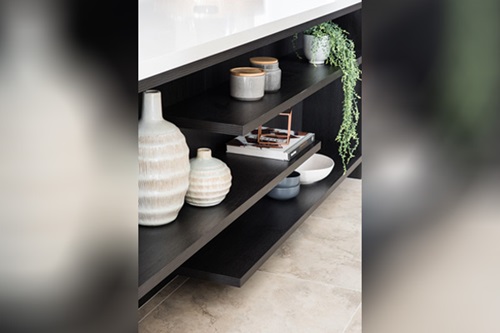 How is technology changing kitchens?
Integrated technology is fantastic, and forms the basis of how we think about and design our kitchens. Minimalism and convenience are at the core of this trend. We are becoming increasingly time poor, and to have technology assist with simple things like maintaining a shopping list, and ordering groceries is a great convenience. Screens built into appliances also negate the need for separate screens, which can take up a large amount of space at the expense of storage space. Who wouldn't find watching a cooking show on your fridge's TV screen useful whilst preparing that same meal? One area of particular interest is the development of cooking surfaces into work surfaces. This effectively creates more benchtop space in the kitchen when cooking is not required, and allows for a seamless transition of spacial use - ingenious!
The top 3 things to consider when planning your dream kitchen
1. Budget:
It's so easy to spend a large part of your budget on items that you may in fact not be getting value for money out of. For example, you may think that buying a high end Pyrolitic Oven with multiple functions, including multiple cooking methods, may be a great option, but if you're more of a cook who tends to pan fry and use pots, spending a couple of extra thousand dollars on a high end oven may not be the best option for you. The cost difference may be better spent on something more useful - like enhancing the way you can access those pots and pans that are more frequently used.
Don't be afraid to discuss your budget openly with your home builder / designer. They are professionals for a reason - they design and think about efficient use of space and budget every day, and have a lot of experience working with unique and challenging spaces.
A good home builder / designer will always have your best interests at heart, and will be able to recommend the best way to allocate your budget based on how you cook and use your kitchen space.
2. Layout:
A good home builder/designer will be able to guide you through the process of correctly laying out your kitchen to make sure all relevant considerations are taken into account - a lot of which you may be unaware of! Consider creating zones for your kitchen; cooking, clean up, food prep, storage and living. Zones will enable you to understand exactly what resources you'll require for your kitchen. For example you'll need to plan for plenty of bench space near ovens and hotplates for placing hot items on - this will eliminate the need for you to walk through the kitchen with hot trays or pots.
3. Longevity:
When it comes to design, make sure you're thinking about how your environment will change over the life span of your kitchen. Are you still going to find having a wine rack with space for 200 bottles useful in 5 years time, or will this space be more useful to keep things tidy and breakables out of the way of your children? It is very easy to over-design a kitchen to current trends and forget that for most of us, we may be fortunate enough to do a kitchen renovation only once or twice in our lifetime.
All content within 'Peet's Advice Blog' (Blog) is for information purposes only. While Peet endeavours to ensure all information is current and correct, Peet makes no representation or warranty as to its currency or accuracy. It is recommended that you obtain your own independent advice before taking any action following reading any of the contents of the Blog. Please read the full disclaimer here.