Three great additions to your new front garden
First impressions count... and that can also be said for the front garden of your new home! Lighting, lawn and feature ornaments are three great additions you can add to your garden, giving a special touch to your new home.

LIGHTING
Updating your lighting can help to highlight the best aspects of your new home, in addition lighting provides a whole lot of safety benefits as well!

Lighting definitely sets the after dark mood for your front yard. Adding a little light is also the best way to highlight and showcase the stand out aspects of your new home. Up Down lights along with coach lights (both industrial, modern and traditional) are fabulous choices when it comes to highlight lighting. Placing lights amongst your plants is the perfect way to add some magic to your garden, plus there are great solar options making it an energy efficient option too.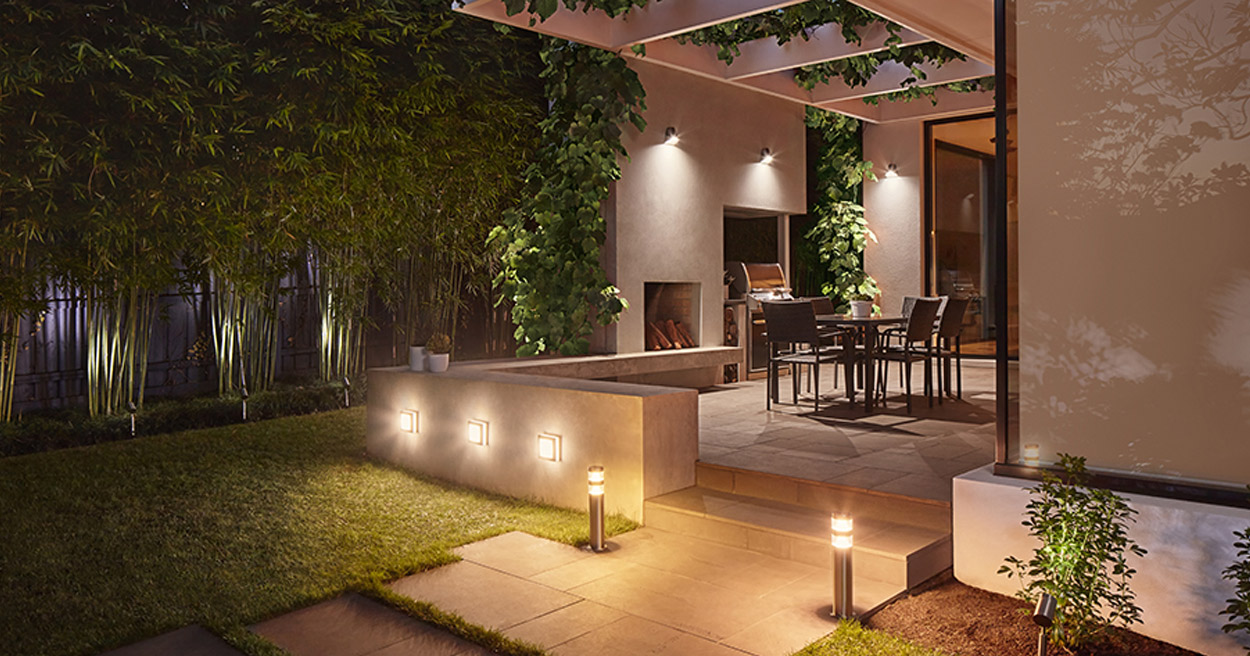 Up down lights are still a very popular modern choice when it comes to lighting the exterior of your garage. Usually positioned either side of the door, this type of lighting has a diffused glow and creates some nice highlights on the exterior garage wall. These lights can be activated via sensor, which is an added bonus when it comes to home security! Many people prefer to choose something a little more standard for the interior of their garage, the humble fluorescent batten is an ideal choice because one or two battens can provide enough lighting for an entire garage. Nowadays there are loads of stylish fluoro options available.

Installing lighting near your front door is a great option when it comes to security, again much like the exterior lights on your garage – front door lighting can also be activated via sensor. There are two main options when it comes to this type of lighting – ceiling or wall, both have their benefits and choice is usually determined by the availability of space. Illuminating your driveway or path to the front door contributes to mood lighting whilst also providing safety.
Source: Beacon Lighting
LAWN - REAL V ARTIFICIAL
Adding lawn to your front garden is the best way to add instant greenery! However, before you decide on real or artificial lawn – you should first check with your Local Council about whether they have any regulations around laying artificial lawn.

Once you have the all clear be sure to consider the following two key factors when deciding between real or artificial lawn.

Maintenance: Real lawn takes a lot of care and patience and can also significantly increase your water usage costs. Whereas artificial lawn requires virtually no maintenance – you won't need to fix any dead spots or have to spend time weeding or mowing.

Usage: In many cases nowadays it's quite hard to tell the difference between real and artificial lawn, most feel exactly the same – both are relatively soft and great for playing on. However, most artificial lawns warm up pretty quickly during the summer months, making them inaccessible for small children and pets. On the other hand, real lawn stays cool all year round.

Source: Synthetic Lawn Australia and The Turf Farm
FOCAL POINTS & FEATURE PLANTING
Feature pots, stand-out plants and artwork can all create lovely focal points for your front garden. Many people choose to place the focal point close to the entrance of their homes.

If you're front yard is a little pressed for space you could try using plants to create a focal point, one large plant or a small cluster of speciality plants, such as succulents that have been potted in a creative style, can be a great way to create a really interesting focal point. Or if space is on your side, you can always consider something a little larger like a water feature or garden ornament.
We love seeing how your landscaping ideas are coming to life, remember to use the hashtag #peetlife on social media so that we can check out your ideas.