The best storage solutions for your home
Are you struggling to control the clutter in your home? We've put together a list of practical and inexpensive storage must-haves to help you take back control of your bench tops and floorspace!
Kitchens
The kitchen is the heart of our home, it's where we all come together to enjoy meals, discuss the day and cook our favourite dishes! It's also the one area of your home that requires the most storage space – pots, pans, appliances, crockery and cooking equipment all need their very own place to call home.
Open shelving
Open shelving in kitchens isn't new – but it certainly has evolved! This type of shelving can make your kitchen look and feel much more spacious and airier. Open shelving is perfect for storing cookbooks or showing off your stylish glassware yet functional enough for holding everyday use items such as serving dishes and dinnerware. We love the look created when open wooden shelving is combined with sleek single coloured cabinetry.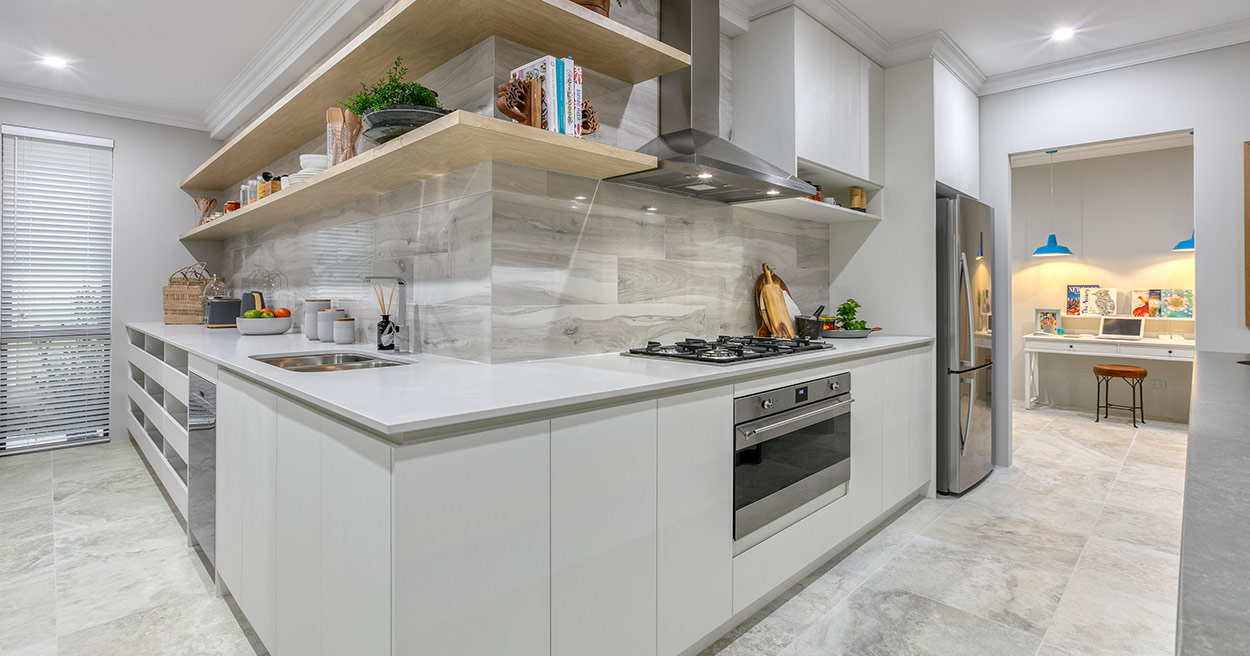 Source: Impressions The Home Builder - The Lagoon Display Home, Burns Beach WA
Wall cabinets
Wall cabinets are a standard and practical solution for almost every kitchen – this type of vertical solution makes the most of your wall space by providing as much space for storage as possible. The addition of frosted glass or bi-fold doors can add that extra bit of glam to the humble wall cabinet.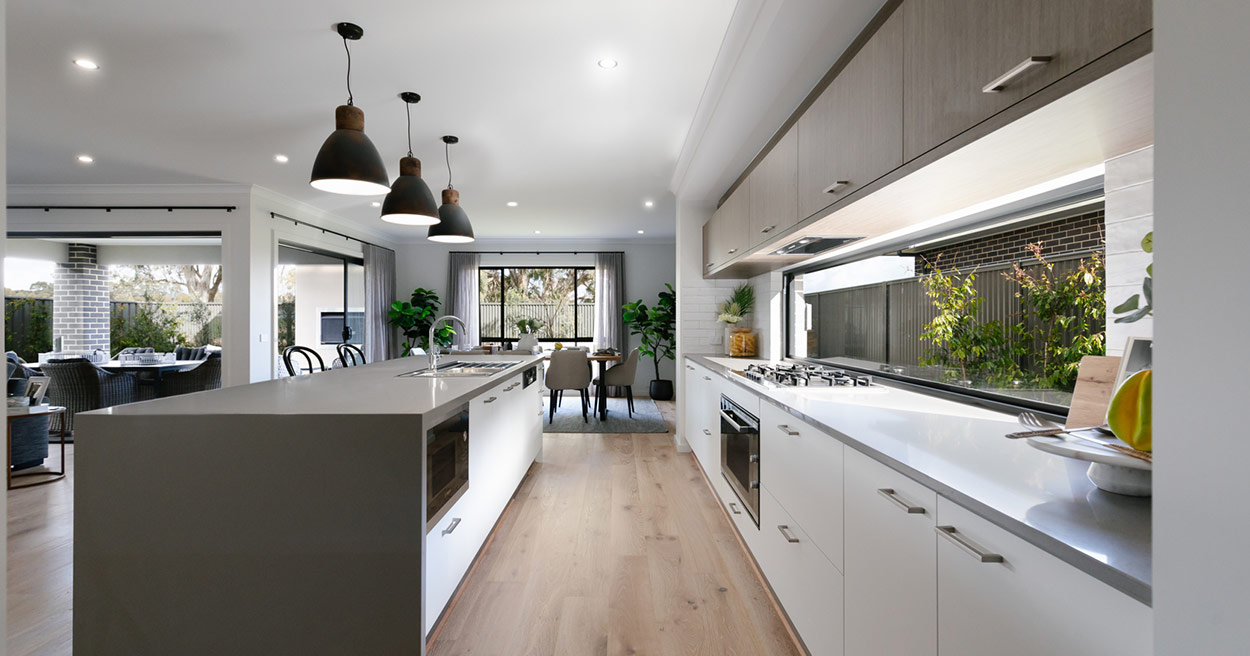 Source: Metricon - Merricks Display Home, Bluestone Mt Barker SA
Custom
If you are after a feature look for your kitchen, custom designed storage could work well for your space. Custom-made open wall units are very on-trend and can double as a space divider.

Island benches
Island benches are great for storing all of your pots and pans – they provide just the right amount of space to create extra deep drawers. Many people also opt for cabinet style or open shelf storage against the front or side of their island bench – perfect for that little drinks fridge you've always wanted!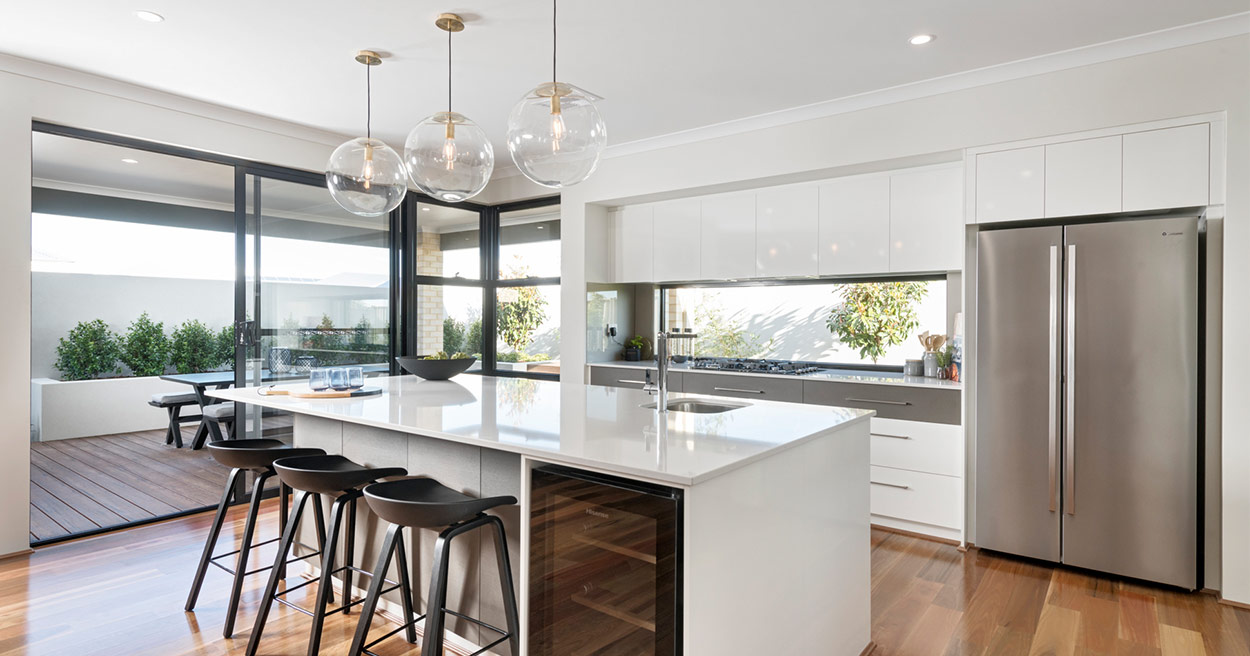 Source: Content Living - The Northport Display Home, Burns Beach WA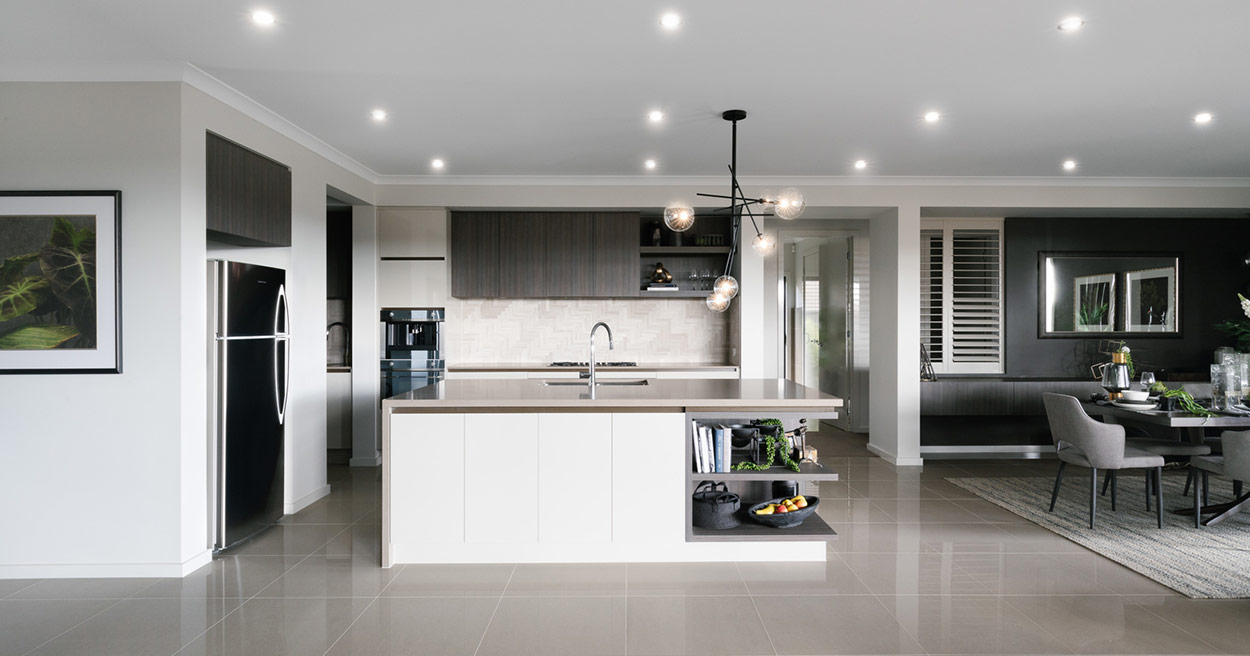 Source: Metricon - Lincoln Display Home, Bluestone Mt Barker SA
Bedrooms
Our bedrooms are our sanctuaries, we don't want to fill them with clutter! There are many inexpensive storage solutions out there that work well for bedrooms.

WIR
Having the ability to customise your WIR during the planning stage of your new build is extremely handy! It gives you the ability to design for your storage needs from the get-go. Will your WIR be shared between two and if so, how will it be divided? Thinking about the types of clothing you own will also help you to understand how best to divide up hanging areas – if you own a lot of dresses you may want to think about including more full-length hanging space. Does your shoe collection deserve its own postcode? If so, you should definitely consider adding in some shoe shelves or pigeonholes.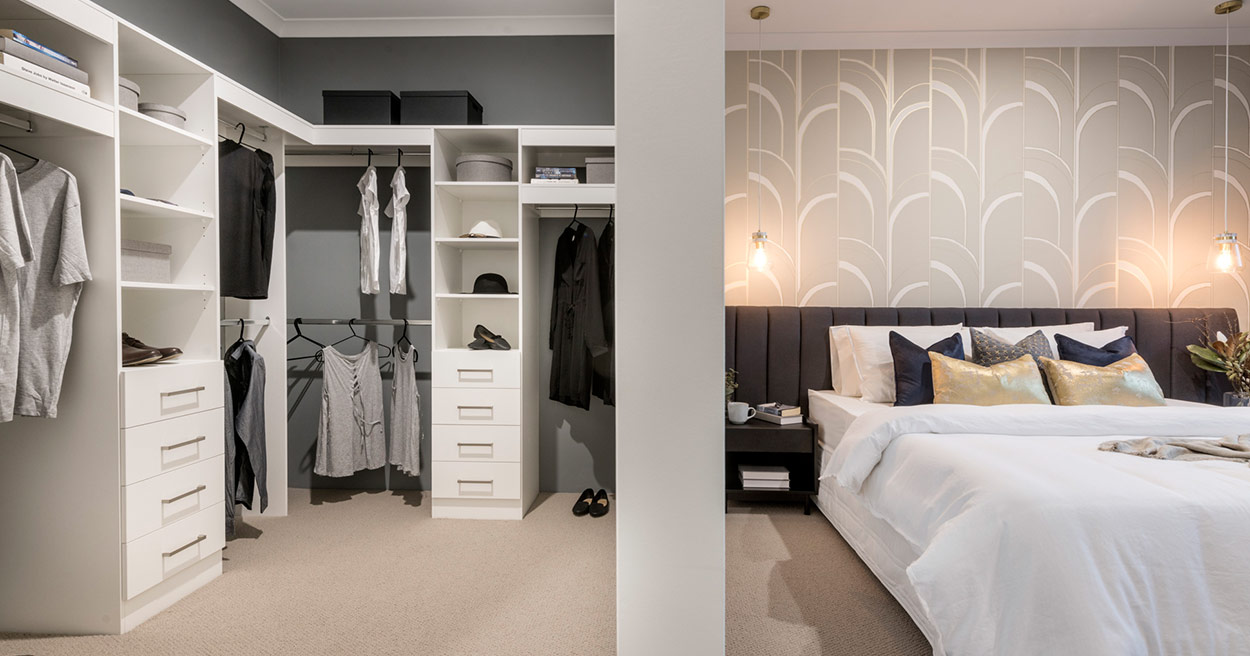 Source:
Content Living - The Northport Display Home, Burns Beach WA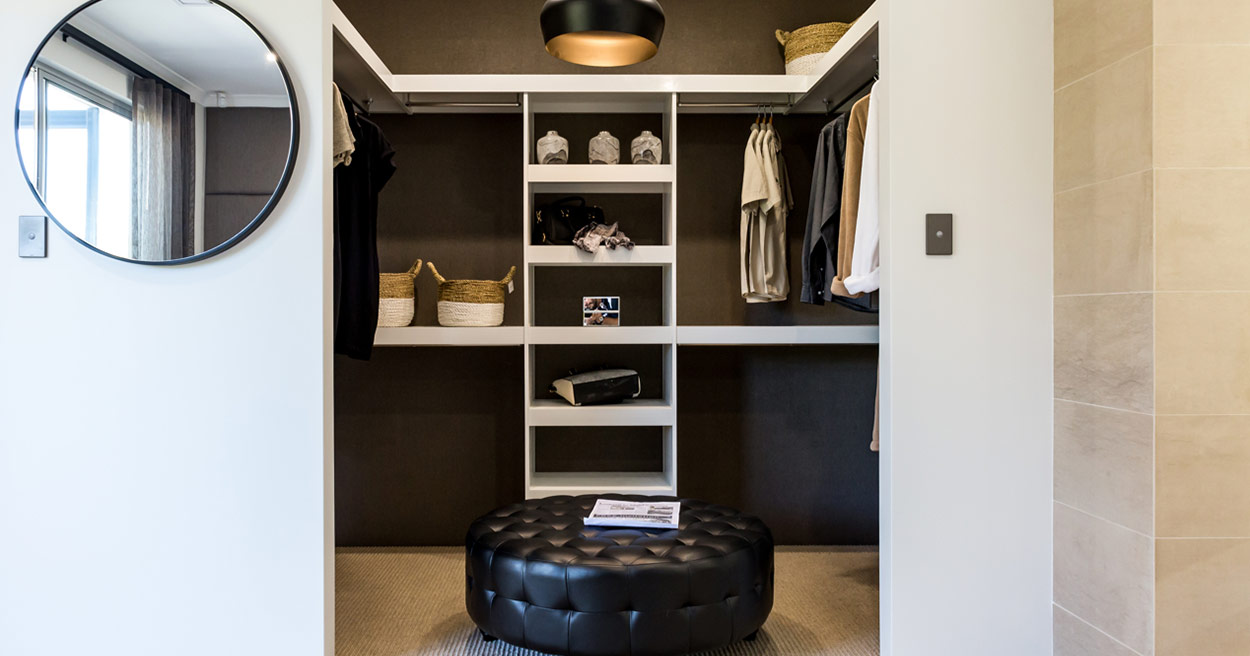 Source: Golden Bay Display Village
Cabinets
Buffet style bedroom cabinets are very on-trend at the moment, they can create a lovely focal point for your room. Use cabinet tops to display your most beautiful items or fresh flowers whilst you store the rest of your knick-knacks inside the cabinet. Placing a mirror above the cabinet creates a lovely ambience.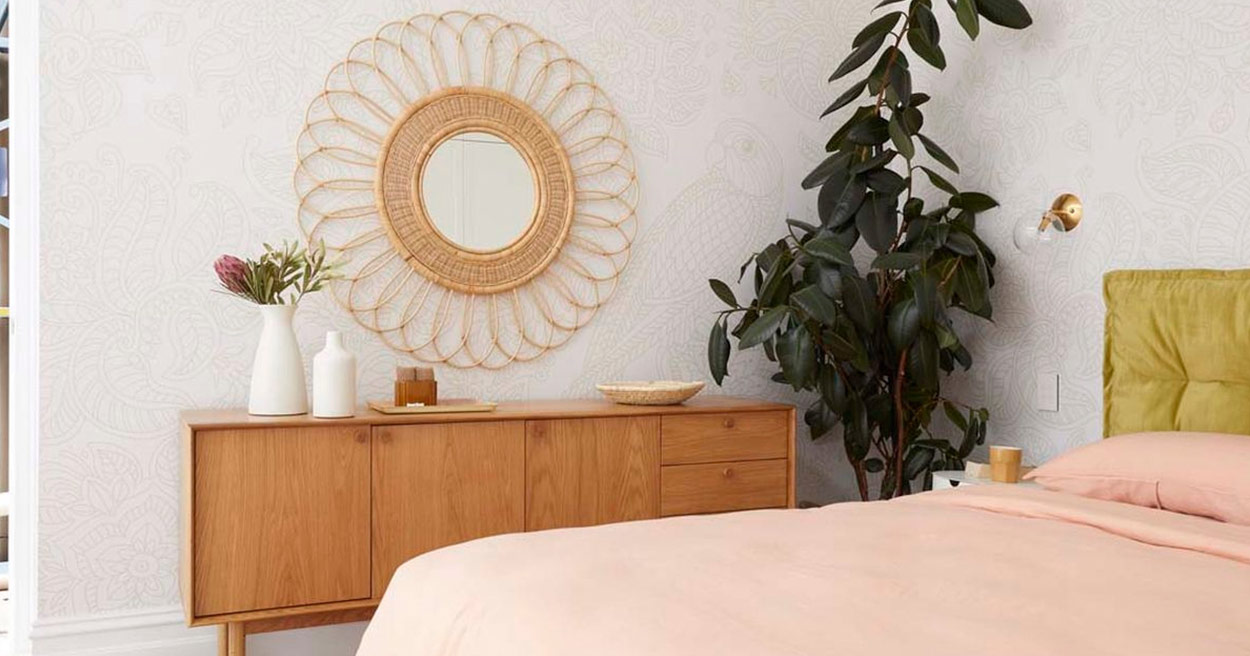 Source: The Block 2019 - Nine Network
Under bed storage
There are many options available when it comes to under bed storage and wheeled boxes is just one of them. They are perfect for keeping everything out of sight but can be easily rolled out when needed. Or if you are in the market for a new bed, consider buying a bed frame that comes with storage included - think pull out drawers or a lift-up base.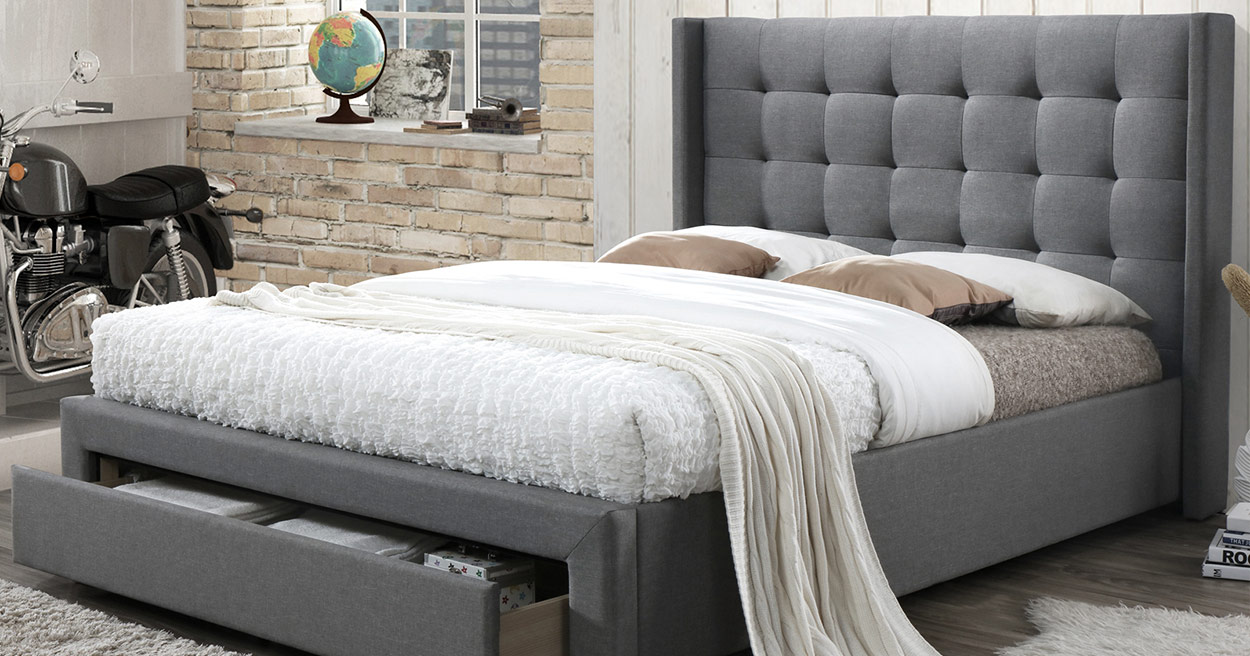 Source: Temple & Webster
Bathrooms
Bathrooms can be one of the smaller rooms in your home – that's why adequate storage solutions is a must for your bathroom.

Wall storage
If you're opting for a smaller sized vanity you should consider installing a wall hung mirrored cabinet. As well as being modern and trendy, mirrored cabinets can provide ample space for storing cosmetics, toothbrushes and other toiletries.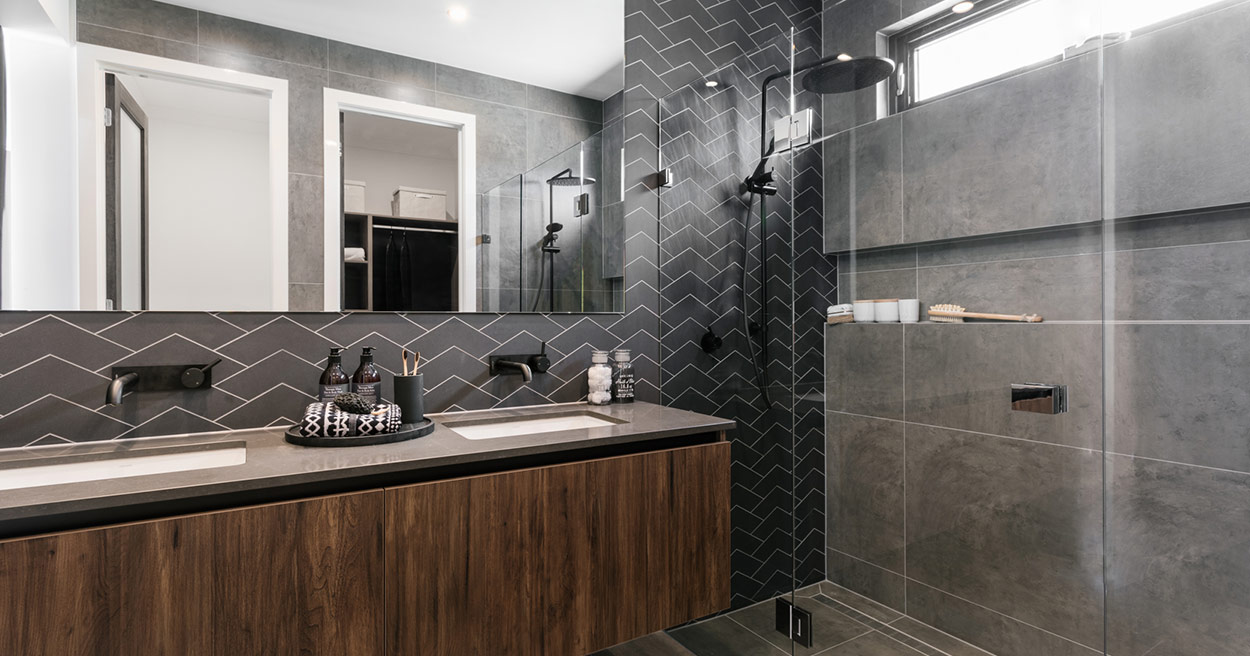 Source: Metricon - Edgewater Terrace Home Display, Lightsview SA
Drawer dividers
If you have a vanity with drawers, dividers are a must. Drawer dividers will ensure that everything has a place and that you keep your bench space free. Grouping similar items and having a divider system will save you so much time in the mornings!


Baskets
Baskets are a versatile, inexpensive storage solution for your bathroom – use baskets to store small towels, toilet paper and other toiletries. The floor space under your floating vanity makes a great space for housing baskets.



Living rooms
Living areas can be breeding grounds for clutter and mess – especially when there are little people involved!

Cabinets
Lowline cabinets are perfect when it comes to living room storage and cabinets can be custom made to fit recesses or particularly lengthy walls. The cabinet tops also double as areas for displaying your photos or homewares. You could even get creative and utilise cabinets as bench seating.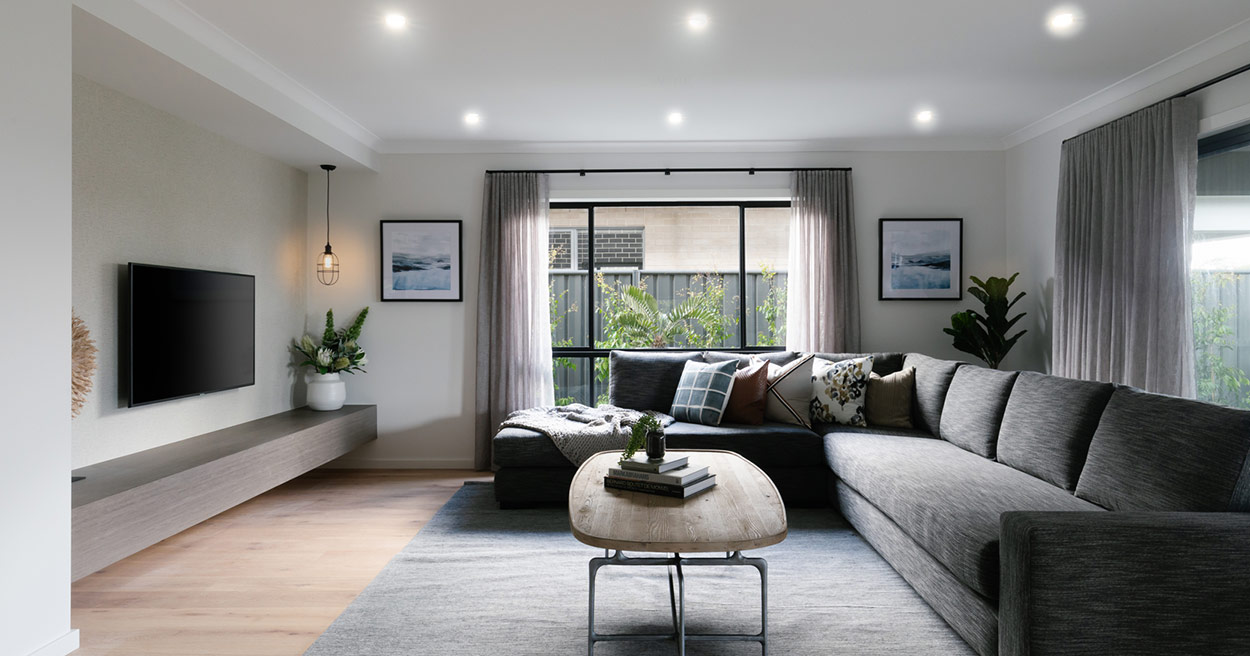 Source:
Metricon - Merricks Display Home, Bluestone Mt Barker SA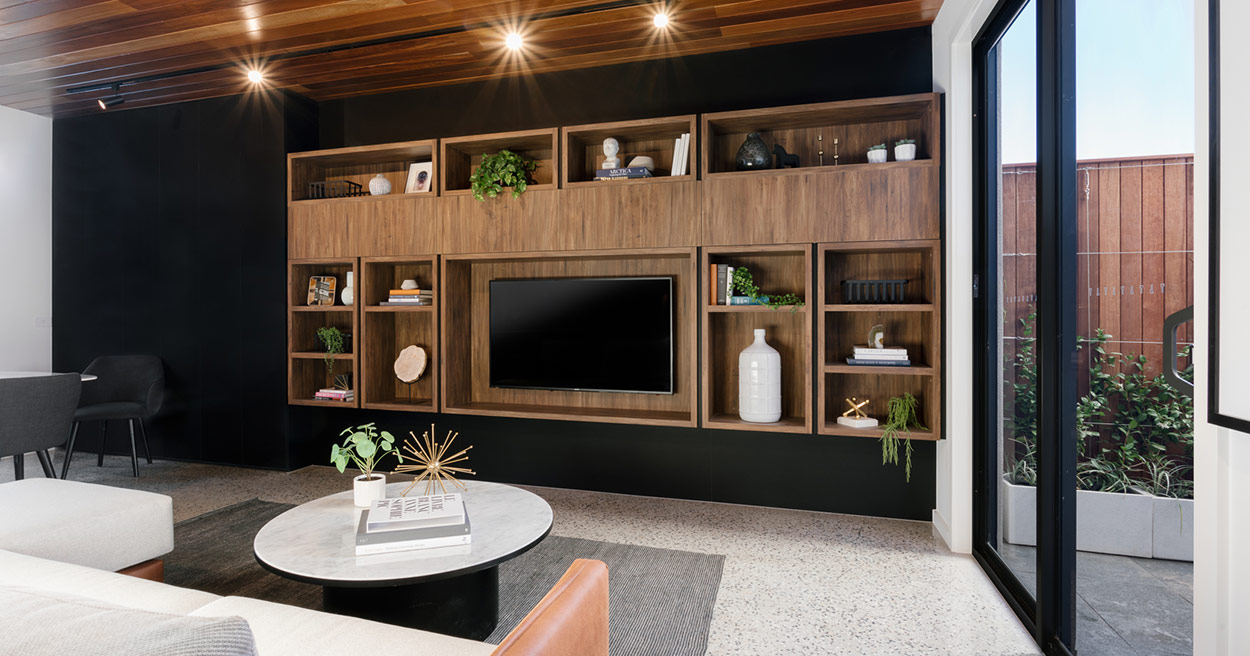 Source:
Metricon - Edgewater Terrace Home Display, Lightsview SA
Ottomans
Ottomans can double as the perfect storage solution for your living room – many of them can open up to reveal extra storage space inside. Ottomans are great for storing board games, throw rugs and extra cushions. Best of all you can usually coordinate your ottoman fabric to match your lounge suite.

Baskets
Just like in the bathroom – baskets also have their place in your living room. They're an inexpensive and portable storage option that are perfect for kids' toys and occasional items.



Having enough storage within your home will definitely help keep things neat and organised, you might even get some tidying time back! Sof if you are building your new home consider your storage options at the design time, or if you are staying put in your current home there are many great ideas to update your storage around the house.
All content within 'Peet's Advice Blog' (Blog) is for information purposes only. While Peet endeavours to ensure all information is current and correct, Peet makes no representation or warranty as to its currency or accuracy. It is recommended that you obtain your own independent advice before taking any action following reading any of the contents of the Blog. Please read the full disclaimer here.