Peet teams up with the 'Experts in Fun'!
Our commitment to innovation keeps us looking for new ways to deliver exciting lifestyle opportunities for residents in our communities across the country. Peet is excited to have joined forces with 'experts in fun,' the Mamma Knows Melbourne team, in an exclusive partnership to guide the design and development of our parks and playgrounds at Cornerstone and Newhaven in the west, and Aston and Aspect in the north.
A key aspect of any strong community is connection and both Peet and the Mamma Knows Melbourne team believe providing high-quality parks, playgrounds and open spaces is an important part of creating a sense of community as they provide places for families, friends and neighbours to connect.

Having reviewed and tested hundreds of parks around Melbourne, the Mamma's know exactly what parents and kids are looking for, and they've become a go-to source for people looking for places to play.
In the west, the parks and playgrounds are being designed to maximise the fun factor and ensure they provide a safe and convenient environment to play.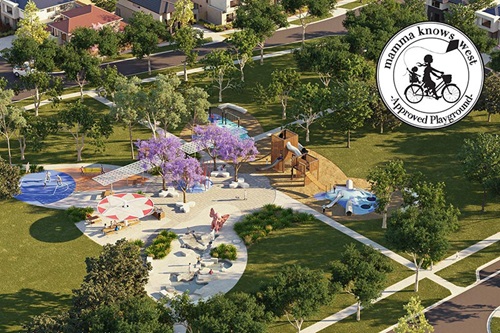 Newhaven, Tarneit
At Newhaven Navigation Park, will be the first of three parks and the centrepiece of the community – it's set to feature a water zone complete with a water-squirting elephant, multiple trampolines, a half basketball court, adventure styled play equipment, springers and spinning wheels and a picnic pavilion with barbeques.
FIND OUT MORE ABOUT NEWHAVEN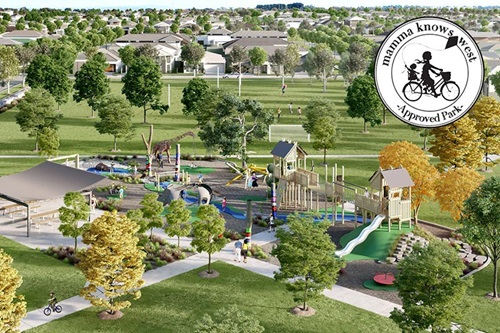 Cornerstone, Werribee
An 'open range' safari themed park is currently on the drawing board for Cornerstone, with giant animal sculptures, jungle-themed play equipment for all ages and even a tower or two!
FIND OUT MORE ABOUT CORNERSTONE
Heading north, it's all about catering for different ages and designing parks that will become centrepieces for these great communities.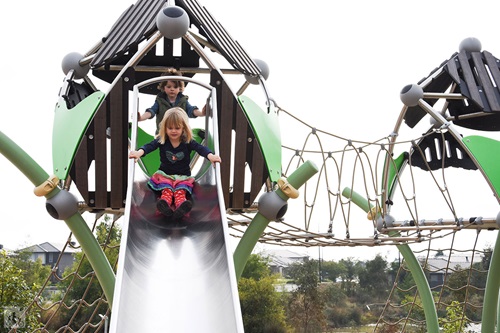 Aston, Craigieburn
The park on Champion Parade at Aston has its own flying fox, swings, slides and a climbable turtle sculpture which overlooks wetlands. Over on Debonair Parade you'll find another park with a large bridge, a ropes course, swings, slides and a sheltered area where parents can sit and relax. But the fun keeps on coming – with a huge new adventure playground set to open in Aston Fields later this year.
FIND OUT MORE ABOUT ASTON
Aspect, Greenvale
At Aspect the Mamma Knows North team has been hard at work, putting the fun into the play equipment, paths and open spaces which will be coming soon to Hilltop Park! This will add to Destination Park which offers a basketball half-court, slides, swings, a see-saw and a huge rope climbing frame – all with spectacular views over the Greenvale Reservoir to the Melbourne CBD.
FIND OUT MORE ABOUT ASPECT