Choose a home that suits your lifestyle
Imagine arriving home each night to a place that just feels right – where every part of the home represents who you are, and what you want to achieve. A home in a community where you feel connected, energised, and inspired – and where you're close to everything you need. Sounds great but with your specific needs, is this really possible?
Good news – it certainly can be. This is exactly one of the reasons why we have created a diverse range of
living options
and home features as part of our product range. Your stage of life and your lifestyle are key factors to consider when looking at what sort of living option suits you best. So start exploring and see if you can find a housing option that better suits your life.
Apartment living
Are you focused on establishing and growing your career while in your spare time you dream of travel adventures to far-flung corners of the globe? Or maybe the kids are off your hands and you prefer to spend more time relaxing than pottering around the garden? When you're home, do you want a low-maintenance and conveniently-located place that can be stylishly decorated to reflect your tastes and style? Then an apartment may be perfect for you.
Gone are the days when apartments had to be small, with limited features in developments. Today's apartments are designed to be clever and practical through the use of innovative design and the latest style trends that help to save space – providing you room to live and entertain. 'Lock up and leave' becomes easy and you don't need to spend days getting your house in order before you head off on that adventure.
There is no need to compromise with modern day apartments. You can still enjoy the flexibility and features of a modern home, such as stylish finishes like stone benchtops, storage options, and entertaining areas including a spacious balcony or courtyard. What's more, apartments are generally located in a central location surrounded by transport options and easy access to a range of amenities such as shops and cafes, along with open green spaces for walking or exercising.
At Peet we've recognised the benefits of apartment living, creating a number of
apartment options
within many communities across Australia. You can currently experience apartment living in our South Australian communities at
Tonsley Village
and
Lightsview
, in Western Australia at
Shorehaven Alkimos
and
The Village at Wellard
, and in Canberra at
Atria Apartments
.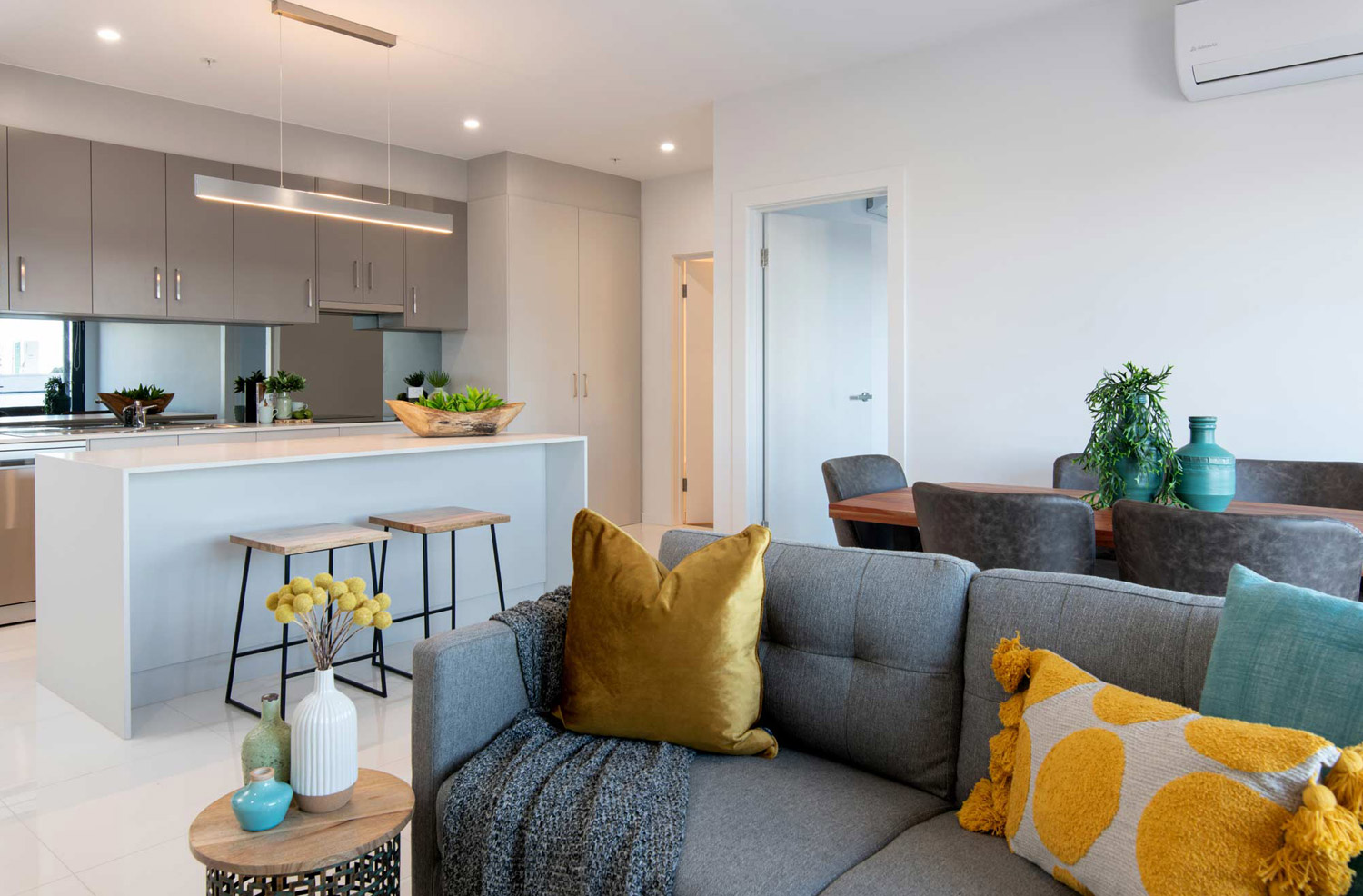 Looking for land
Have you always dreamed of building your perfect home but haven't found the place to do it yet? Thinking of upsizing or downsizing but want to be sure you do it exactly your way? Looking for a community in which you can lay down roots and enjoy living life?
Whether you prefer a lifestyle block with a view, a family home-sized piece of paradise, or a modern, narrow lot,
buying land
on which to build is a great option for those looking for an even more personal experience.
Because Peet understands it's all about choice, and many people are looking for a home that's completely unique, we have a range of
land options
available in
our communities
– and you can have your choice of builder that has a design that you love. You will enjoy all the benefits that come with being part of a connected community - close to shops, restaurants, parks, and playgrounds - while having the freedom to bring your home dream to life with a builder and design of your choosing.

Stylish and modern townhomes
Would you rather enjoy your weekends, rather than spending them in the garden? Do you like the idea of a more affordable home option but don't want to compromise on style or design? Would you like to make the most of the money you have by getting more space on a smaller lot?
If you like the idea of having less land to maintain, and are keen on a modern, low-maintenance lifestyle, then a
townhome
(or terrace home) could be for you. Utilising the space of a narrow block in the most effective way possible, a townhome can offer you spacious living areas and bedrooms, a modern fit out, and plenty of natural light. Plus, with townhomes generally built close to the action or open space, you'll have parks, shops, and everything else you could need close by.
At Peet, we care about every type of house becoming a home. Built with a real sense of community in mind,
our townhomes
enable you to be part of a tight-knit community surrounded by all the conveniences you need in your day-to-day life.
You can experience townhouse living at many of our communities across Queensland, Victoria, South Australia, Western Australia and NSW.
Whether you're new to home ownership, growing your family, looking for a truly modern lifestyle, or ready to settle down, Peet is passionate about helping you build a lifestyle and a home that feels like you.
Discover the many options available near you now
.
All content within 'Peet's Advice Blog' (Blog) is for information purposes only. While Peet endeavours to ensure all information is current and correct, Peet makes no representation or warranty as to its currency or accuracy. It is recommended that you obtain your own independent advice before taking any action following reading any of the contents of the Blog. Please read the full disclaimer here.