First Villagers have moved in!
The keys to the first completed house in Village Green were handed over to excited first home buyers Courtney and Blaine Read. They were overjoyed to start moving into their new home on Friday 18 September. Find out what they had to say about their experience moving in and why they chose Village Green to start their new life as homeowners.
"It's exciting... we got our pool and it's nice and big and spacious which is what we were hoping for" Courtney said.

"We are hoping to be here for quite a long time, at the moment it's a house of having friends around and then maybe down the track eventually children... but we will definitely be here for a long time."
Village Green includes manicured streets, a soon to be opened playgrounds and complimentary front landscaping for all Villagers. The couple said the facilities within the estate and its location were perfect for their lifestyle.
"The wider roads layout was a big thing for us, being a bit closer to Sippy Downs, having lots of greenery and the park which is only one street over and the plans about what is going to be in this area was definitely the reason (why we chose here)."
The home was built by Edge Designer Homes, a builder who has been very busy over the last few months since the Federal Government's HomeBuilder Grant was announced.
"It's very busy times across the Sunshine Coast the Government's stimulus to assist people during COVID times has certainly made people move into the market at a great speed," Edge Designer Homes Marketing and Sales Manager Simon Mullins said.
He said the local builders had multiple houses being built on every street in the Palmview estate.
Peet Limited Chief Executive and Managing Director Brendan Gore said "Village Green welcomed the Reads to the estate and looked forward to seeing more and more familieis enjoy the parklands and the convenience of local shopping, dining, entertainment, healthcare and education facilities. The community will continue to grow over the next few months as more homes are being completed and families start calling Village Green home," he said.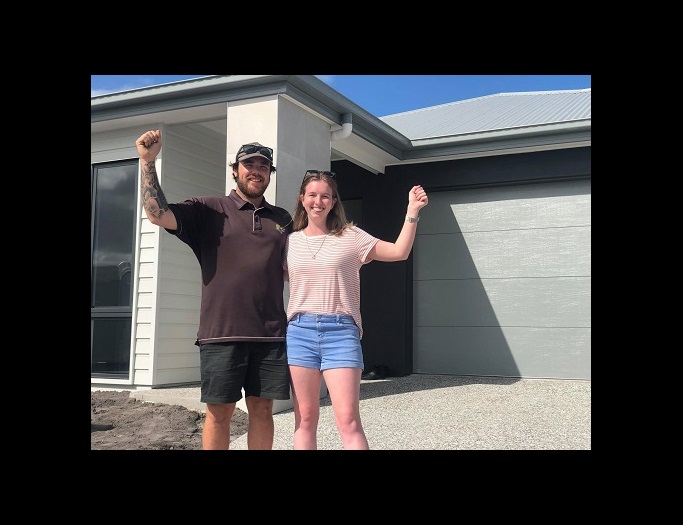 Courtney & Blaine proud new homeowners, excited to move into their new home built by Edge Designer Homes at Village Green.
Image: Laura Pettigrew, Sunshine Coast Daily.