Tips when visiting a display home
Visiting display homes this weekend? Here are some tips to ensure you get the most out of your visit.

For many, exploring display homes is one of the most exciting parts of building your new home. One step in the door, and you're transported to a new life of entertaining, making memories and living the lifestyle you've always dreamt of. It's an inspirational, and often emotional stage in your home building journey. However, with so many display homes to choose from, at times, it can also be a little overwhelming.

Here's 7 tips to help you see beyond the polished presentation and remain focused on exactly what you're looking for.
1.
Plan out your day

Head online before you head out the door. Know the locations of your favourite builders and designs, and plan out your day accordingly to ensure you're spending more time inside display homes, and less time inside your car. This is especially important if the kids are coming along for the day. Check which communities have the best playgrounds and café options and aim to be there around lunchtime. Full tummies and the promise of a playground visit will buy you time to view more display homes (and give you a chance to get a feeling for the community itself). Peet have Display Villages and Display Homes around the country - check them out here.
2.
Before you leave the house, take a moment to consider how your new home needs to support and enhance your lifestyle.

Is an alfresco entertaining area important? Is indoor-outdoor flow a must-have? Would a single storey home work better for your family? Should the bedrooms all be located together? Would it help to see the lounge from your kitchen? Do you need separate living areas? Do you need space for your family to grow? Is a second bathroom critical? Write down your 'must-haves' vs 'your-nice-to-haves'. And when you are looking through the displays be sure to take extra notes too - you might find a layout or a feature that you never thought of before.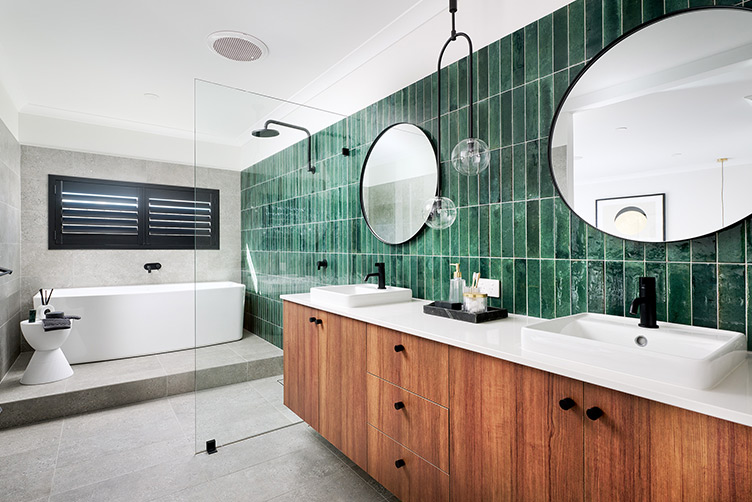 The Atomic by Plunkett Homes - Lakelands Estate Display Village, Western Australia.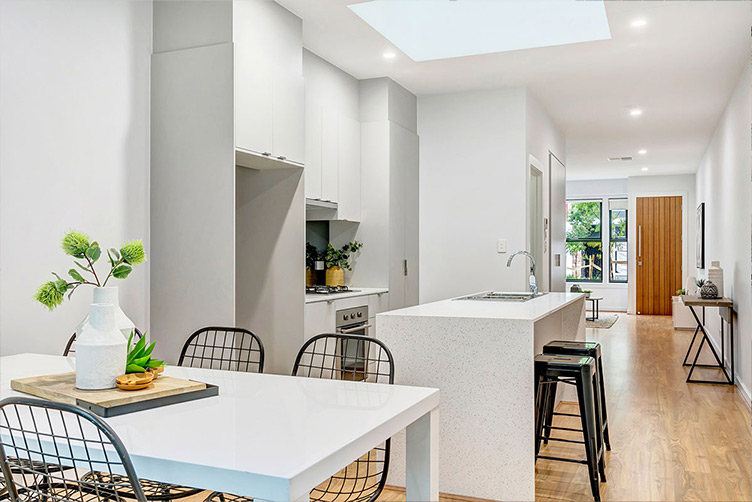 Loft 2 Terrace Home - Tonsley Village, South Australia.
3.
Step out the floor plan

As you're walking through a display home, it can be tempting to let your mind wander, imagining the wonderful BBQs and dinner parties you'll have with your friends. And while we agree that entertaining in your beautiful new home will be something to treasure, your new home should support and enhance your lifestyle each and every day, not just on special occasions!

The best way to understand if a house works for you and your family, is to step out the floor plan. If you regularly move between the kitchen and the laundry in your daily routine, step it out – are they located together? Is the kids play area miles away from the kitchen or only a step away? Where would the nursery be, is it close to the master bedroom? Does the floor plan allow your home office to be located away from the main living area and kids' rooms?


4.
Don't forget the little details!

Once you've soaked in the design, sleek modern fixtures and the flow of the display home, remember to check out the smaller (yet equally important) features. Does the kitchen layout work for you and is there adequate pantry storage? Is there room for an ironing board in the laundry? What general storage over and above wardrobes is on offer for large items like suit cases, prams and your vacuum cleaner? Is there enough lighting in each room for your requirements? Are there enough electrical points and where are they located? Where are the windows positioned? Will this provide you with optimal natural light? Of course you can add in these little details when you work with a builder on the design of your home, but pay attention and write down what you think works well in these displays.
Cayenne 29 by Simonds - Newhaven at Tarneit Display Village, Victoria.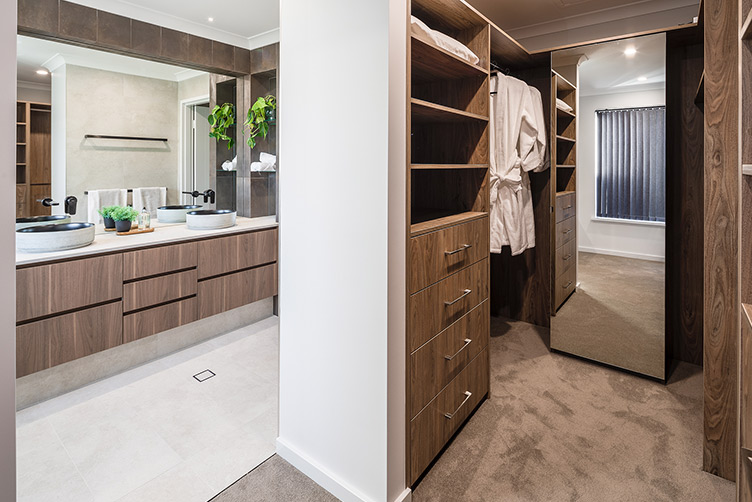 Hurstsville by Shelford Quality Homes - Brabham Estate Display Village, Western Australia.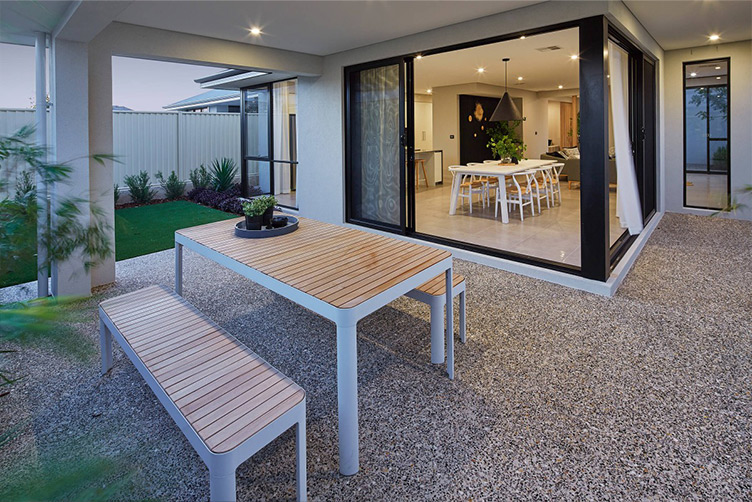 Providence Platinum by Home Group - Burns Beach Estate Display Village, Western Australia.
5.
Is everything you're looking at included in the base price?

Sometimes, builders include upgrades into their display homes, so it's important to ask the sales person on site exactly what features, fixtures and finishing you can expect in the base price. Lighting, additional power points, curtains and blinds, alfresco areas and driveways are some of the things to look out for. And conversely, if the home is missing one of your must-haves, mention that to the sales person as well – the builder may offer what you're looking for as an upgrade.


6.
Quality first

The finish of a display home is usually a good guide of the quality of a builder's workmanship. If the display home looks tired or the finishing is rough, you'll want to move onto the next one! Checkout the quality of fixtures like taps, toilets, blinds, cabinetry, handles. Remember to look up and down too so you don't miss lighting and flooring - if a floor isn't up to the steady stream of house hunters, it may not be up for every day family life.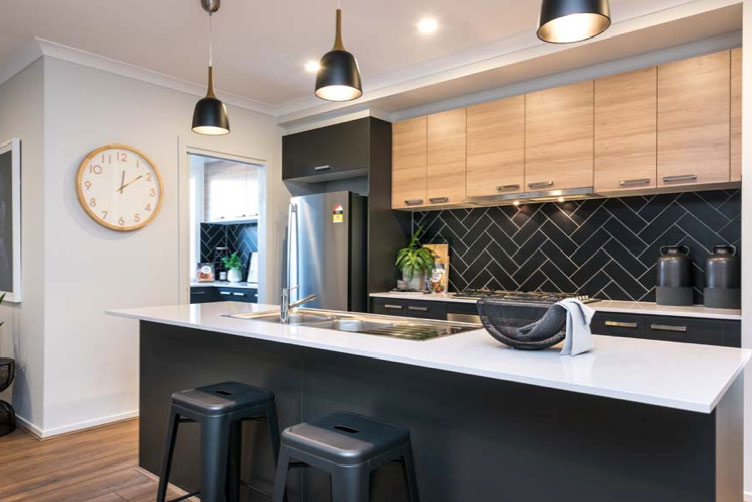 Campbell 231 by Burbank Living - Bluestone Mount Barker Display Village, South Australia.


7.
The WOW factor

Both financially and emotionally, building your new home is one of life's biggest undertakings. And while we're all for the practical considerations, you also need to fall in love with your home. Yes, a display home may tick all of the functional boxes - but if you don't get butterflies when you walk in the front door, your search may not be over quite yet!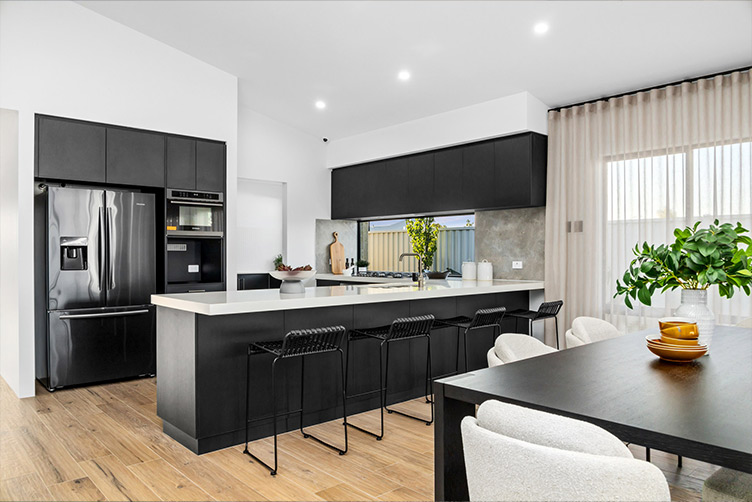 The Lexington by Ross North Homes - Brabham Estate Display Village, Western Australia.
Now go out and take it all in, and enjoy the fun that is exploring display homes and display villages!
All content within 'Peet's Advice Blog' (Blog) is for information purposes only. While Peet endeavours to ensure all information is current and correct, Peet makes no representation or warranty as to its currency or accuracy. It is recommended that you obtain your own independent advice before taking any action following reading any of the contents of the Blog. Please read the full disclaimer here.