Spend a day with us and discover a place to belong
Across Australia, Peet's master planned communities have been created with you, your family and your lifestyle top-of-mind. Offering far more than a place to live, our communities are designed to enhance your wellbeing by fostering a sense of connection. With carefully planned outdoor spaces, parks and playgrounds and initiatives that nurture a sense of community spirit - when you choose a Peet community, you'll discover a place to belong.
So, join us as we spend a day exploring what your life could look like in a Peet community.
7.00AM – time for a puppy play
First-up we're going to grab the whole family (including the four-legged ones!) and head out to
Riverbank
in Caboolture South, Queensland. With a fully-fenced park created exclusively for your pooch, they can sniff, wag and play, running off their pent-up energy in the early morning sunshine. And if the stunning Queensland sun is already heating up – maybe we could pop over to the first water park for dogs in south-east Queensland at
Flagstone
. With unique features including spouts of bubbly water that shoot from the ground at the push of a button and dog tunnels that weave through cave-like heaped rocks, this is surely k9-heaven.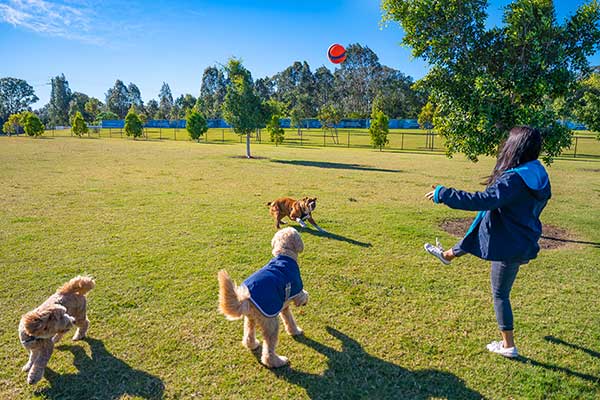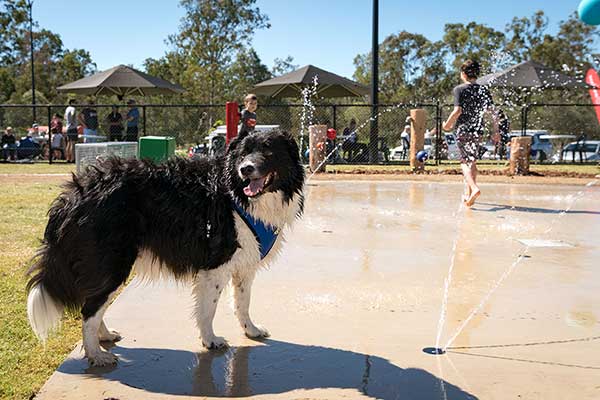 9.00AM - now it's definitely time for a coffee!
We know where you can get an amazing brew, in an amazing location. So, we're going to head off to WA now and grab a coffee from the Isle of Lace coffee cart situated at Black Swan Lake, one of the two stunning lakes surrounding WA's Lakelands Estate. Just over 60km from Perth CBD, Lakelands is nestled between the stunning Indian Ocean coastline and two beautiful natural lakes – the perfect spot to enjoy a great coffee.

10.00AM - let's get our 'play' on
At Peet we absolutely love a good playground. That's why, across our Melbourne communities, we team up with the experts in fun, Mumma Knows West to help us design the best playgrounds in the land! So let's get our play on, over at the brand new Raffles Walk Park in Melbourne's Cornerstone Estate. Inspired by the nearby 'You Yangs Regional Park', the new park features state-of-the-art play equipment for explorers of all ages.

And how about we really treat the kids today and take in a second playground experience at Universal Park, Newhaven's brand-new exciting playground in Tarneit. The kids will have a blast on the gigantic slide, swings, and climbing nets, walls and frames.
12.00PM – time to feed our hungry tummies!
After all that play, it's definitely time for lunch. Luckily enough WA's
Brabham
and
Movida
estates are both a mere stone's throw from the stunning Swan Valley region and its delicious dining experiences. Whether it's a hearty pub meal or more refined experience, Swan Valley is our lunch pick for today! And we know the kids will be entertained with the summer markets, picnics fused with jazz and blues, outdoor cinema and feel-good festivals.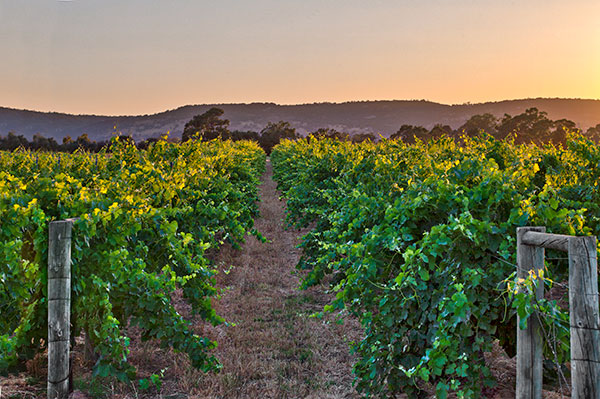 2.00PM - Now it's time to work off our lunch
We're going to head to SA's award-winning Lightsview Community and take a bike ride, stroll or jog around one of the many bike and walking trails that weave around the wetlands surrounding the community. One of the first things you'll notice at Lightsview is the careful attention to convenience and open space have taken absolute precedence in the community's design. We'll be welcomed by large open spaces and to a whole new world of recreation and respite with every new home being within 300m of open spaces, most within 200m.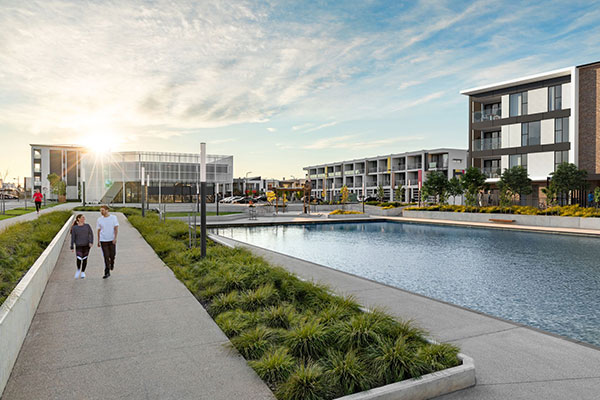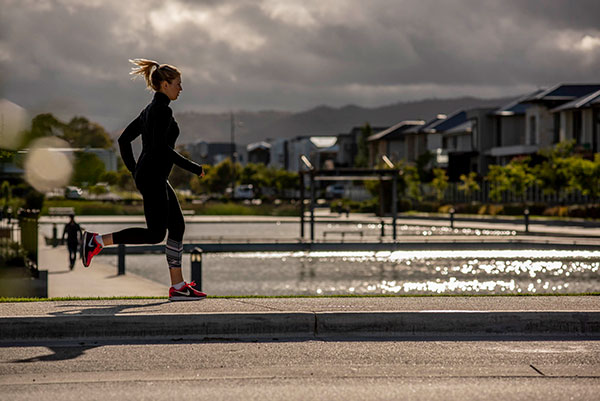 4.00PM – time to cool down
All of that exercise has got us feeling rather warm so we're going to zoom over to WA's stunning Golden Bay Estate for a swim in the beautiful Indian Ocean and experience the community's unique coastal lifestyle.
And while we're over in WA, we thought you might like to discover the 1.7km of Shorehaven Beach – Shorehaven Estate's very own pristine swimming beach. This swimming beach is great for families, and also features the rich history of a popular diving spot the Alkimos Shipwreck, just off the coast.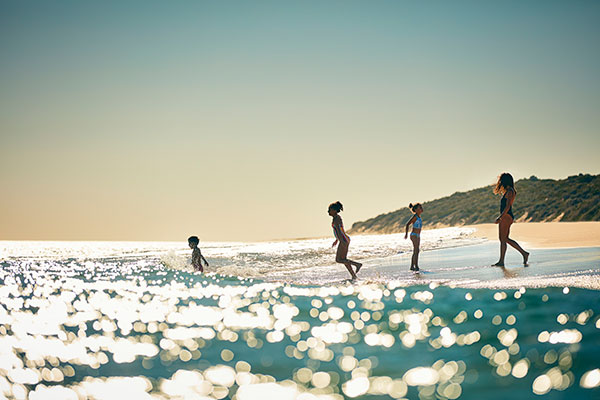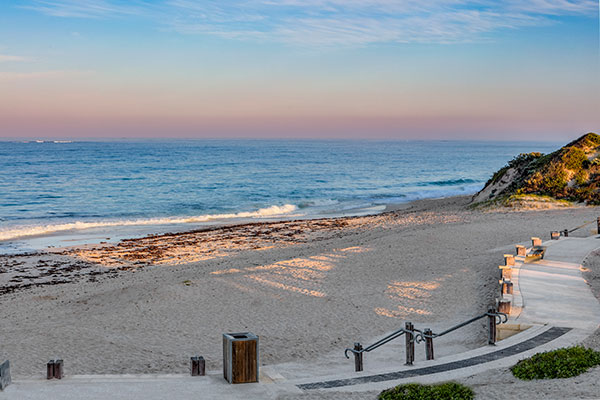 6.00PM – we're hungry again!
Which is just as well because we're in the perfect place for a delicious meal as we watch the sun go down. Shorehaven is proud to be home to hotspot Oceans 27 Restaurant! With its uninterrupted oceans views, buzzing atmosphere, delicious menu and great service, this is definitely the place to be.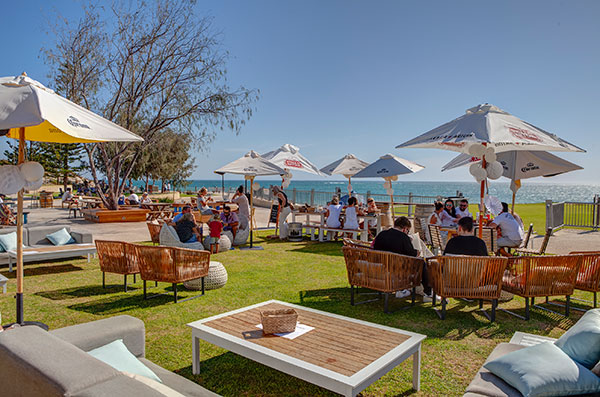 8.00PM – finish the day off with an ice-cream of course
What a day! What better way to finish it off with a delicious ice-cream from the local Googong North Village Centre in ACT's Googong. They say the Googonian life is a happy life. A life where your family grows, your neighbours are neighbourly, and your children are practically free range. And that sounds like just the perfect place for us to end our day.
There's so much on offer across Peet's communities. All that's missing, is you.
If you found this information helpful, subscribe to receive regular homebuying advice, lifestyle and design inspiration.