Q&A with Gardening Experts, Tim Davies Landscaping
Would you like a lush, on-trend garden that's the envy of the street? We caught up with Tim Davies Landscaping, and asked them for their tips and tricks for creating a stunning outdoor space, with limited time and budget – even if you're not a green-thumb.
1. You've created many beautiful gardens; do you have any secret garden 'hacks' for replicating incredible designs on a tight budget?
There are definitely ways to save money on your garden through DIY measures. One good option for saving on big feature items is to look for them on places like Gumtree. Large planters tend to be quite pricey and can be a good place to save some money. Re-purposing old objects for planters is a time-honoured gardening tradition but you don't have to use rusty old wheelbarrows and disused tires, get creative! You might also look at getting into crafts, cement is a really popular contemporary finish and it's not very expensive - you might be surprised by what you can make yourself. Growing from seeds and cuttings is another way to save money, and a fun experiment (especially if you've got kids).
2. I'm considering installing garden lights – what are your favourite outdoor lighting looks? Is solar a good option or would you recommend wiring them in?
Your choice of lighting depends on the style and structure of your garden. Strip lighting is popular, and when used creatively you can get amazing results. We also love a permanent string light setup. Garden lighting can be a feature, but it's really there to highlight the very best features of your garden, and to make the garden easier to use at night. It's important to keep those two things in mind when deciding on your lighting setup. Solar and wired lighting both have their advantages, wired lighting tends to be less flexible in placement, more expensive, but brighter and more reliable. Solar lighting is great because you can place it or move it virtually anywhere the sun hits the panel, it's also safer to install or mend if you're installing it yourself (and you don't happen to be an electrician).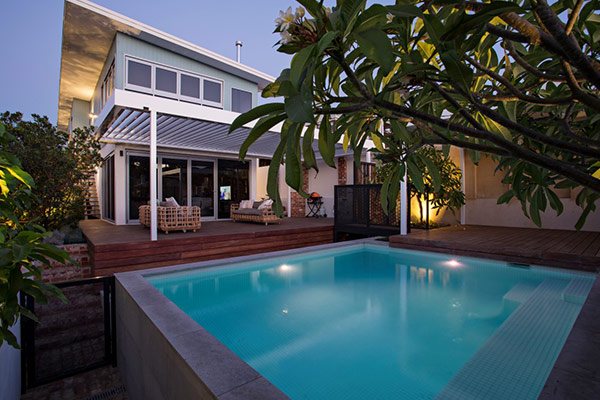 Image: Tim Davies Landscaping
Image: Tim Davies Landscaping
3. I'm not a green-thumb and don't have a lot of time to spend in my new garden. What are your top tips for creating a low-maintenance garden?
Plant natives and succulents! Native gardens tend to be very low maintenance because the plants themselves are effectively designed by nature to thrive in our climate without much help. Succulents are also very hardy, and they tend to grow relatively slowly which means you don't need to worry as much about overgrown beds and leaf-fall. Make sure you know how to use your reticulation system and that it's designed well, and if you're really time poor it's worth investing in at least a few maintenance services from a landscaper throughout the year.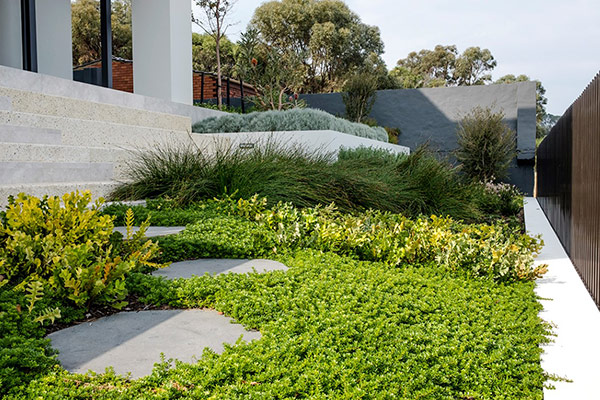 Image: Tim Davies Landscaping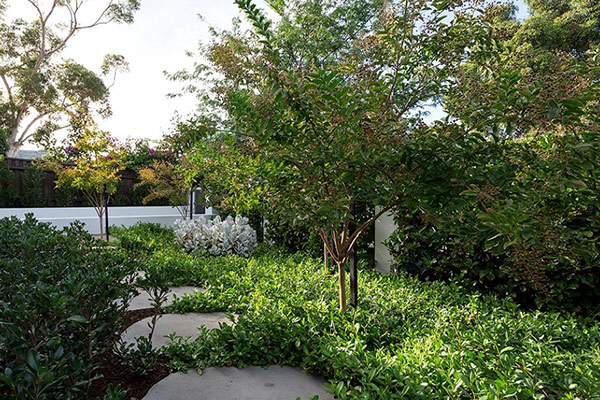 Image: Tim Davies Landscaping
4. My budget won't extend to having my entire garden professionally designed and landscaped - what elements do you recommend allocating budget to, and what could I potentially do myself?
When it comes to budget constraints, we recommend working backwards from the parts that are most important to you. Decide which elements you MUST have, and then compromise on the things that aren't so important. Plants can be a good place to save money. Look for healthy plants, but if your budget is tight pick some younger specimens and let them mature in your garden. Another good option for those on a budget is to plan the whole garden, but put it together in stages. This means giving your bank account a bit of a rest in between tasks. How much you can do yourself really depends on your experience, but most people find that planting is a straightforward enough task to do on your own. We don't recommend cutting corners on unfamiliar tasks, but you could always talk to your landscaper and see if they'll let you chip in, to cut down on their time costs.
5. What are some of your favourite new trends in landscape design?
Some of the trends we've noticed this year have been stay-cation staples like outdoor kitchens, glamorous tiled pools and outdoor fireplaces. We've been installing a lot of moats and elevated pools this year, they're fantastic for cutting down on the need for fencing. We've also seen a bit of a trend towards more organic/biophilic mixed plantings and things like green walls and roofs. We actually love this, and there's a lot of research to suggest that the more nature you've got around you, the happier and healthier you are. What are gardens for, if not our health and happiness?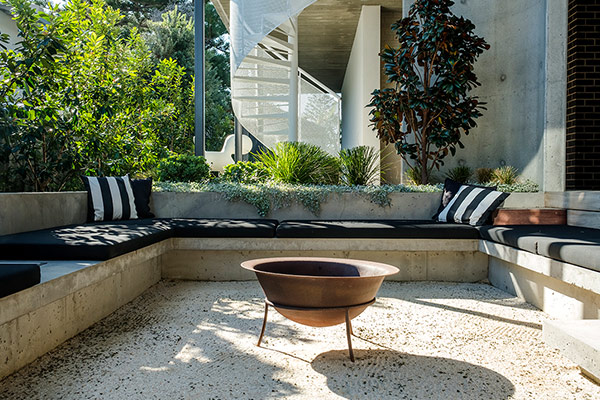 Image: Tim Davies Landscaping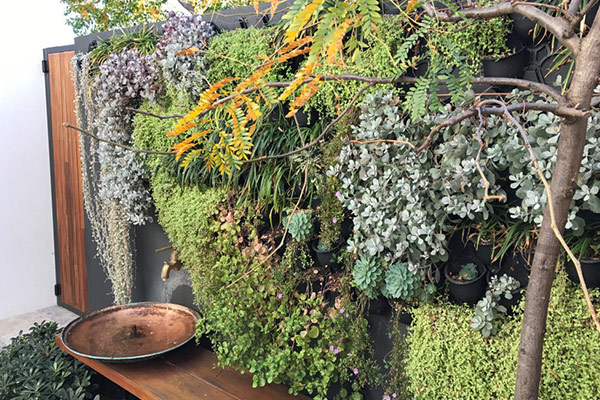 Image: Tim Davies Landscaping
All content within 'Peet's Advice Blog' (Blog) is for information purposes only. While Peet endeavours to ensure all information is current and correct, Peet makes no representation or warranty as to its currency or accuracy. It is recommended that you obtain your own independent advice before taking any action following reading any of the contents of the Blog. Please read the full disclaimer here.