How to choose a floor plan that suits you
There are many big decisions to be made when it comes to building the home of your dreams, by far one of the most important would have to be selecting a floorplan. We recently sat down with John Care, Design Manager at
Dale Alcock Homes
to get his expert opinion about how to choose a floorplan that's right for you.
When it comes to choosing a house design consider these key questions:
How do I want to live in my new home?
Consider what sort of lifestyle you lead – are you into entertaining and cooking for family and friends? If you are, then you may want to consider an above average sized kitchen or even an open plan kitchen/dining area, which allows you to socialise with your dinner guests whilst preparing their meals. If you're a total movie buff then you should think about including a home theatre into your floorplan, or if you like the relaxed day spa vibe, consider allocating some extra space to create an indulgent ensuite of your very own.
What's my short to long term life plan? If you're planning on having a family in the near future, be sure to think about the extra space you'll be needing and if the floorplan you choose is flexible enough in its design to accommodate these changes. Is this new home going to be your forever home? If not then you should consider factors for resale value – such as number of bathrooms, bedrooms, storage space and enclosed garages.

Floorplan Vs block: Consider how your chosen floorplan can maximise the spacial area of your block. Should you switch out a games room to become an alfresco to maximise your outdoor space? The direction of cooling breezes or hot winds has an affect on the heating and cooling of your home, so considering the orientation of your home on your block, could save you money on your utility bills.
What is my budget?
Of course one key factor in floorplan selection is how much you can afford to spend, and it is important to stick to your personal budget. However, consider spending a little extra if it means making your floorplan absolutely perfect – because making structural changes to your home at a later date can be a real hassle and can quickly become a costly exercise.
Visualising your new home
Dale Alcock Homes
works closely with clients to help provide various tools to visualise their new home. In some cases, and based on client desires and requirement, this can be provided through 3D walkthrough technology. 
New trends for 2019
Gas strut awning windows are café style windows, which connect the kitchen to the alfresco area, making entertaining even easier. This highly functional, unique option is an ideal alternative to bi-folds and sliding doors as they save on space and provide maximum access to move from the bench top to outdoors with ease, capture the breeze or to have those unobstructed views when closed.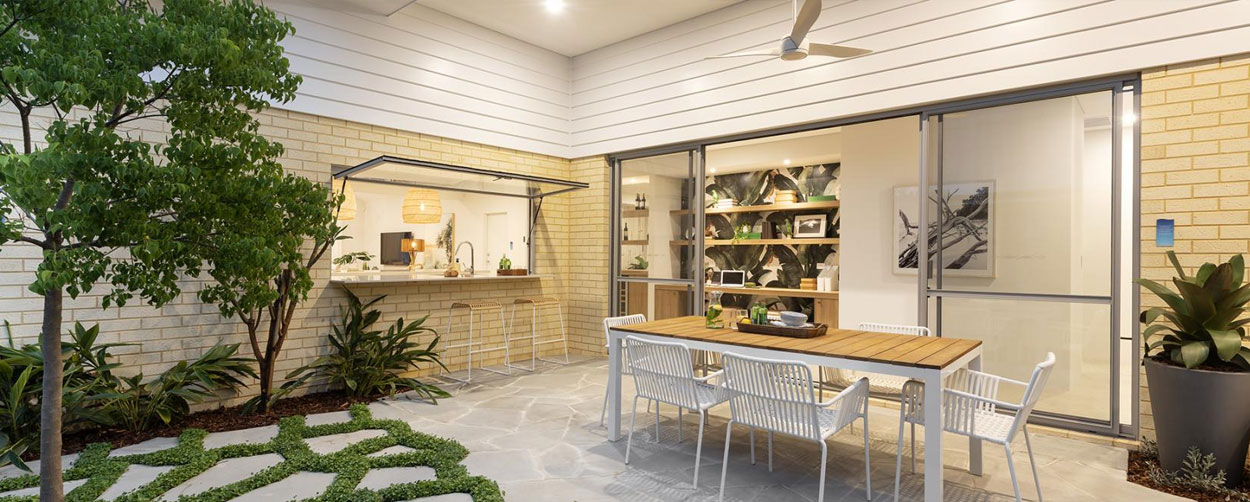 Noosa display home by Dale Alcock Homes
In 2019 Marie Kondo is reinventing the way we tidy up or homes and we need plenty of storage space for all of those organised and labelled boxes. With changing lot types, it's important to always consider how to maximise space at any opportunity. A roof storage system is a great way to free up space, and it also helps de-clutter the garage by turning an otherwise unused area into accessible storage for items you don't use every day.
Shadow line cornicing
is a special design feature in some of Dale Alcock's newest display home, and they can give the effect of a beautiful floating ceiling.

Drop zones or charging zone areas are popping up in many new homes, usually located near the kitchen in study nooks or just off the living room. This provides a special area for housing keys, phones and other small items which you don't want cluttering up your kitchen spaces. They can also include USB charging points for devices.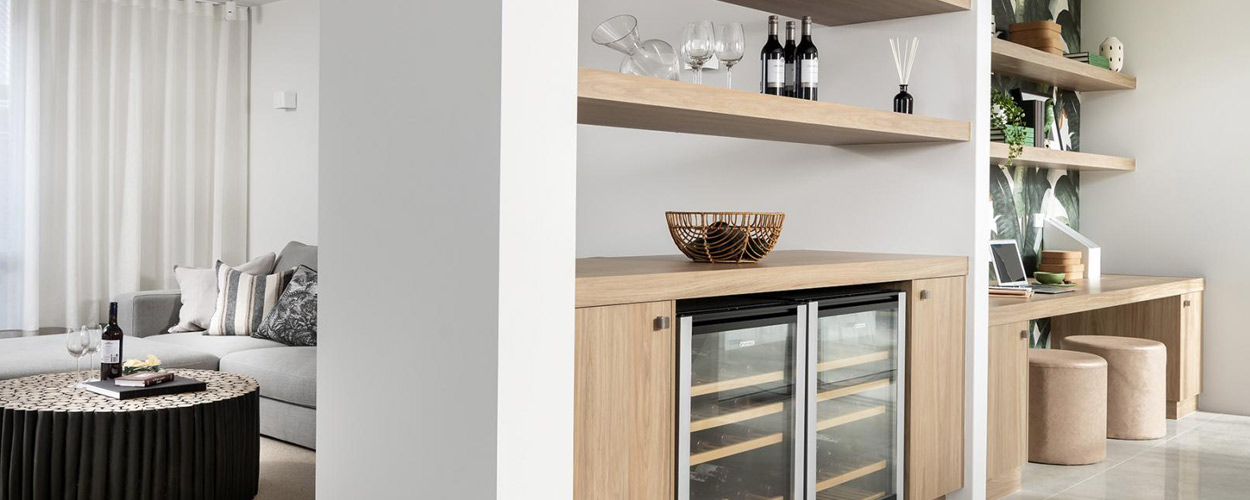 Noosa display home by Dale Alcock Homes
Considering these above questions and tips can help you when planning out of the spaces in your new home. Last of all, be sure to work closely with your builder to discuss your predefined needs and wants as this is the best way to make sure that your home is a forever one!
All content within 'Peet's Advice Blog' (Blog) is for information purposes only. While Peet endeavours to ensure all information is current and correct, Peet makes no representation or warranty as to its currency or accuracy. It is recommended that you obtain your own independent advice before taking any action following reading any of the contents of the Blog. Please read the full disclaimer here.