Healthy and active lifestyles
Being active outdoors is an essential part of healthy living and here at Peet we take the topic of healthy living pretty seriously when we are creating new communities - open spaces, pathways and cycleways are all carefully considered in the early phases of design.

Within a community there should be many spaces for everyone to enjoy; somewhere to walk your dog, a place for the kids to play, accessible places for all people to enjoy and plenty of spaces for picnics and kicking the ball. Open spaces have become popular meeting places for residents, providing them with an opportunity to connect and feel a sense of belonging and wellbeing. We like to start our open space creation process by consulting with the community and understanding what they want to get out of being outdoors.

Peet partner with experts in the field of community and place creation, delivering many benefits to our residents, and one such partner is Creating Communities Australia.
An effective way of creating the best open space for people is to engage them in deciding what type of uses it should have, who are going to be the users, and what types of "things" should be provided

Allan Tranter, Director Creating Communities
Finding 30
Many of our communities such as The Village at Wellard in Western Australia, are designed with movement networks that make "finding 30" a breeze. Experts believe that doing 30 minutes of physical activity everyday leads to a healthier and happier lifestyle. Try walking or cycling to and from the bus or train station. Or walking, cycling or scooting to and from school is another great way of incorporating exercise into your daily routine.

Careful attention to convenience and open space have taken absolute precedence in Lightsview's design, in our South Australian community. Today residents are welcomed by large parks and open reserves to a whole new world of recreation and respite with every new home being within 200m of open spaces.
Well designed, attractive, functional open spaces are becoming more and more important in our communities today. They are now one of the most important meeting places for residents but they have to user friendly and people need to feel that they are welcome and belong

Allan Tranter, Director Creating Communities
Outdoor gym equipment
Outdoor gyms are a fantastic way to get fit and increase your Vitamin D levels at the same time. They enable you to complete circuits, which are sometimes not possible within the constraints of a regular indoor gym. Why not take the kids with you and make it a family outdoor workout. Outdoor gyms have no opening and closing hours, so you can exercise whenever you like and best of all it's completely FREE!


Our Communities with outdoor gym equipment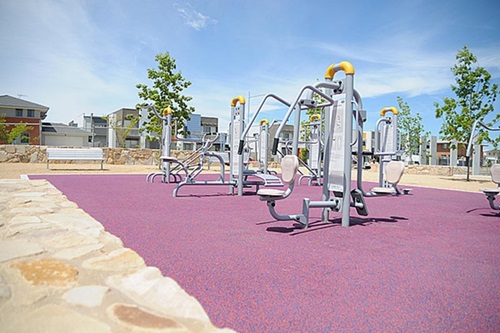 Googong, NSW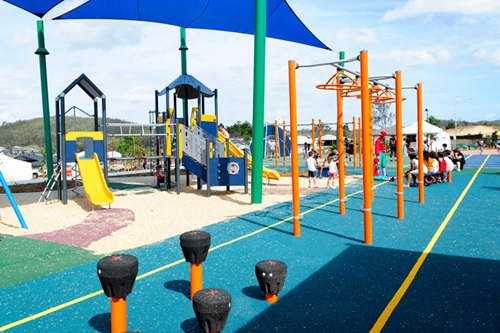 Eden's Crossing, QLD
Open and recrational spaces
All of our communities feature functional and attractive open spaces; whether it be playgrounds, walking trails, bike tracks or sporting grounds. Some communities are even located on the cusp of regional and national parks which make it easy to explore the outdoors with the family.

Did you know that Spring Mountain in Queensland has its very own free weekly parkrun? Head to Spring Mountain Reserve Park on Tully Connection Road, from 7am every Saturday to take part in the 5km park run.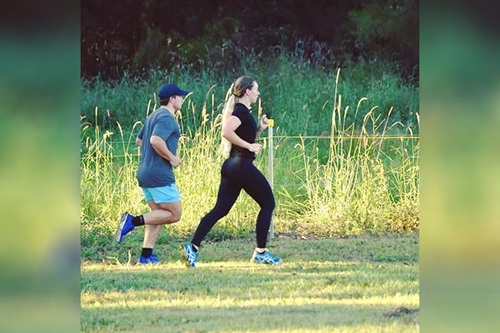 Source: @lukeymitchell06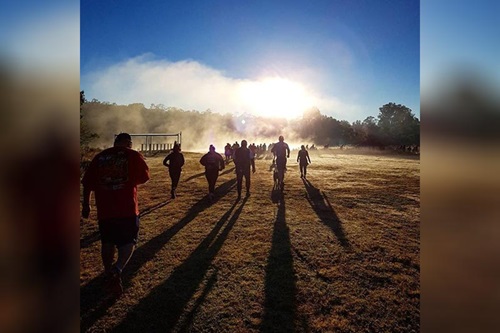 Source: @beejay1177
Aston Craigieburn
residents,
in Victoria,
can make use of over eight hectares of recreational space, including three soccer pitches and a cricket oval. Residents can also enjoy over 3kms of walking and bike trails throughout the community.
If skating is your thing then you'll love
Golden Bay's Skate Park in Western Australia
- featuring skate, scooter and BMX ramps, the Skate Park is suitable for a range of ages and abilities.
Bluestone Mt Barker
residents,
in South Australia
, will soon be able to enjoy the new
regional sports hub
set to open in 2020. This impressive facility will include; 3 football ovals, 8 netball courts, 6 tennis courts, a soccer pavillion plus clubrooms and function centre.
National and regional parks
You Yangs Regional Park is just over half an hour away from Cornerstone Weribee in Victoria. Perfect for bushwalking, mountain biking and rock climbing.

Tamborine National Park is a short drive from Flagstone in Queensland and offers some exceptional scenery, including glimpses of the Pacific Ocean and Gold Coast skyline. Flagstone's Regional Recreation Park is a big draw card for the community with a Dog Park with water play, Adventure Playground and a Water Play Park!

Relax at one of Spring Mountain's local lagoons - home to natural bushland, a variety of bird life and grassed areas.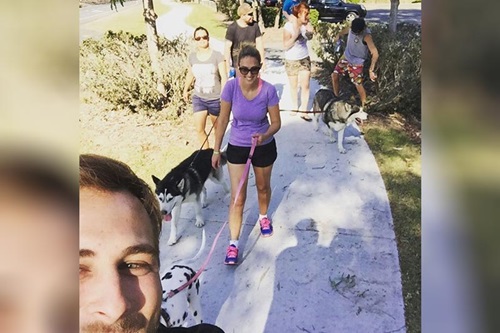 Source: @pauly_jr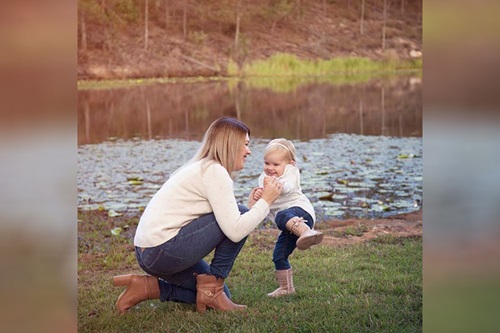 Source: @andy_h_photohgraphy
People need places to connect with others in their neighbourhoods. Great parks are great meeting places. Kids need places to be outdoors and play with other kids both for the physical health but also to build their social skills and grow to love nature, all of which contribute to their mental health

Allan Tranter, Director Creating Communities
Playgrounds
Our
Safari Park
at
Cornerstone Werribee
features some pretty impressive giant animal structures - there is also plenty of shade-covered picnic areas perfect for family fun!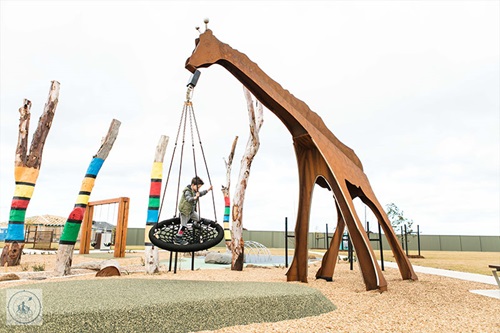 Safari Park, Cornerstone Werribee, Vic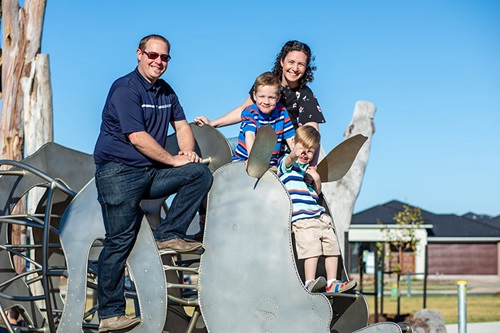 Safari Park, Cornerstone Werribee, Vic
Yerradhang Nguru - Gumnut Park
Googong, NSW
This is one very awesome park! the playground is made up of a series of gumnut pods, linked by a network of climbing ropes and brides. The park also features a few very cool coloured table tennis tables – remember to bring your paddles and a ball along.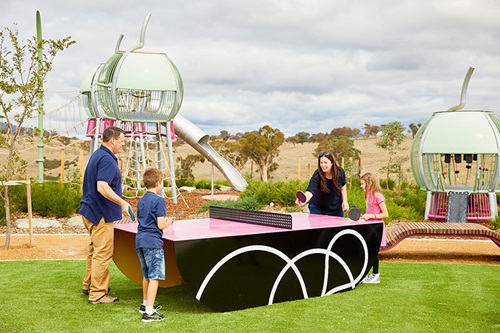 Googong, NSW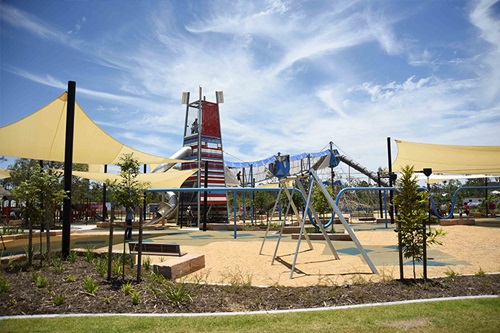 Flagstone, QLD
Kids need places to be outdoors and play with other kids both for the physical health but also to build their social skills and grow to love nature, all of which contribute to their mental health

Alan Tranter, Director Creating Communities
Swimming time
The whole family can get busy at
Club Googong
featuring a five-lane 25m heated indoor pool, Outdoor splash deck for smaller children, a small gym and outdoor tennis courts.
If you love swimming then the
open water swim
held annually at
Shorehaven at Alkimos in Western Australia
is a great event for all those super fish out there!
No matter what time of the year it is you'll be able to enjoy the beautiful beach at
Golden Bay in Western Australia
, direct access to the beach makes it a popular spot for families.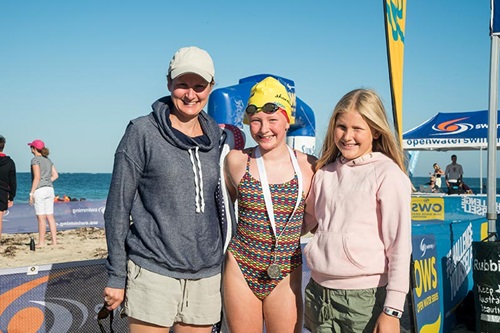 Shorehaven open water swim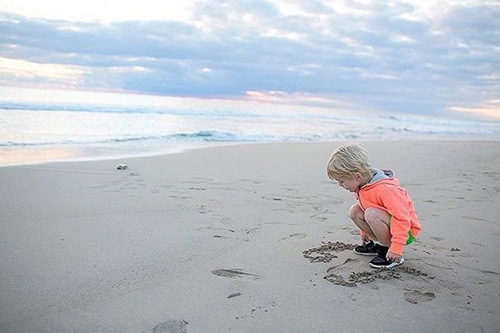 Source: @steering.the.mothership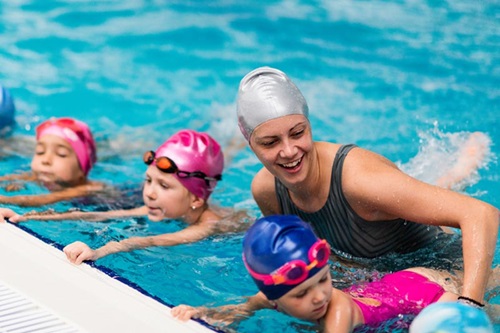 Source: https://www.communitynews.com.au/mandurah-coastal-times/news/westswim-lakelands-opens-doors-on-new-purpose-built-swim-school/
Residents at
Lakelands in Western Australia
can take part in
WestSwim classes
, with the purpose built facility offering babies and children classes along with adult learn to swim classes and in-term school swimming programs.
There are so many ways to get active within our
communities
, getting out and enjoying the spaces in your community is not only a great way to keep active but it also allows you to connect with your neighbours and improve your sense of belonging.
All content within 'Peet's Advice Blog' (Blog) is for information purposes only. While Peet endeavours to ensure all information is current and correct, Peet makes no representation or warranty as to its currency or accuracy. It is recommended that you obtain your own independent advice before taking any action following reading any of the contents of the Blog. Please read the full disclaimer here.