A guide to creating a mood board for your home's interior design
When you're planning the interior design and styling of your new home, you start with a totally blank canvas. While that may excite some of us, for others it can be incredibly daunting.
A great place to start is with a mood board. Also referred to as a vision board or inspiration board, a mood board is a collage of inspirational ideas that evoke a feeling or emotion that sets a mood for a space. Simply put, a mood board is a selection of images, words, colours and textures that make you happy, energise you, and that you love.
Here is an example of a Coastal Theme mood board we have created. It features light and bright finishes and interiors of a new home - a great visual presentation of what your home can look like if you choose a coastal finish.

Different types of mood boards
Digital mood boards
A number of online platforms offer you a way to bring images and ideas together. Some common ones are:
Pinterest

This social media platform lets you easily bring together images into themed boards. It is particularly good at the research stage because of the sheer volume of content and styles available. Consider creating a single board for your overarching theme, and separate boards for each room so pins can be easily categorised and referred back to later. You can look at images already on Pinterest or you can take images from anywhere online and add them to your Pinterest board – very handy when looking at designs from builder websites!

Canva

This mood board maker has an easy-to-use, drag-and-drop interface and several template options. The clean layout makes it a professional-looking option for communicating your ideas to the professionals around you to ensure they understand your desired end-look.
Physical mood boards
Yes, that's right, don't feel that you have to do this online. If you're the type of person that prefers working with tactile objects, textures, fabrics, then all you'll need is a large piece of foam board or a cork board to begin. Physical mood boards have the added bonus of more accurately representing paint and fabric colours and textures in 3D – the hue of digital paint and fabric swatches can vary greatly in real life.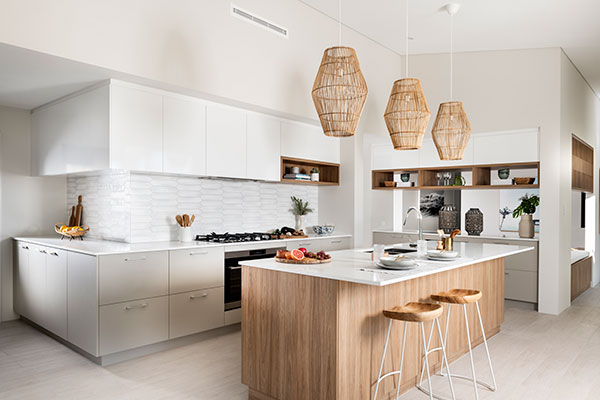 I
ndiana by Dale Alcock Homes - Burns Beach, WA
Balmoral 220 by Burbank Homes
How to get started
Brainstorm your theme

You might initially focus on different styles (minimalist, Scandinavian, coastal, etc), or materials (concrete, wood, rattan) or colour (yellow, blush pink, forest green). This will help you with online image searches — try Google but also Getty, Unsplash, Pinterest.

If you're not drawn to a particular idea yet, just search 'interior design inspiration', and remember travel and fashion sites as well. Instagram is another great source of ideas. It is packed with interior designers sharing their designs and how they unfold in real homes. You can also follow Peet on Facebook and Instagram — we regularly share style inspiration from the amazing people building their dream homes in our communities.

Collect your elements

Take your early sources of inspiration, and create an overall "feel", mood, or room-style. Gather furniture pieces - both representing what you already own and new pieces you'll need so you can see how they will work together. Artwork, rugs, window furnishing, paint swatches and fabric samples, accessories such as throws, vases, flowers, indoor plant pots.

And, remember words as well as images. Add phrases or words for another layer of emotion to your board; 'calm', 'space to breathe', 'functional', 'industrial', 'playful'. Words can evoke strong emotions as well making them a powerful inspirational tool.

Take time to let it settle and evolve

Sleep on it and review your board in the morning; keep only what you love, what makes you smile and what comes together harmoniously. Whether digital or physical, mood boards should never be treated as a finished object, they will evolve as your build journey progresses and as the spaces in your home begin to reveal themselves - size, natural light, layout will all play a part in your end interior design.


Add to your board as you go, refining it, or even changing it entirely. Remember this process is to help direct the interior design for your new home, you want to get it right. So don't be afraid to start over if what you've created doesn't make your heart sing!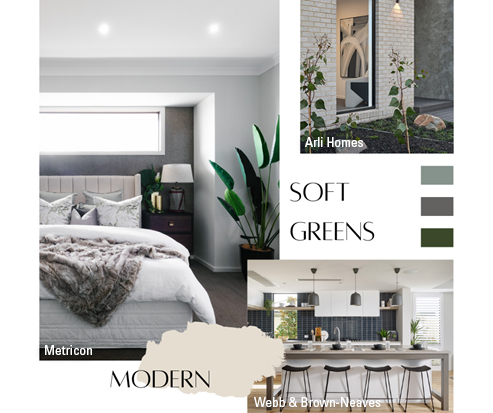 If you found this information helpful, subscribe to receive regular homebuying advice, lifestyle and design inspiration.
All content within 'Peet's Advice Blog' (Blog) is for information purposes only. While Peet endeavours to ensure all information is current and correct, Peet makes no representation or warranty as to its currency or accuracy. It is recommended that you obtain your own independent advice before taking any action following reading any of the contents of the Blog. Please read the full disclaimer here.