5 Ways to Give Your Kitchen the Wow-Factor
The days of kitchens being hidden away are long gone. Today, kitchens are the hero of modern home design. Of course, this means that as well as needing to be functional, well-organised and easy to clean, our kitchens need to look stylish, blend seamlessly with the wider living area, and have the ability to double as an entertaining space as well.
To celebrate its status as the heart of your home, here's 5 ways you can inject a little 'wow' into your new kitchen:
1.
Lighting

As with any space, choosing the right lighting is crucial. Consider dimmable LED lights that deliver sufficient light for cooking, but can be dimmed to create a softer light for when your kitchen turns into a social space. For a real statement, LED strip lights are a striking, low energy solution. Easily installed to most surfaces, strip lights are the perfect option recessed into the top of splashbacks, along the underside of a benchtop or around the base of cabinets – in soft, warm white, they create a unique, cost effective lighting feature.
2.
Splash backs

Just like lighting, splash backs are a practical necessity in a kitchen, but that doesn't mean they have to be boring. From coloured glass, tiles in every texture and shape imaginable, or custom-made splash backs that are more like works of art than 'grease protectors' – there's endless opportunity to add some personality to your kitchen space. Be bold and make your splash back a focal point of your living area.
Bluestone Mt Barker, Burbank Living, Cumberland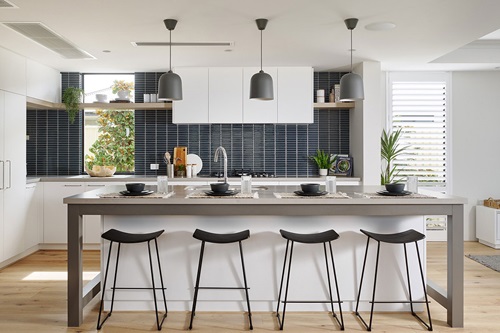 Burns Beach, Webb & Brown-Neaves, Cabin
3. Continue the theme
Today, kitchens are seen as an extension of our living spaces. Open plan layouts mean there's little distinction between one space to the next. Consider continuing your living area's interior design theme into your kitchen. Choose bar stools in the same materials as your dining furniture, add pot plants to your benchtop or artwork to the walls in your kitchen to create a livable, welcoming vibe.
4. Hidden fridge/dishwasher
For a sleek, seamless finish, hide your fridge/freezer and dishwasher behind cupboards that match the rest of your cabinetry. This works especially well in smaller kitchens because the one continuous streamlined finish is tidier for the eye and gives the illusion of more space.
Newhaven Tarneit, ABC Homes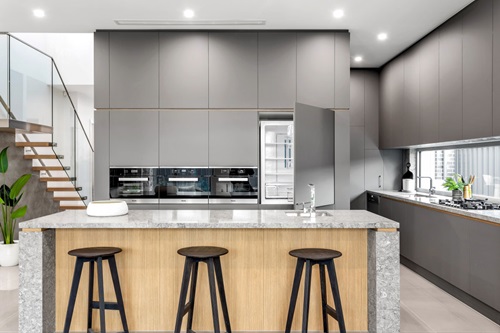 Lightsview, Adelaide Designer Homes, Leabrook
5.
Hero the cooking appliances

Today's appliances are as much about design as they are about function. Consider double wall ovens for additional cooking space, and an impressive 'foodie' look. Separate cooktops give you the flexibility of having your hobs where you want them. For real wow factor (and for confident cooks), why not have your cook top on your island bench that way you can be a part of the conversation while you whip up a feast for your guests.
Kitchen Trends & What to Look For
Kitchens are more than just a place to cook, they're a great space for families to congregate and a place for delicious meals to be enjoyed - they really are the heart of every home. Who doesn't want a home with a well planned, functional and fully equipped kitchen?
Find inspiration here
If you found this information helpful, subscribe to receive regular homebuying advice, lifestyle and design inspiration.
All content within 'Peet's Advice Blog' (Blog) is for information purposes only. While Peet endeavours to ensure all information is current and correct, Peet makes no representation or warranty as to its currency or accuracy. It is recommended that you obtain your own independent advice before taking any action following reading any of the contents of the Blog. Please read the full disclaimer here.