5 Hot Interior Design Trends for 2022
As 2021 draws to a close and we reflect on the year that was, one thing is certain – for many of us, our homes became more important than ever. This year we created tranquil, inviting spaces that evoked a sense of wellbeing and calm. And in 2022, interior design experts predict that the theme of calm will continue as we seek out function, comfort, and peace in our interior spaces.
Whether you're looking for on-trend interior design ideas for your brand-new home, or just wanting inspiration for an interior refresh, here's 5 of our hot picks for the new year.
1. Reconnect with nature
Bringing the outdoors in, is easier than you think – and it's proven to have a positive effect on your wellbeing. 2022 will hero natural timber finishes, stone and organic fabrics in favour of man-made, and synthetic finishes. Choosing warm earthy colours and blue and green tones for fabrics, wall paint and furniture will also give your home a sense of nature-inspired calm. And we're pleased to announce that the enduring trend of indoor house plants remains as strong as ever.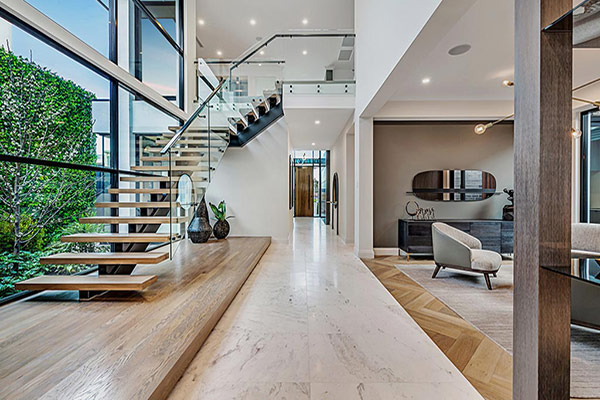 Urban by Dechellis Homes- Lightsview, SA
Cottesloe by Carlisle Homes - Newhaven, VIC
2. Support local and the earth
2021 taught us the importance of supporting local and it's a trend that many of us are on board with. Not only does it support our economy, it reduces our environmental impact as well. And with so many beautiful handmade, artisan products on offer there's endless opportunities to style your home with unique, one-of-a-kind pieces that will make a real statement.
4. Feature it
This early 2000's design trend is back – feature walls are one of the best ways to express yourself through your interior design. Whether it be colour, pattern, texture or a combination of all three, injecting personality to your home is simple and because it's non-permanent, it's also safe! With wallpaper making a comeback as well, you'll discover a huge variety of stunning designs available that can really bring a wall to life.
If you found this information helpful, subscribe to receive regular homebuying advice, lifestyle and design inspiration.