3 stages to achieving the perfect interior design for your new home
When you're planning the interior design and decoration of your new home, you start with a totally blank canvas. While that may excite some of us, for others it can be incredibly daunting. Achieving the right look for your home is about discovering what you love, following some basic design principles and keeping your budget top of mind. And above all else, it's about tapping into your creativity and having some fun.

To help you relax into the process, we've explored the three stages to achieving interior design results you'll be proud of.
1.
Pre

-build
Create a mood board
At the very start of your project, we recommend using Pinterest to develop a mood board of colours, themes, room layouts, fixtures, finishing and homewares that you love. Consider creating a single board for your overarching theme, and separate boards for each room so pins can be easily categorised and referred back to later. If you're not even sure what to start searching for, flick through some interior design magazines and take note of styles and colours that appeal and those that don't. What colour palettes are you drawn to? Check-out different materials and textures, and recognise which looks you keep coming back to – is it simplistic scandi, sleek minimalist, Hamptons or coastal themes? This will help build the overall theme and 'mood' of your interior and will help you consolidate your style based on looks that you love.
Source: Pinterest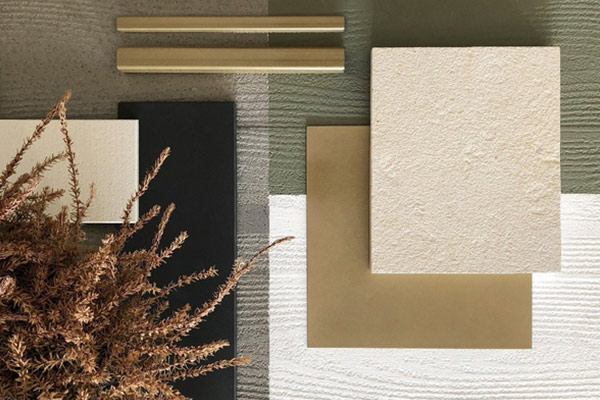 Source: Pinterest
Pre-start with your Builder
The next step is the pre-start process with your Builder. Many Builders have a professional pre-start consultant who will guide you through this process, providing invaluable tips and advice to help direct the many decisions you'll be making, ensuring they work together cohesively. It's a great idea to share your newly created Pinterest board with the pre-start consultant – it will give them a taste of the end-look you have in mind so that you're all on the same page.
You'll visit the Builder's showroom and explore the various materials, colours, fixtures, finishings that are available for you to choose from. Consider your theme, but be careful to think beyond the latest trends and aim for looks that will stand the test of time. If you're not one hundred percent confident in your choices, we recommend that you keep any permanent decorating (tiles, paint colours) as light and neutral as possible. As your confidence grows, you can add colours and patterns through cushions, throws and homewares – all of which can be easily swapped out if you don't get it quite right, or if trends change.
At this stage, you'll also be discussing the electrical plans with your Builder. These plans provide a layout for every power point, switch and light fitting in your home. Lighting sets the tone for the overall feel and ambience of your home's interior, so it's vital to check that what has been allowed for, works with your interior vision. If you love the idea of a large pendant light in your stairwell or above your dining table, or soft up/down wall lights beside your bed, your builder will need to include adequate electrical provisions to bring your lighting look to life.
Set an interior decorating budget
Standard fixtures and finishings such as kitchen and bathroom cabinetry, taps, handles, lighting fittings, flooring and tiles will be covered by the cost of the build. Remember to check the costs involved in changing or upgrading any of the features. It could be that your fixed cost includes tiles, but you have your heart set on timber flooring to match the vision you have for your home - more often than not, your Builder will be able to accommodate your vision, but it might come at a cost! Once the fixtures and finishings have been decided on, you'll also need to allocate budget to furnishing and decorating your new home. We recommend setting a furniture and decorating budget by pricing up the big-ticket items you intend to buy such as furniture and artwork, and also remembering the small finishing touches like lamps, vases, candles and homewares as well.
2.
During your build
Visit the site frequently
As the build takes shape, you'll begin to get a feeling for the size of your rooms, and how the natural light falls. We suggest visiting at different times of the day as the sun changes position. Is there a room that is particularly lacking in natural light? You may want to choose a lighter paint colour here and adopt a more minimal approach to decorating - cluttering a darker room with big bold pieces can make it feel closed-in and even darker.
Start shopping
Armed with your floor plan which will include the measurements for each room, it's time to go shopping! You'll want to be sure that lounge suites, beds, dining tables and other large pieces of furniture work for the shape and size of the room they're in. Working with the exact measurements of the area will help you choose pieces you love AND that work for the space. Be careful not to over furnish rooms – focus on the basics you'll need to move in with, and then build from there over time. Many stores allow you to choose and buy furniture that you like in advance, and have it delivered on a specific date. This means you may be able to organise items such as lounge suites and dining tables to be delivered when it suits, so you're not left sitting on the floor when you move in!
Spread the cost of decorative finishing touches
It's not just furniture you can start buying now, remember to look out for artwork, vases, decorative lamps and light fittings that fit with your theme and interior design plan. Spreading the cost of decorative homewares across the build means you're less likely to run out of budget at the finishing line and have to sacrifice the all-important finishing touches.
3.
Moving-in

Here's where you get to bring your theme to life and really start to get creative. This is also where you'll be able to make your new build feel like your home - artwork, photos, soft throws and cushions will make your space feel cosy and lived in.
Have fun with the latest trends
When you're looking at homewares, checkout this year's eco-friendly trend of homeware options – recycled, natural products not only look great, but are great for the environment too. Of course, the ultimate eco-friendly decor for any space is a house plant, this enduring trend adds texture, colour and is proven to reduce your stress levels and improve your mood! Another 2020 trend that we're loving is soft curves and arches which you can inject using round mirrors, circular artwork and beautifully curved cane or rattan furniture.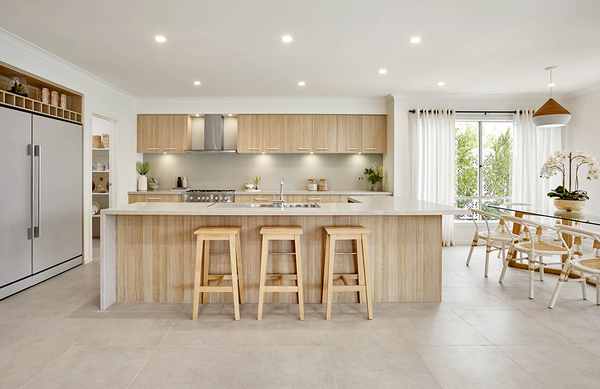 Source: Cottesloe36 by Carlisle Homes -
Newhaven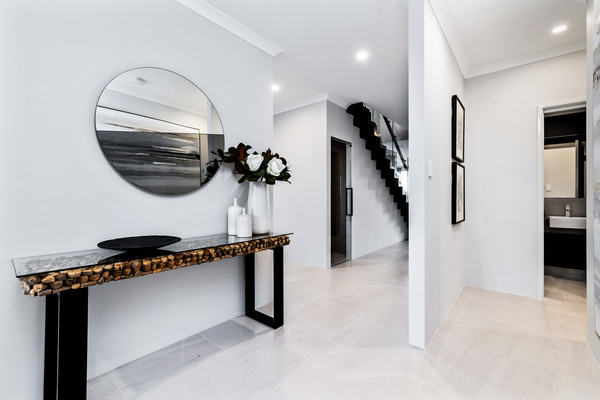 Source: Ventura Homes -
Burns Beach
Repetition and balance in placement
Repetition is an important aspect of interior design. Choosing several items of the same colour, shape and texture helps to unify the space, giving it a consistent visual experience, which our eyes find pleasing. Balance is important too, start with the largest item in a room – perhaps a TV, bed or a large piece of art and arrange objects evenly on either side ensuring they have well balanced visual weight.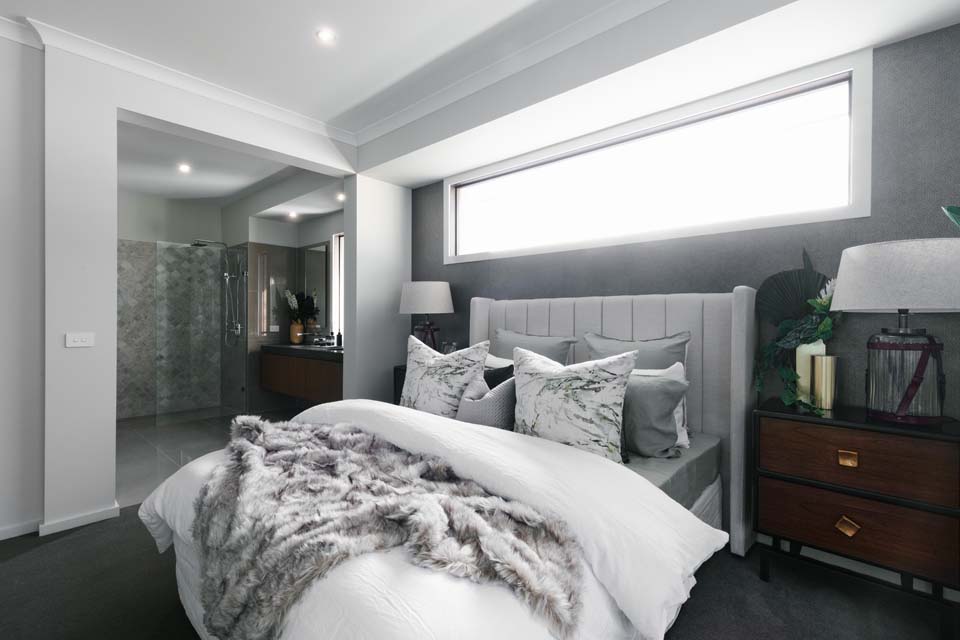 Source: Lincoln by Metricon -
Bluestone Mt Barker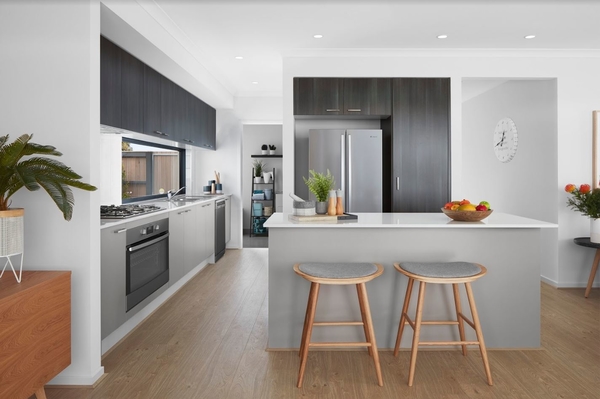 Source: Empire25 by Home Buyers Centre -
Cornerstone
Don't rush!
Don't feel that you have to decorate everything at once. Get a feel for your home, live in it and enjoy it. Add pieces you love, as you find them. That way your house will continue to evolve as you do and truly reflect your personality.
All content within 'Peet's Advice Blog' (Blog) is for information purposes only. While Peet endeavours to ensure all information is current and correct, Peet makes no representation or warranty as to its currency or accuracy. It is recommended that you obtain your own independent advice before taking any action following reading any of the contents of the Blog. Please read the full disclaimer here.