Our new park is now open!
Carousel Item_Lego park video
Read more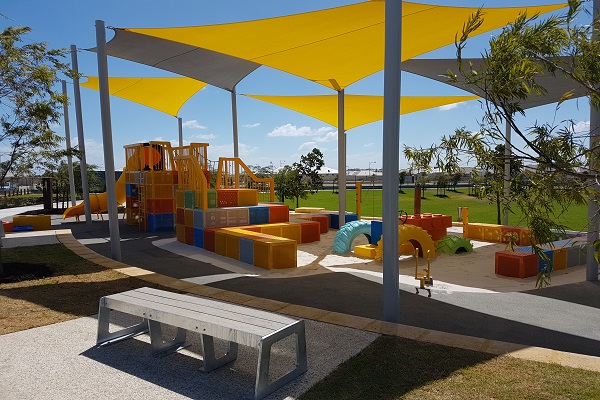 Golden Bay's brand new park and playground is now open and ready for action and you won't be able to miss it!
The landmark new playground on the corner of Adelong and Allatoona Avenues features large distinctive coloured building blocks and a life-size block tractor. The unique playground, was custom-designed by landscape architects EPCAD and is the only one of its kind in Perth and Western Australia.
While the giant brightly coloured blocks and tractor are a standout, there's much more on offer in the new 6000sqm park including shade structures, a large lawn kick-about area with a dedicated yoga deck, and seating area for adults. For the kids, there are three trampolines, a tunnel slide, climbing structures, a rope bridge and sand play areas – all covered by shade structures.

The giant building block components for the playground were made to order right here in Perth. Constructed with both steel frames and panels or of heavy duty plastic, the blocks were made off site and then transported to the playground for installation. The park also features landscaped gardens with native trees and well-established ficus trees planted around the perimeter to provide shade.

The new park is just one of the many attractive public open spaces within Golden Bay estate which include ample recreational lawn areas, state-of-the-art play equipment and nature play areas, viewing decks, BBQ facilities, seating and walking paths.
Golden Bay. Your new coastal playground.