You're invited to a free community event!
Join us on Saturday 9th November for a fun community event at the beautiful Lagoon Park in Spring Mountain Acreage Estate.
Experience "Breathe in and Bleat out"- yoga and meditation with baby goats and lambs – and enjoy other cute and cuddly farm animals present on the day.
Can't teach an old dog new tricks? Test out this theory with the RSPCA, who will be in attendance demonstrating agility and obedience techniques suitable for dogs of all breeds and ages. Bring along your furry four-legged family member and get some complimentary one on one guidance from experts at the RSPCA.
If that's not enough of an animal fix for you, the wonderful team from Geckoes Wildlife will be visiting Spring Mountain Acreage Estate for the Spring Day Out, giving everyone a chance to get up close and personal with a collection of their favourite native animals. From snakes, bearded dragons, shingle back lizards and green tree frogs to a tawny frog mouth owl, squirrel glider and baby crocodile, there will be plenty of native animals for you to meet and greet!
Treat yourself to the free BBQ thanks to the Greenbank State School, as well as free ice cream from Ruby the Little Red Ice Cream Van, face painting and giant games.
Date: Saturday 9th November, 2019
Time: 2pm - 5pm
Location: Spring Mountain Lagoon Park, Tully Connection Road, Greenbank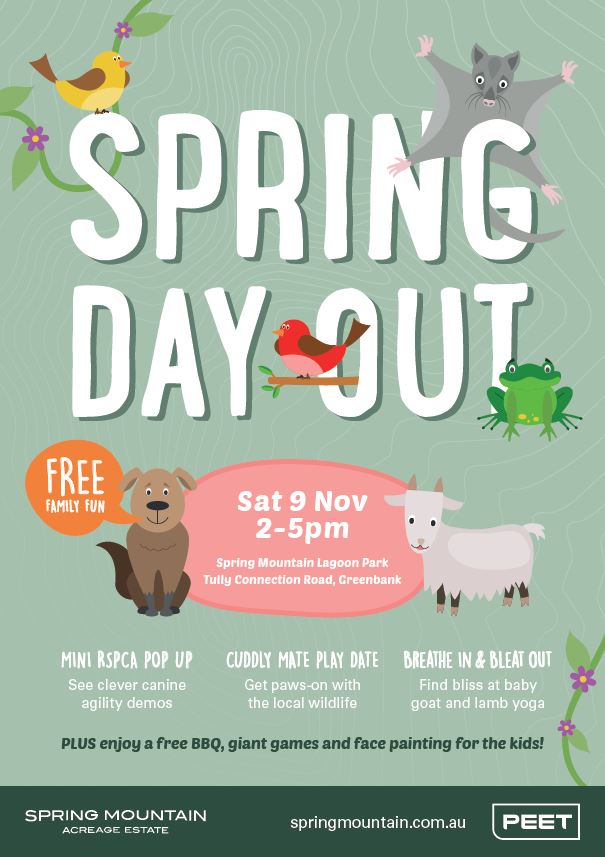 We look forward to seeing you there!