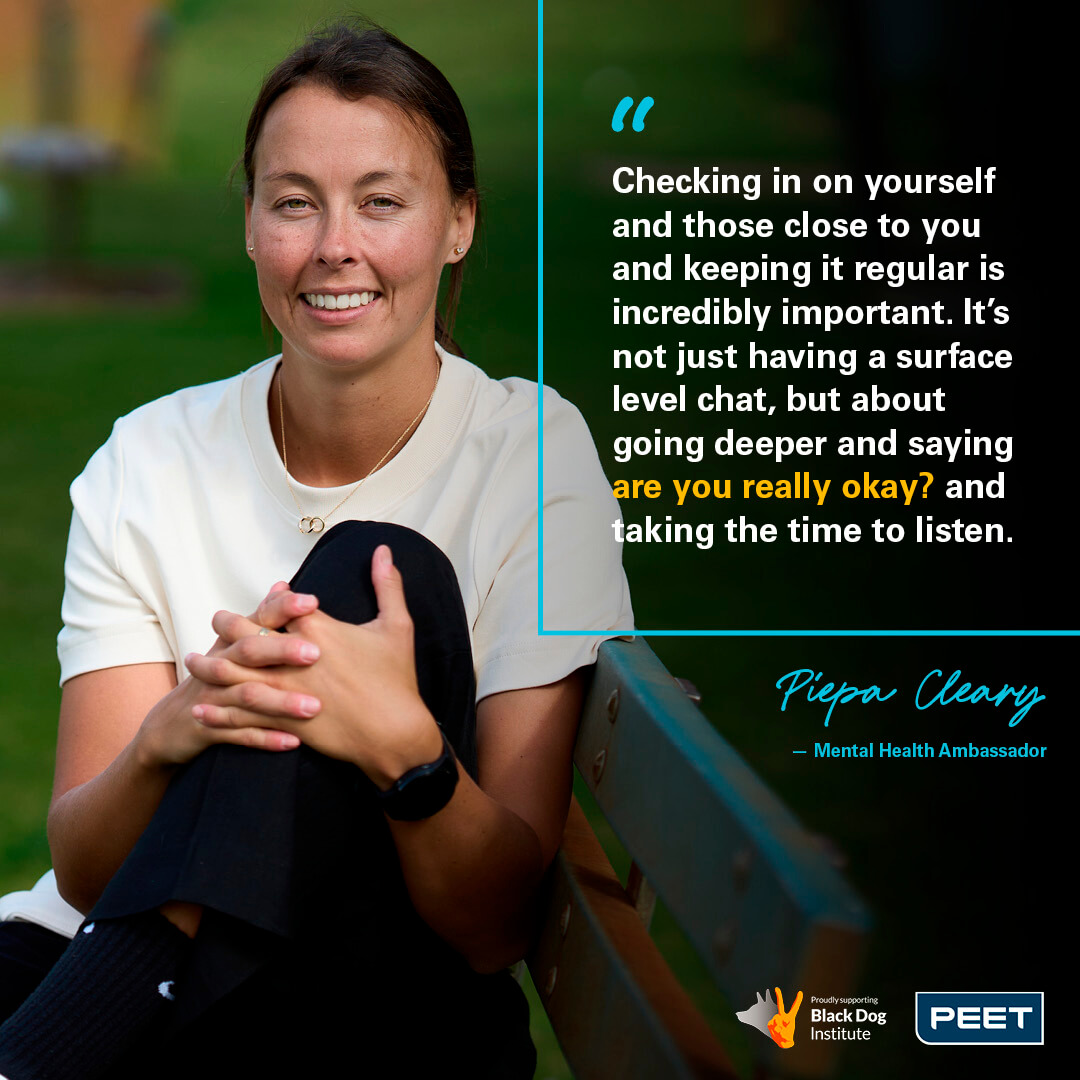 Peet appoint Jason Behrendorff and Piepa Cleary as Mental Health Ambassadors
Peet continues to prioritise mental health awareness and education as part of the company's commitment to creating a positive social impact in our communities and the workplace and recognising the role community connection and support play in an individual's mental health and wellbeing.
With one in five Australians experiencing mental illness in any given year, Peet entered into a three-year partnership with independent not-for-profit medical research organisation, Black Dog Institute, last year. The collaboration aims to create meaningful change in an area that affects most families and communities.
The key program supported through the partnership is the Future Proofing Study which seeks to predict and prevent anxiety and depression in thousands of Australian students aged 13-18. The study also explores how smartphones can be used to deliver preventative interventions on a large scale.
As an extension to its Principal Partnership with the Perth Scorchers, Peet has appointed players Jason Behrendorff and Piepa Cleary as mental health ambassadors. This appointment aims to further raise awareness and destigmatise conversations about mental health.
Both cricketers will share their personal experiences with mental health through content to be released during Mental Health Month in October. They will also participate in workshops within Peet communities and engage in discussions with Peet staff.
Working with Jason and Piepa as mental health ambassadors and having them be so open with sharing their experiences, we felt it could really help break down the barriers discussing the challenges people may be facing.

Jason and Piepa are role models, and by hearing directly from them about how they manage their own wellbeing, we hope that our staff and residents in our communities will feel more comfortable seeking help when needed.

Brendan Gore, Managing Director and CEO
Piepa Cleary, who hosts her own podcast focused on mental health called "Strength in Vulnerability", sees the opportunity to further break down walls.
"I'm excited to be an ambassador in this space and to try to encourage people to talk about their own experiences with mental health and wellbeing. I want to help have less surface level chats and make it okay to speak up if you are struggling."
The sentiment is shared by her fellow Scorcher in Jason Behrendorff, who has struggled with multiple injuries across his decorated career.
"As an ambassador, I hope that sharing my story and what I have been through personally will help others. I want to be able to show that anything is possible when you have got a great community and great support around you."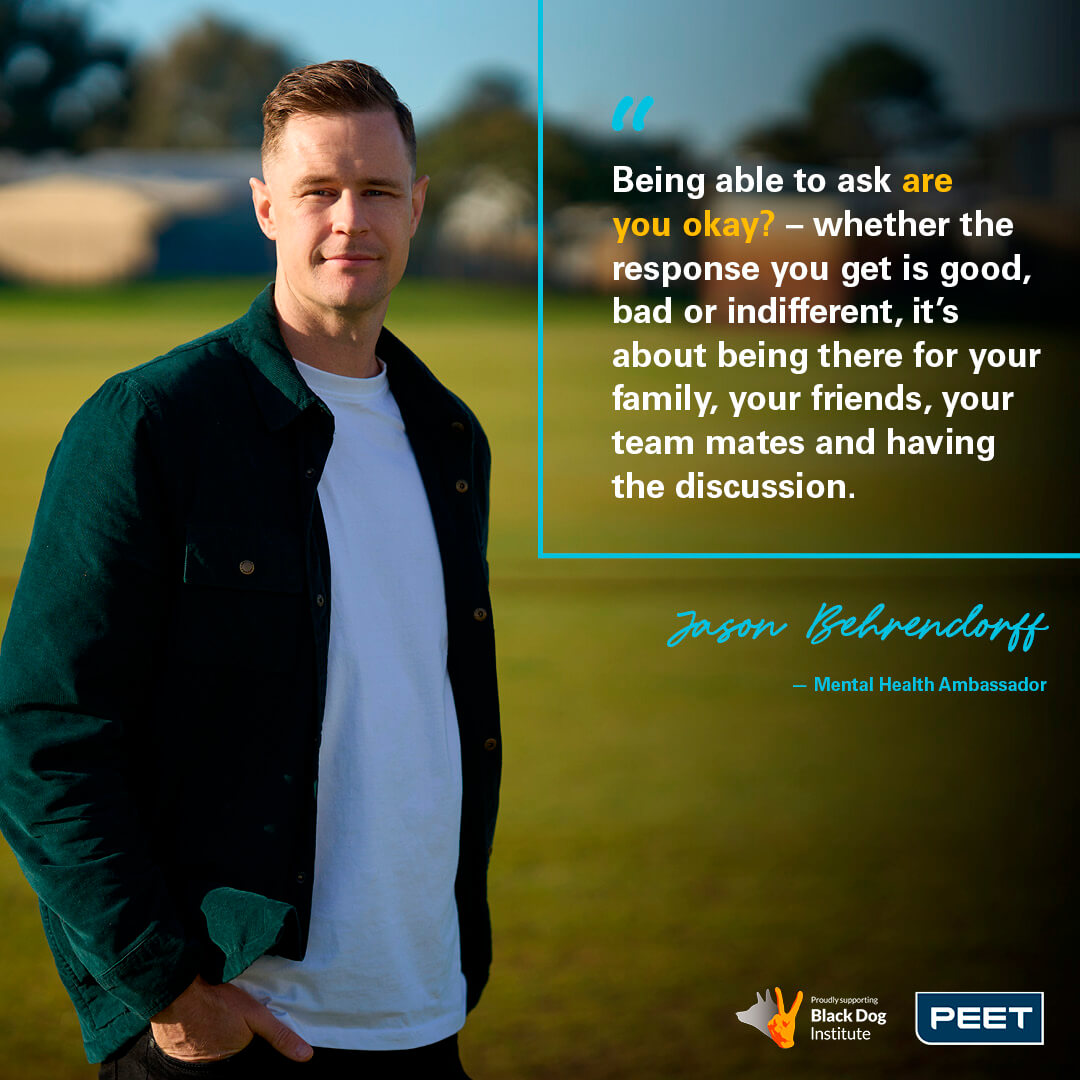 Throughout October, Peet staff will also participate in Black Dog Institute's One Foot Forward challenge to raise vital funds for mental health research.
Tasman Cassim, Black Dog Institute Head of Partnerships said,
"Peet shares Black Dog Institute's vision of a mentally healthier world and understands the importance of and the role a community plays in supporting the mental health of everyone. Partnerships like the one with Peet enable the Institute to fund world class research and reach more individuals and communities to create real world change.
With depression being the leading burden of disease worldwide by 2027, this partnership shows that Peet is seriously committed to changing the dial on mental illness statistics for everyone and Black Dog Institute couldn't be more appreciative of their support."
For anyone seeking more information about mental illness, the Black Dog Institute's website provides a range of online support tools and research.
Peet is one of Australia's leading residential developers with 130-years of experience creating award-winning master planned communities, townhouses and apartments. Peet builds connected, liveable communities where residents can find their special place to belong.