Googong takes top UDIA honours
Our Googong development, one of the biggest new towns in Australia, received top honours in the 2019 UDIA NSW awards on Friday night winning both the Excellence in Masterplanned Communities and Excellence in NSW Regional Development categories.
A huge congratulations to our project team and JV partners Mirvac.
Located just outside Canberra and inside the NSW border, Googong North is the first of five self-contained neighbourhoods in the ambitious development. Innovation and sustainability underpin the contemporary neighbourhood which is supported by a $292m voluntary infrastructure agreement, one of the biggest in Australia. The project is bringing lifestyle choice, affordable housing and infrastructure to this growing region.
Googong North is a masterplanned community of the highest order. The judges were impressed by the high standard being achieved in all aspects of the development … they were particularly impressed with the effort that the developers are making in activating the public spaces and in creating a very strong sense of community.

UDIA Judging Team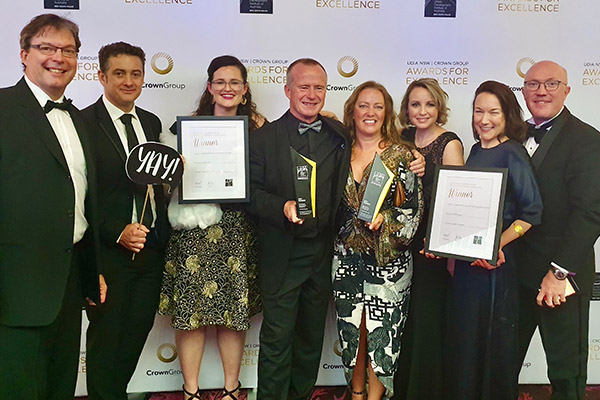 In the regional development category, the judges said: "Googong continues to deliver outcomes for the incoming businesses and residents.
"Beyond the delivery of physical assets, the project team has set a benchmark in community engagement. The marketing campaigns are clever and highly memorable. They have been embraced by new residents who refer to themselves as Googonians."
Since 2012, Googong has been one of the fastest selling developments in the country. Over the next 15 years, the project will deliver 6,500 new homes and a major commercial centre servicing a population of 18,000 people.
Early amenity includes a community centre, sports club with indoor pool, gym and tennis courts, three ovals, two dog parks, seven playgrounds, 10 kilometres of paths and a $133m recycled water scheme supplying homes and public spaces.
Googong's success builds on more than a decade of environmental, ecological and heritage studies with almost 25 per cent of development land reserved for public open space, including archaeological heritage sites and two sanctuaries for the vulnerable Pink-Tailed Worm Lizard.