First sod turned at Brabham
The first sod has been turned at Brabham, WA's newest master-planned community. Department of Communities appointed Peet and PerronGroup as its Development Manager, with Peet as the Project Manager.
Situated in the north-east corridor of Perth, Brabham is approximately 17 kilometres from the CBD and nestled on the fringe of the Swan Valley and adjacent to Whiteman Park.

Brabham will be a major transit-oriented development, linking the Swan Valley to Perth, which will be serviced by the future Whiteman Park station on the new the METRONET Morley-Ellenbrook line, which once completed will be a 25-minute train ride into the Perth CBD.

Peet Managing Director and Chief Executive Officer Brendan Gore said that Brabham will be a community for the future built around sustainability and innovation that opens up a new district of Perth for buyers.
Brabham's ambition is to set a new standard, offering an affordable and quality lifestyle in a master-planned, thriving and connected community that enhances the wellbeing of its residents and adds to the vibrancy of the entire region,

Brendan Gore
Future planning is set to include schools, a retail precinct, recreational parks and provide a diverse range of housing including low density house and land, medium density townhouse homes as well as high density apartments that will largely be concentrated around the future METRONET Whiteman Park station. The development will comprise of approximately 2,600 lots (3,300 dwellings) across a 220-hectare site with Stage 1 preliminary earthworks commencing this month.

"The area surrounding St Leonard's Creek is a natural asset which in time is planned to consist of parklands and natural bushland, providing both active and passive recreational opportunities for future residents," Mr Gore said.
There are over 22 hectares dedicated to public open space, which includes green walking paths and nature trails - the vision for Brabham is that all residents will be within 400 metres of a park.

Brendan Gore
Brabham is applying to be a six star world leading green-star community, with the focus on achieving innovative and sustainable solutions for energy, non-drinking water supply and built form design.
Turning the first sod today alongside Mr Gore was Minister for Housing Peter Tinley, Department of Communities Director Business Development Nigel Hindmarsh and Perron Group Chief Executive Officer Ross Robertson.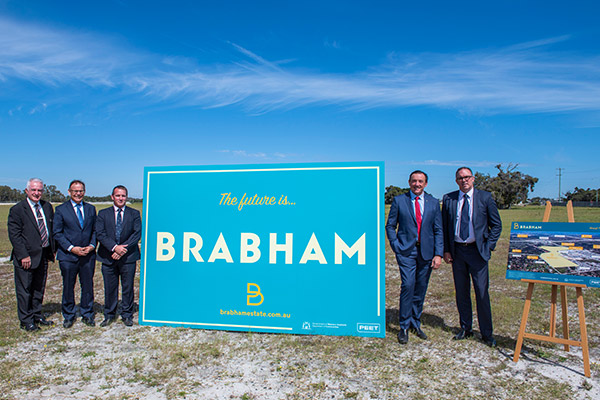 Image: Wade Ranson