Collaboration key amidst evolving market
This article appeared as Commercial Content in the Business News Land Development Special Report in March 2022.
For developers, the past two years have been critical when it comes to forward thinking, utilising industry experience and longstanding relationships in order to mitigate the wave of challenges arising across the property market.
The property market as a whole, has faced a string of challenges from nation-wide material shortages, trade deficiencies, as well as supply chain obstacles – generating price increases across the board and creating ambiguity for homebuyers.
Despite the ever-changing variables within the market, recent figures from the Urban Development Institute of WA show land sales grew 15 per cent in the December quarter – with prices remaining comparatively steady at just a one per cent increase.
With conflicting circumstances, developers are drawing on their knowledge and expertise to navigate through the uncertainty – in order to provide assurance to consumers and offer a smooth buying experience.
Peet Managing Director and CEO Brendan Gore says by engaging with the experienced Peet team, and associated key partners such as Council, consultants and contractors, buyers are able to remain confident within the WA housing market – which continues to be one of the most affordable housing markets across the country.
"With proven experience in creating award-winning communities, we have the resources to forward plan and implement strategies to work alongside contractors, to not only secure supplies for upcoming projects, but also utilise our longstanding relationships to manage client expectations." said Mr Gore.
A reflection of this has been seen across a number of Peet projects such as Brabham, which has seen significant growth over the past 12 months, including a 20% growth in particular product types – reinforcing homebuyers are looking towards communities which provide a scope of living options from land to townhouses, as well as a choice of amenities and lifestyle benefits.
"To meet with the growing demand from homebuyers, Peet is continuing to work with industry partners to secure quick approvals of landscaping designs by local government, enabling key amenities to be delivered to residents earlier – which has seen the development announcements for new parks at Movida, Elavale, Lakelands and Brabham, this year alone."
"This isn't the first time we have seen a major shift in the market in our 125 years of operation, and in order to navigate through the new normal, we will continue to provide transparent, honest and timely communications to our residents, involving all factors impacting supply and labour constraints," said Mr Gore.
We take a pragmatic approach to collaboration across a number of our partners including developers, local councils and regulatory authorities – to provide home-buyers with the support they need to overcome challenges, as well as enabling project stages to be brought forward to meet market demand, benefiting purchasers.

Peet Managing Director and CEO

Brendan Gore
Alongside this collaborative approach of seeing industry bodies working together, it is anticipated there is going to be relief of trade shortages with the opening of the WA borders and international production of supplies, such as timber, will recommence - seeing demand deficiencies ease over the coming year.
The Australian government also recently announced it would implement a $15.1 million timber scheme, which would address the critical timber shortages across the country – expecting to source enough timber to build 10,000 new homes.
Another key element as part of this new normal is more than ever people are working from home. This shift has seen homebuyers invest in communities which can offer the complete neighbourhood experience.
By partnering with organisations such as Creating Communities for over 20 years, Peet has a history of delivering exceptional communities, where residents know their neighbours, and where people are actively involved in the community.
This partnership has seen the implementation of a number of key initiatives, such as the longstanding Lakelands Heartbeat Group which supports local events and community projects in Peet's Lakelands community – all of which value add to potential homebuyers in a competitive market.
Through the transition into the new normal of the property market, it is evident that there is no substitute when it comes to forward-thinking, collaboration and experience in order to meet market demand, provide a role in connecting families and creating a sense of security amongst homebuyers.
Business News article can be viewed here.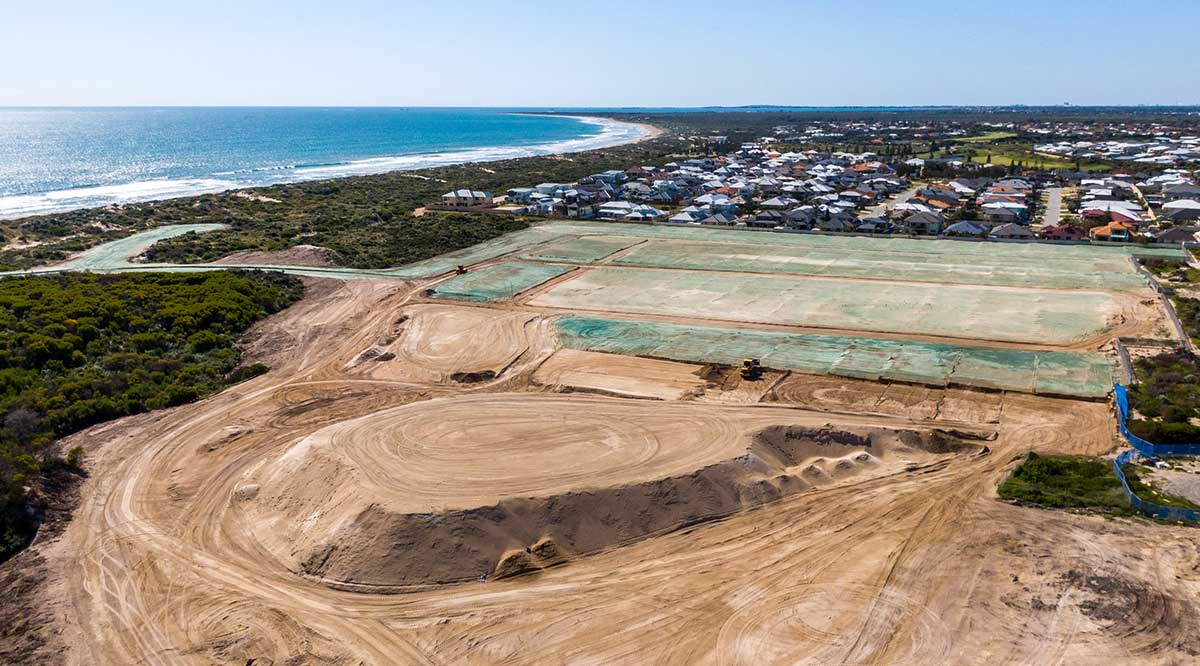 Image: Peet's Golden Bay. Photo supplied by Wormall Civil