Celebrating Aboriginal culture at Yanchep Golf Estate
Peet's latest park at Yanchep Golf Estate, which opened prior to Christmas, has been designed to recognise and celebrate the local First Nations culture.
The Yanchep area's local custodian, Derek Nannup, opened the launch event and with a Welcome to Country and digeridoo performance. He also shared stories about the significant cultural history of the area and the Indigenous games that have been designed as a key feature of the park.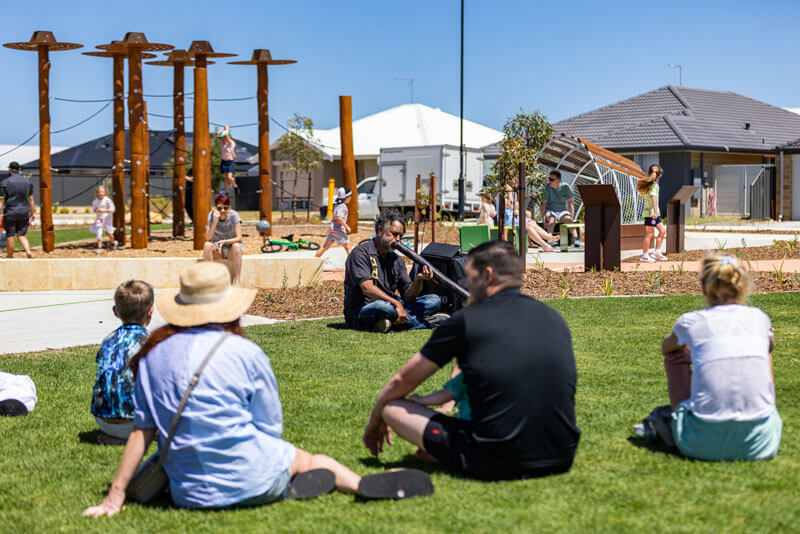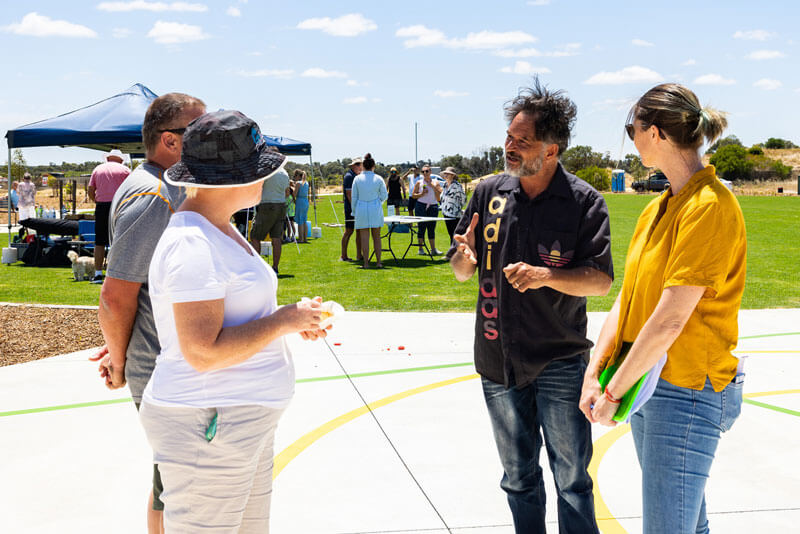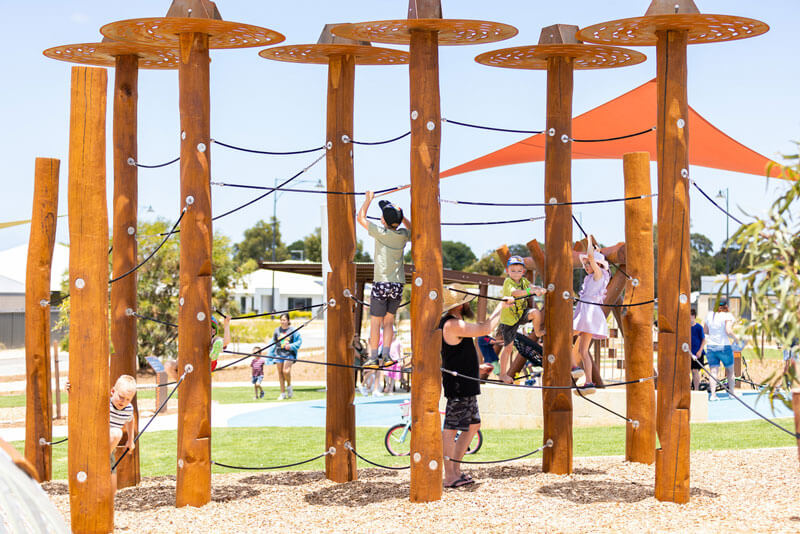 The Indigenous games were a result of collaboration with Derek and other respected local Elders to ensure that that they were interpreted in a culturally and historically respectful manner.
The games featured include:
| | |
| --- | --- |
| Indigenous Game | Play Element |
| Meetcha Boma and Noongar Wana | A multi-use court has been designed based around the spacing and line marking required to play both games. Each game has its own coloured line marking, with signage explaining how to play the games. |
| Dhandang | A High Rope Climb Course that resembles trees has been incorporated into the older children's play zone. These high ropes encourage the development of balance and other hand eye co-ordination skills, as well as confidence. |
| Jinnee ngaman billee billee dabbulgar | A fun and whimsical coloured concrete footpath has been designed, with line markings spaced at different intervals, encouraging children to try and jump further than before. |
| Koabangan | Carved stones have been placed throughout the space, showing items such as goanna claws, shells, gum nuts and leaves. The stones feature as talking points and allow children to exercise their imagination play. |
| Waayin | Different animal tracks have been sand blasted into concrete footpaths throughout the park. Children will either find the specific animal track or replicate these tracks in the sand. |
| Wabbyn | A cubbyhouse with individual seats provides the perfect space for a quiet place for children (or adults) who might become overwhelmed in the space. They can use this quiet shaded space to re-centre themselves and re-join the fun when they are ready. |
| Walbiri | The design is set up similar to a noughts and crosses game. Carved panels are situated on multiple posts. Each panel has three different carvings, and these panels can be rotated. The panels make a circle, and can be rotated to create different combinations of carvings, for the players to try and memorise. The carvings are based on landmarks/features found within the Yanchep area. |
Read more about the background and rules of the Indigenous games here.
As Peet progresses the development of our Reflect Reconciliation Action Plan, this is a wonderful example of how we are respectfully recognising and celebrating First Nations culture across our communities.