FOR SALE
FINAL LIFESTYLE VILLAGE HOMES NOW SELLING
Homes from $341,000*
Secure yourself a home at Lattitude Lakelands before it's too late. View the gallery below for photos of our two stunning display homes, and take a look at the Stage 7 release plan - the final release for Lattitude.
Bright, open plan living spaces
State-of-the-art kitchens
Spacious bedrooms with ensuite
Light, modern bathrooms
Stunning home elevations
Exclusive Shared Ownership Opportunity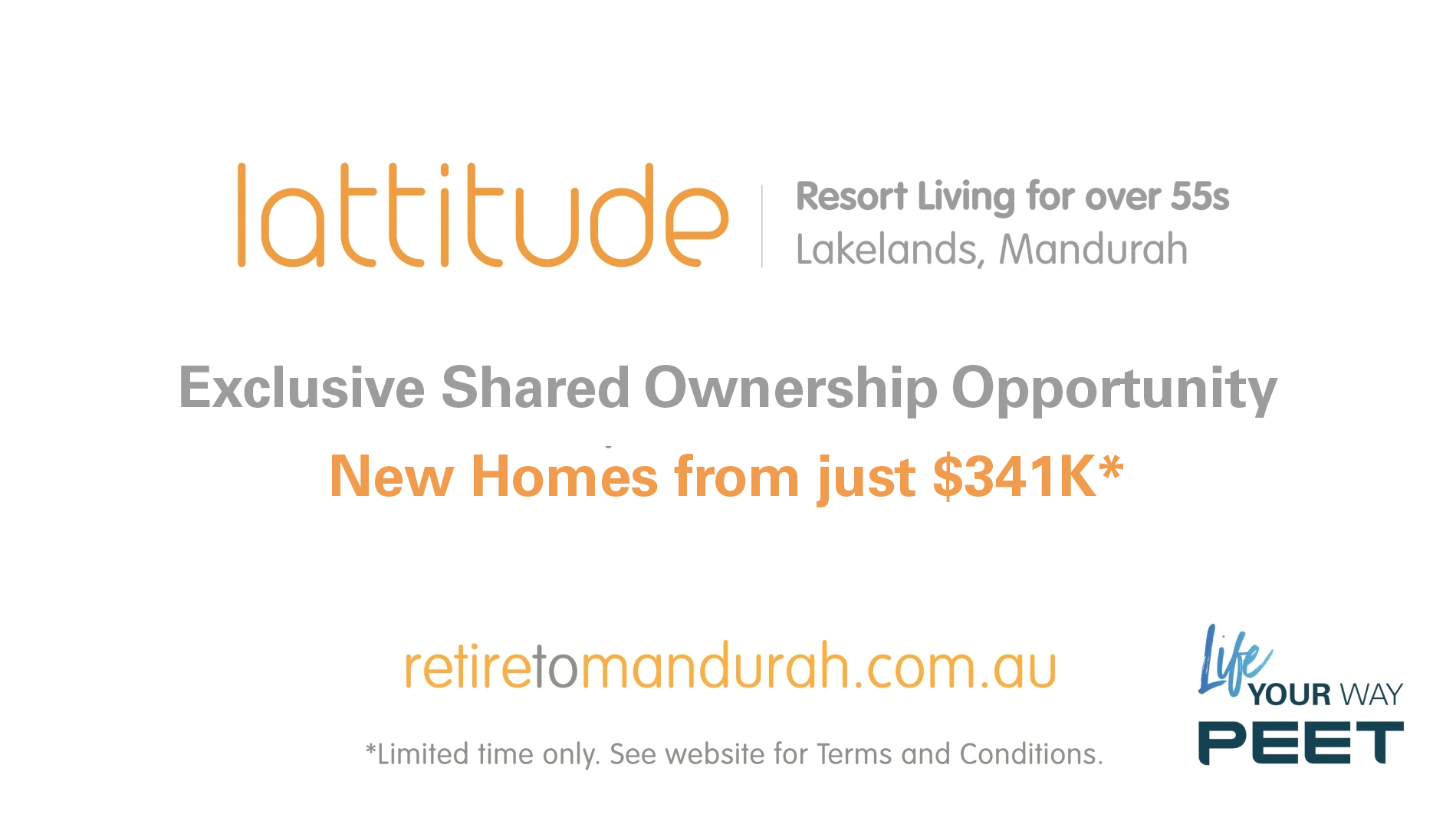 Take a look inside our homes
Home Designs
Enjoy room to move
Building your dream retirement home has never been better, with high-quality home designs available for you to choose from at Lattitude, with either two or three bedrooms and luxurious finishes.

The architect-designed houses at Lattitude not only give you room to move and enjoy your freedom but also provide a low-maintenance lifestyle near the coastal city of Mandurah.

The homes are also designed to cater for your future needs, and feature wide doorways and corridors, no steps, high level power points, large shower areas, security fly screens and spacious garages fitted with a remote-automatic door.

Many homes also come with their own outdoor living space and backyard – perfect for entertaining, enjoying time with the grandchildren or simply relaxing.

To ensure that your home is also an investment, Lattitude Lakelands is a survey-strata development – meaning you will own the title to your homesite, plus share in the common property.

To find your dream home at Lattitude Lakelands, contact our Sales Representative today.
Exclusive Shared Ownership Opportunity!
For a limited time only, Lattitude is offering the first two buyers of our popular Dalkeith and Airlie house designs, the opportunity to 'buy-in' at 10% less than the listing price. We do this by sharing the cost. You pay only 90% of the listed price and we retain a 10% interest in the property until you decide to sell it again in the future. 
Sounds good? It is. 
For example, if the listed price of an Airlie home design is $379,000 you would only pay $341,000* (90%) to move in now.
FIND OUT MORE!
Airlie

Home Features:
- Choose from three elevation options
- Dedicated home study
- Separate patio and courtyard
- Open plan living and dining areas
Download Floorplan
Dalkeith

Home Features:
- Choose from three elevation options
- Side entry for optimal privacy
- Separate patio and courtyard
- Spacious kitchen with feature ceiling
Download Floorplan
Huntly

Home Features:
- Choose from three elevation options
- Separate front verandah, patio and courtyard
- Open plan living and dining areas
- Spacious garage with extra storage room
Download Floorplan
Brodie

Home Features:
- Choose from three elevation options
- Dedicated home study
- Separate front verandah, patio and courtyard
- Two spacious bedrooms with connecting bathrooms
Download Floorplan
Get more with Lattitude Lakelands