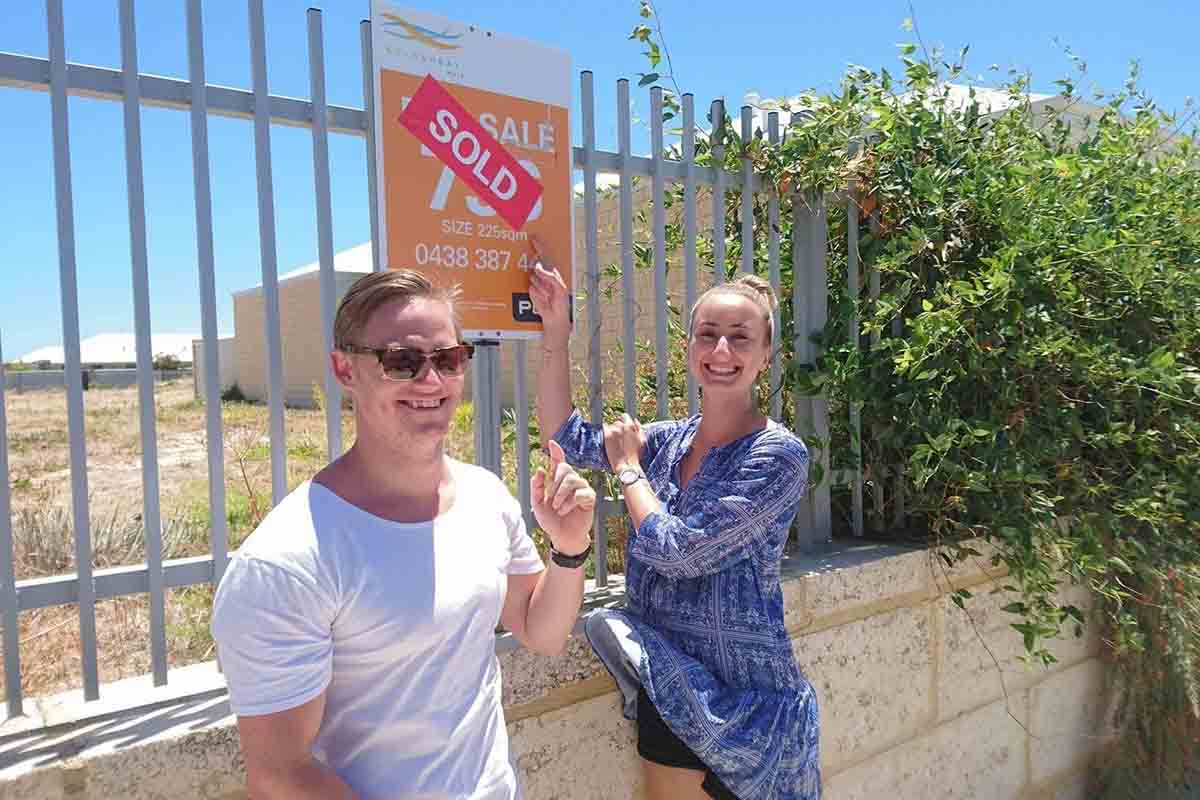 International racing takes a back seat
After spending some time searching for the right place to buy, Rhys Mainstone (27) and his partner Jessica Thomas (21) finally picked out their dream block at Peet's Golden Bay estate.


"I looked at blocks on the coast north of Perth but found the beachside land on the market south of Perth was more interesting, more affordable, and offered a much better outlook for the asset to grow as an investment," Rhys said.
"Our block is just 800 metres from the water. I can't wait to go beach fishing, swimming and surfing and with my partner Jessica now pregnant, it will now be a family home for us at Golden Bay."

And when the keen surfer visited some members of Jessica's family at nearby Secret Harbour and found good quality waves, the deal was sealed.

Rhys started open water endurance racing as a teenager, starting with the 5km event but made the 10km his pet event "because I found it more mentally challenging". And he has also entered 25km marathon swims "for fun"!

The sport has taken him around the world.

In 2008, he won Australian selection for the first time as a junior for the Pan Pacific Games, held on Guam off the east of Japan, in early 2009.

The North Pacific island has good quality waves and he paddled out for some sessions with fellow keen surfer Denis Cotterell, coach of Grant Hackett and other Olympic swimmers. When Rhys later made trips to Queensland, the super coach took him on many more trips to find great waves at Byron Bay and on the Gold and Sunshine Coasts' famed beaches and points.

Rhys won senior national open water swimming titles in 2010, 2013 and 2014. He was selected to represent Australia at four FINA World Championships at Rome (2009); Quebec, Canada (2010); Shanghai (2011), where he won silver; and Barcelona (2014).

He has won World Cup gold medals in Hong Kong, Canada and New Caledonia; was first in a major race in Hawaii; recorded top ten placings in Sharjah and Dubai, in the United Arab Emirates, and Canada; and has also competed in California.

Racing for the first time in the glacier and snow fed lakes around Montreal and Quebec City, with water temperatures of 8-10°C, saw him black out with hypothermia and have no memory of the event. But he returned to Canada in 2015, placing sixth in a major 5km race, and got to love the pristine lakes courses.
In September this year, he will be part of a six-man Australian team going to Hawaii to raise funds and awareness for the Black Dog Foundation for men's mental health, as part of 'Exercise Your Mood Month'. The event involves a 16 mile (25km) open sea team relay, crossing between the islands of Lana'i and Maui.
Over the past summer, Rhys competed in the local open water series conducted by Swimming WA – with one round held at Shorehaven, Alkimos being sponsored by Peet – but has spent most Saturday afternoons this winter playing A-grade Amateur football for West Coast Cowan, based at Floreat Beach Oval.

"Being a swimmer, I'm not used to the hard body contact and have been feeling the lumps and bumps a bit but I love being part of the team with my mates," he said.

Rhys backed off international open water competitions this year but hasn't entirely given up his Olympic ambitions despite bitter disappointments in narrowly missing selection for the London and Rio Games.
But for now, his big focus is getting Commodore Homes started on the build at their Golden Bay block.

While partner Jessica is continuing her studies in health and physical education at Notre Dame University, with the goal of becoming a teacher, the arrival of their first child due in January will push the excitement levels up even more about the pending move into their first home as a family, in 2018.

Rhys works at Chellingworth Motors in Nedlands as a warranty administrator for Porsche and Bentley high-end vehicles.
"I've already done a few test runs from work down to Golden Bay and found the commute home will take between 45 to 60 minutes each day," said. "That's fine. I can't wait."
Renowned for his phenomenal training regimen, Rhys expects to be going to the aquatic centre on Mandurah for some five sessions a week once he and Jessica have moved in at Golden Bay.
….then – maybe – a last shot at gaining Olympics selection, with the 2020 Tokyo Games beckoning!
CLICK HERE to watch a video with even more reasons why they chose Golden Bay!