Bathrooms are one of the busiest rooms in a home – for this reason many people opt to have an ensuite, separate to the family bathroom – nowadays some people even choose to have a powder room specifically for guests. Whether you are planning for one bathroom or three, there are some basic principles. We've teamed up with
Kitchen Craftsmen
to offer some great tips about planning your new bathroom – ensuring you'll get the most out of your bathroom space.
Top 3 things to consider when planning your new bathroom
Members of your household
One of the first things to consider when planning your new bathroom is; who is actually going to use it, and what are their needs? Having a bathtub in your family bathroom can be a smart decision, especially if you have young children. Luxuriously deep or free standing baths are a popular choice for ensuites. Do you have teenagers in your household? Double basins could be a godsend for you! It is always best to aim for a bathroom layout that can accommodate more than one person at a time. Of course, regardless of who is using it, a bathroom should always be designed with privacy in mind.


Storage
Bathrooms have a tendency to become very untidy, very quickly! That's why it's important to consider adequate storage. Mirrored cabinets are an ideal solution when it comes to space saving storage ideas, perfect for storing makeup and beauty products! Seagrass baskets and decorative boxes are great for tucking away under your floating bathroom cabinet and also for storing items on open shelving. Small, bespoke bathroom stools have become increasingly popular in recent years, these decorator items are also quite practical, especially when placed next to free standing baths.



Budget
As with most things, your budget always guides decision making. It is important to consider how long you will get value out of your bathroom and what value it contributes to your home if selling in the short to medium term to ensure it is commensurate with your investment. A good designer will help you balance practical needs with aesthetic preferences.



What's on trend?
There are two very distinct opposing design trends – minimalistic vs pristine look.
Minimalistic is all about textural elements – the inclusion of stone, wood and natural fibres. Pristine look can include seamless glass shower screens or even screen-less showers. Common to both is an avoidance of joins and clutter which usually decrease the time it takes to clean your bathroom. Double vanities are still popular, and there is definitely a resurgence of deeper baths in rounded shapes happening right now too – both of these once considered luxuries are now really driving the desire for overall larger bathrooms.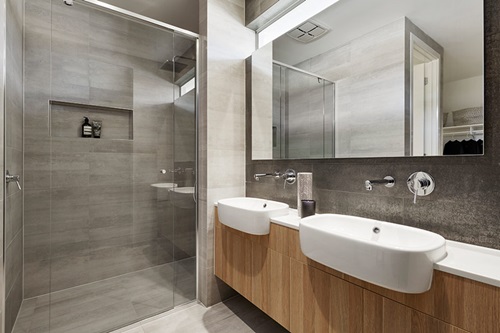 Colours
Because bathrooms are comparatively small areas it is very easy to change a look through décor. Brightly coloured towels, a patterned soap dispenser and fresh flowers can transform plain to vibrant in minutes. With this in mind – creams, neutrals and natural colours like stone tones and greys are practical choices that give you the freedom to change themes and decor as often as you like. It is worth considering too that bathrooms can be messy places as make-up, and lotions can have a habit of escaping their containers, selecting lightly patterned paler colours can help camouflage this!. On the other hand, some people are really after a 'Hollywood' bathroom – rich, dark colours can contribute glamour and a dramatic look that while distinctive, is also timeless.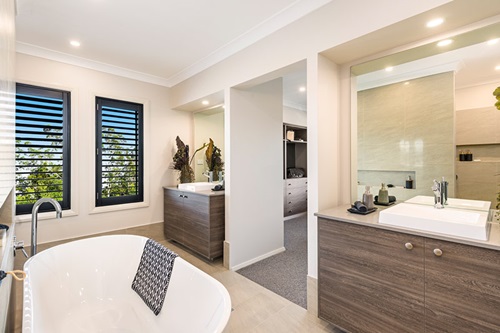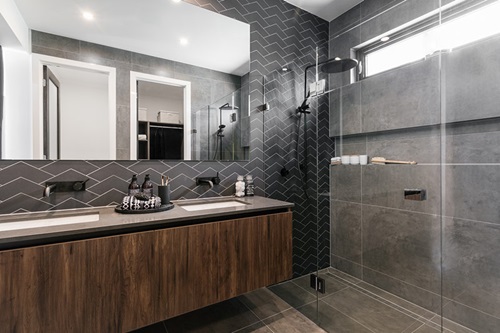 Materials
Gone are the days of traditional plain laminates and white china. The look of a bathroom is often dictated by the floor and wall surfaces which are usually some form of ceramic or stone tile but there is a huge variety of options available now, from intricately patterned mosaics to large format marble to treated concrete. Also, remember to consider non-slip qualities of the floor's surface. Benchtops and cupboards need to be easy to clean and water resistant, seamless glass and stone are both effective and attractive. Alternatively, high quality laminates come in a vast array of colours and patterns that can replicate the look of natural materials without the higher expense or more complex installation.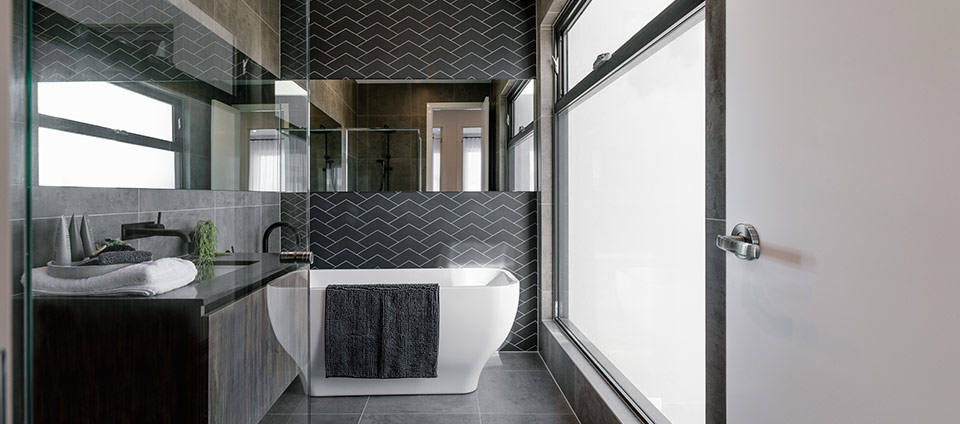 Lighting
Bathrooms can be places of relaxation, however they can get pretty hectic in the morning rush! It's a good choice to consider lighting that can be adjusted for purpose – dimmed for soaking in the bath, and at full wattage when applying make-up. For that reason having different types of lighting can be beneficial, for example having a dimmable light combined with an extraction fan or heating element in the ceiling teamed with separate LED striplights or a spotlight over the mirror.
Lighting solutions are generally influenced by the amount of natural light available, and it is particularly beneficial to include a window in the bathroom to allow that, and to provide air passage.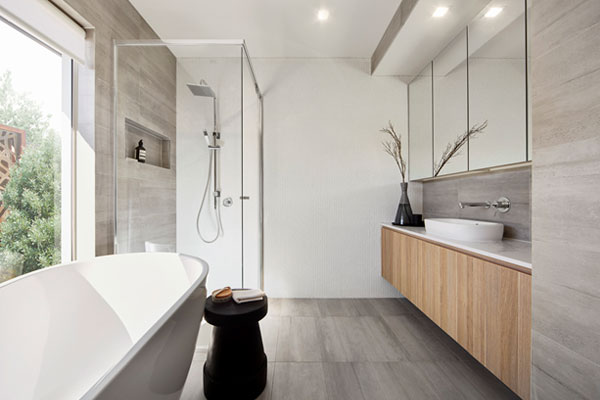 It's really important to take the time to plan your space, we hope you've found these tips helpful – good luck with planning your new bathroom!
CONTENT SUPPLIED BY: Kitchen Craftsmen: www.kitchencraftsmen.com.au
All content within 'Peet's Advice Blog' (Blog) is for information purposes only. While Peet endeavours to ensure all information is current and correct, Peet makes no representation or warranty as to its currency or accuracy. It is recommended that you obtain your own independent advice before taking any action following reading any of the contents of the Blog. Please read the full disclaimer here.